Tom Vilsack: Last Man Standing
If Vilsack leaves his post this year, Obama will become the first president since Ulysses Grant to serve two full terms without a single original cabinet appointee to last all eight years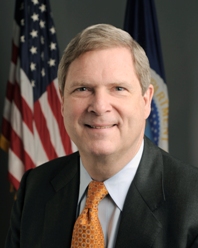 Tom Vilsack began his eighth year as U.S. Secretary of Agriculture this week – as he continues to rise on the list for all-time service in that post.
Vilsack became the last remaining original member of Barack Obama's cabinet after Education Secretary Arne Duncan exited his post on January 1st of this year.
Perhaps it is fitting that an Iowan like Vilsack remains standing by his president, for it was in the Hawkeye State that Obama first turned heads with a victory in the 2008 caucuses – beating John Edwards and Hillary Clinton in a very competitive three-way race. [Note: Vilsack himself ran a short-lived campaign for the White House that cycle].
Vilsack currently ranks as the fifth longest serving Agriculture secretary in U.S. history of the 30 to serve in that position since it was created more than 130 years ago in 1885.
Through Thursday, Vilsack has logged in 2,557 days on the job (7 years, 1 day) and, if he serves until the end of Obama's term next January, will tie Ezra Benson (1953-1961) and Orville Freeman (1961-1969) for second place on the all-time list at eight years (2,922 days).
Last month Vilsack passed David Houston (1913-1920) who served 6 years, 10 months, 28 days (2,525 days) in the Woodrow Wilson administration.
Houston's predecessor, James Wilson, holds the all-time mark at 16 years of service as the head of the Department of Agriculture (5,843). Wilson was the fourth secretary in the position and served in the administrations of William McKinley, Teddy Roosevelt, William Taft, and Woodrow Wilson.
Despite Vilsack being the last original Obama cabinet member, the 44th President has had an array of long-serving cabinet heads during his two terms in office including three who have record-setting tenures.
Former Energy Secretary Steven Chu (2009-2013) exited with more days on the job than any of the 13 men and women to serve in the position since the department's formation in 1977.
Chu led the department for 4 years, 3 months, 3 days before his departure in April 2013, or approximately two and one-half months more than George W. Bush Secretary Spencer Abraham (2001-2005) at 4 years, 12 days.
Former Secretary Eric Shinseki (2009-2014) lasted longer than any of eight heads of the Department of Veterans Affairs since its formation in 1989.
Shinseki spent 5 years, 4 months, 10 days in office through Thursday – 11 months more than Clinton Secretary Jesse Brown (1993-1997) who lasted 4 years, 5 months, 10 days.
Finally, former Homeland Security Secretary Janet Napolitano (2009-2013) is the longest serving head of that department at 4 years, 7 months, 17 days, although just four secretaries have led that department since its creation in 2003.
Although falling short of the all-time record, Obama also had several other long-serving department heads:
Former Health and Human Services Secretary Kathleen Sebelius (2009-2014) ranks #2 among the 22 to serve in that post dating back to the department's original incarnation as the Department of Health, Education, and Welfare in 1953. Sebelius served 5 years, 1 month, 12 days – more than two years shy of Clinton Secretary Donna Shalala (1993-2001) at 7 years, 11 months, 30 days.
Former Education Secretary Arne Duncan (2009-2016) ranks #2 among the nine (non-acting) secretaries since the department was created in 1979. Duncan served 6 years, 11 months, 12 days behind only Richard Riley's mark of eight years during the Clinton administration (1993-2001).
Ex-Housing and Urban Development Secretary Shaun Donovan (2009-2014) also ranks #2 for all-time service of the 16 appointees in that department. Donovan logged 5 years, 6 months, 3 days – more than two years less than Samuel Pierce (1981-1989) in the Reagan administration at 7 years, 11 months, 29 days.
Former Attorney General Eric Holder (2009-2015) ended up with the third longest tenure among the 83 men and women to hold that post. Holder served 6 years, 2 months, 25 days – behind only William Wirt (1817-1829) at 11 years, 3 months, 16 days and Janet Reno (1993-2001) at 7 years, 10 months, 8 days.
Ex-Transportation Secretary Ray LaHood (2009-2013) also ranks #3 of the 17 to serve as head of that department since it was created in 1967 at 4 years, 5 months, 10 days. LaHood is only surpassed by Norm Mineta (2001-2006) at 5 years, 6 months, 14 days and Elizabeth Dole (1983-1987) at 4 years, 7 months, 24 days.
Despite the long tenures listed above, if Vilsack does resign before the end of Obama's term next January, he will become the first president since Ulysses Grant to serve two full terms without a single original appointee staying on board for the entirety of the presidency:
George W. Bush (1): Elaine Cho (Labor)
Bill Clinton (4): Janet Reno (Attorney General), Bruce Babbitt (Interior), Donna Shalala (Health & Human Services), Richard Riley (Education)
Ronald Reagan (1): Samuel Pierce (Housing & Urban Development)
Dwight Eisenhower (2): Ezra Benson (Agriculture), Arthur Summerfield (Postmaster General)
Franklin Roosevelt (2): Harold Ickes (Interior), Frances Perkins (Labor)
Woodrow Wilson (3): Josephus Daniels (Navy), Albert Burleson (Postmaster General), William Wilson (Labor).
Note: Three holdovers from the Taft administration served a day before Wilson's appointees took office in these departments.
Follow Smart Politics on Twitter.