All in the Family: Brothers Succeeding Brothers in the US House
If Brian Fitzpatrick wins his brother Mike's 8th CD seat in Pennsylvania this fall he will join a fairly short list of U.S. Representatives who directly followed a brother in serving their congressional district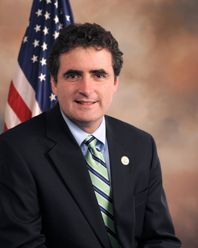 Pennsylvania's congressional delegation might not be losing a Fitzpatrick in D.C. after all.
GOP U.S. Representative Mike Fitzpatrick (pictured) announced he would not run for a fifth non-consecutive term late last year – keeping true to his word that he would not serve more than four terms in the chamber. [Fitzpatrick was elected in 2004, 2010, 2012, and 2014 with a losing reelection bid sandwiched in between in 2006].
Late last week Brian Fitzpatrick, a former FBI supervisory special agent and younger brother of the Congressman, announced he would seek his party's nomination to the Keystone State's 8th CD seat.
It is not unusual for members of the U.S. House to be preceded in Congress by a former family member. Smart Politics has previously issued reports documenting such 'congressional royalty' in states like California, Florida, Illinois, Michigan, and Wyoming.
But how common has it been for members of Congress to have directly succeeded a brother in the U.S. House?
Smart Politics culled through the Biographical Directory of the United States Congress and found 16 U.S. Representatives who directly succeeded a brother in their congressional district, but only four have done so over the last 70 years.
The most recent member of the U.S. House to succeed his brother in the chamber was technically Florida Republican Mario Diaz-Balart in 2011, although it comes with an asterisk.
At the time Mario was a four-term incumbent in the state's 25th Congressional District but when his brother Lincoln Diaz-Balart opted not to run for a 10th term in 2010, Mario ran instead in Lincoln's 21st CD.
Prior to the Diaz-Balarts, only three other pairs of brothers have held the same U.S. House district back-to-back since the end of World War II.
In January 1946, following the death of his brother Joseph Ervin, North Carolina Democrat Sam Ervin won a special election in the state's 10th CD. Joseph had served less than a year in the chamber before he died.
Sam Ervin did not run for reelection but was later appointed to the U.S. Senate in 1954 where he served for 20 years.
Early in his fourth term in January 1961, Arizona Democrat Stewart Udall was appointed Secretary of the Interior in the Kennedy administration.
That May his brother, Mo Udall, won a special election to the 2nd CD seat to fill the vacancy. Mo served in the U.S. House for 30 years until his resignation in May 1991.
In 1997, Republican Asa Hutchinson was seated after winning Arkansas' 3rd CD when his brother, two-term U.S. Rep. Tim Hutchinson opted to run for and win a U.S. Senate seat instead during the 1996 cycle.
Asa won two more terms to the chamber before resigning in 2001 to become Director of the Drug Enforcement Administration under President George W. Bush.
From the 19th through the mid-20th Century, another dozen pairs of brothers served back-to-back in the same U.S. House district:
1804, Pennsylvania (10th CD): Democratic-Republicans William Hoge (1801-1804) and John Hoge (1804-1805). William later served in the district again from 1807 to 1809.
1825, Kentucky (5th CD): Jackson Republican John Johnson (1821-1825) and Jacksonian James Johnson (1825-1826).
1825, New Hampshire (3rd CD): Adams-Clay Republican Matthew Harvey (1821-1825) and Jacksonian Jonathan Harvey (1825-1831).
1834, Virginia (5th CD): Jacksonians Thomas Bouldin (1829-1833; 1833-1834) and Jacksonian James Bouldin (1834-1839). James won a special election after Thomas died in office.
1837, South Carolina (1st CD): Nullifiers Robert Campbell (1823-1825; 1834-1837) and John Campbell (1829-1831; 1837-1845).
1847, Rhode Island (1st CD): Whigs Henry Cranston (1843-1847) and Robert Cranston (1847-1849). Note: In 1843, Henry followed an exiting Robert in the Rhode Island U.S. House delegation, although the state had switched from at-large to districts that cycle so Henry did not technically succeed Robert at that time.
1855, New York (10th CD): Democrat William Murray (1851-1855) and Oppositionist Ambrose Murray (1855-1859).
1863, Wisconsin (2nd CD): Republicans Andrew Sloan (1861-1863) and Ithamar Sloan (1863-1867). Note: Andrew served in the 3rd CD, but after redistricting and reapportionment in 1862 part of Ithamar's 3rd CD enveloped Andrew's constituency in the newly drawn 2nd CD (Jefferson and Columbia Counties).
1908, Alabama (2nd CD): Democrats Ariosto Wiley (1901-1908) and Oliver Wiley (1908-1909). Oliver won a special election after Ariosto died in office.
1937, Massachusetts (7th CD): Democrats William Connery (1923-1937) and Lawrence Connery (1937-1941). Lawrence won a special election after William died in office. Lawrence would also die in office in 1941.
1937, Kentucky (1st CD): Democrats William V. Gregory (1927-1936) and Noble Gregory (1937-1959). William had been renominated by his party for election to the 75th Congress in 1936 but died that October. Noble was then nominated and won election to the seat.
1941, North Carolina (5th CD): Democrats Alonzo Folger (1939-1941) and John Folger (1941-1949). John won a special election after Alonzo died in an automobile accident.
In addition to these examples above there have also been dozens of U.S. Representatives who served alongside a brother (in the same state or different states) or followed a brother in the same district but with a gap in between.
Follow Smart Politics on Twitter.