Do Minnesota Auditors Really Make Good Gubernatorial Candidates?
Nine of the last dozen predecessors of State Auditor Rebecca Otto attempted a gubernatorial run with only three claiming victory in 12 attempts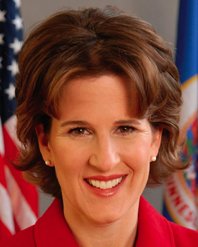 Last weekend three-term Minnesota Auditor Rebecca Otto told the Pioneer Press that she was considering a run for governor in 2018 with Mark Dayton expected to retire after his second term.
Two of the last four Minnesota governors, of course, were former state auditors (Dayton and Arne Carlson) with both endorsing Otto during her inaugural statewide campaign in 2006.
But despite these recent success stories, state auditors have historically not had an easy time winning governorships in the state – and many have tried.
A Smart Politics review of Minnesota gubernatorial campaigns finds that nine of the 12 auditors to serve before Rebecca Otto since the turn of the 20th Century launched gubernatorial bids – with only three claiming victory in 12 attempts.
In addition to Carlson (1990) and Dayton (2010) just one other ex- or sitting Minnesota auditor has won a gubernatorial election in state history – Republican J.A.O. Preus (1915-1921) in 1920.
Preus was in his sixth year as auditor when he narrowly received the GOP nomination over former Glenwood mayor and state representative (and future U.S. Senator) Henrik Shipstead by 2.5 points. [Note: The 1920 Republican gubernatorial primary remains the closest in party history].
Shipstead did not go quietly into the night, however, and ran an independent campaign that November and won 35.9 percent of the vote, but fell 17.2 points short of Preus in a four-candidate field.
Preus was not the first auditor to make a run at the governor's mansion.
In 1904, former auditor Robert Dunn (1895-1903) was the Republican nominee against former Democratic state legislator John Johnson.
Dunn lost by 2.6 points for just the third GOP gubernatorial defeat since statehood, with the party claiming victory in 21 of the previous 23 contests.
A little more than a decade later, ex-Republican Auditor Samuel Iverson (1903-1915) made his first of two runs at the governorship – losing badly both times.
In 1916, Iverson challenged incumbent governor J.A.A. Burnquist for his party's nomination but lost handily by 52 points in the two-way race. [Lieutenant Governor Burnquist became governor after the death of Democratic Governor Winfield Hammond in late 1915].
Four years later, Iverson was one of six candidates vying for the GOP nomination in that cycle's open seat race in the aforementioned competitive contest won by Preus over Shipstead. Iverson placed a distance fifth with just 2.4 percent of the primary vote.
Ten years later, Auditor Ray Chase (1921-1931) survived a six-candidate Republican primary that included former Governor Burnquist.
Chase lost the general election by 23 points to Farmer-Laborite Floyd Olson.
Chase's successor, Republican Stafford King (1931-1969) unsuccessfully ran for governor twice during his record 38-years as auditor of the Gopher State.
In 1948, King challenged Governor Luther Youngdahl in the GOP primary along with four lesser known candidates and lost by 18 points.
Four years later, King again placed second in a six-candidate Republican primary field, this time losing by 44.2 points to incumbent Governor C. Elmer Anderson.
The next three auditors who succeeded King did not run for governor – Republicans William O'Brien (1969-1971), Rolland Hatfield (1971-1975), and DFLer Bob Mattson (1975-1979).
Arne Carlson (1979-1991) did, however, and was very close to adding his name to those above who failed in their bids.
Carlson lost the 1990 GOP primary to business executive and political novice Jon Grunseth by 17.8 points in one of the strangest elections in Minnesota history. Grunseth was pressured to exit the race just a few weeks before Election Day after allegations surfaced of his improper sexual conduct with teenage girls in the early 1980s.
Grunseth did not initially withdraw so Carlson decided to launch a write-in campaign. However, Grunseth withdrew just nine days before the election when allegations of an extramarital affair were also published in the media and Carlson went on to become his party's nominee and win the 1990 and 1994 elections.
In 1998, Mark Dayton (1991-1995) launched his first gubernatorial bid, but placed a disappointing fourth in the DFL primary – 19.1 points behind Attorney General Skip Humphrey and also trailing Hennepin County Attorney Michael Freeman and State Senator Doug Johnson.
In 2002, Republican turned DFL Auditor Judi Dutcher (1995-2003) was an early frontrunner to win the DFL gubernatorial endorsement in a three-way race against State Senators Roger Moe and Becky Lourey, but could not reach the 60 percent endorsement threshold after Lourey's withdrawal. Moe became the nominee but lost to Tim Pawlenty.
Dutcher's successor, Republican Pat Anderson (2003-2007) was an early entrant in the race for governor in 2010, but exited the race in January of that year and sought instead a rematch against Otto who unseated her in 2006. [Anderson fell 1.3 points short during the 2010 GOP tsunami in which the DFL miraculously won all constitutional offices].
By contrast, and perhaps not surprisingly, Minnesota's lieutenant governors have had a clearer pathway than have auditors to becoming governor with nine doing so since statehood including seven who were elected to the post in their own right: David Clough, Adolph Eberhart, J.A.A. Burnquist, Edward Thye, C. Elmer Anderson, Karl Rolvaag, and Rudy Perpich. [Lieutenant Governors Henry Swift and Hjalmar Petersen also ascended to the post after the resignation of Alexander Ramsey and the death of Floyd Olson respectively].
Current Lieutenant Governor Tina Smith tops a long list of possible DFL gubernatorial candidates for 2018.
Follow Smart Politics on Twitter.