12 Bellwether Counties in the Iowa Democratic Caucuses
Just a dozen counties in the Hawkeye State have backed every winner of the party's caucus since 1980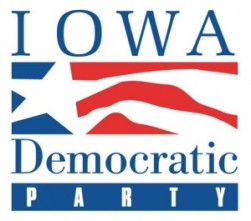 As results trickle in on Monday evening from Iowa, political observers will be itching to make claims as early as possible as to how both the Democratic and Republican races are trending based on vote totals from a small sampling of areas around the state.
There is a good chance the ultimate winners of the caucuses will not be known until later in the evening, but if one is looking for a cheat sheet, there are a handful of counties which may give a sign as to how the Democratic race will shake out in the end.
A Smart Politics analysis of the last seven Iowa Democratic caucuses since 1980 finds that just 12 of the state's 99 counties have backed the caucus' statewide winner each cycle.
Going back 36 years, Iowa Democrats have supported Jimmy Carter (1980), Walter Mondale (1984), Dick Gephardt (1988), favorite son Tom Harkin (1992), Al Gore (2000), John Kerry (2004), and Barack Obama (2008) in the caucuses.
Although many of these races were not particularly competitive, at least one county did not give an outright plurality or majority to the statewide winner in each cycle except for Harkin in 1992, and counties have not backed the Iowa caucus winner outright 149 times collectively across the last seven cycles including 106 times in 2004 and 2008.
[Note: For this analysis, counties in which two or more candidates, including the winning candidate statewide, tied for first place were not counted as backing the winning candidate outright that cycle.]
To be sure, even in cycles that had little drama for the Democrats, counties around the state could be found bucking the statewide trend.
For example, in 1984, Gary Hart won Harrison and Taylor Counties while George McGovern won Adair and John Glenn won Jefferson.
In 1988, neighboring Illinois U.S. Senator Paul Simon carried 20 counties while Michael Dukakis carried eight. Jesse Jackson won Adair County and even former Arizona Governor Bruce Babbitt won Poweshiek County.
In 2000, meanwhile, Bill Bradley carried Allamakee and Washington Counties and tied Gore in Fremont, Jefferson, Johnson, and Palo Alto Counties.
All told, there have been just 12 counties that have had their finger on the pulse of the state as a whole across these last seven Democratic caucuses: Buchanan, Buena Vista, Carroll, Clayton, Clinton, Dubuque, Grundy, Jackson, Marshall, Muscatine, Plymouth, and Webster.
Most of these counties are not highly populated – with just one ranked in the Top 10 (Dubuque at #7) and four others in the Top 25 (Clinton at #11, Muscatine at #14, Marshall at #15, and Webster at #17).
Polk, by far the state's most heavily populated county, failed to vote for the winning Democratic candidate twice: in 1988 (Simon) and 2004 (Edwards).
Linn County (#2) failed to do so in 1988 (Dukakis) while Scott County (#3) voted for Simon in 1988 as did Johnson (#4) along with Bradley and Gore tying there in 2000. Black Hawk (#5) voted for Simon in 1988 and Woodbury (#6) supported Clinton in 2008.
These dozen counties are located most heavily in the east (Buchanan, Clayton, Clinton, Dubuque, Jackson, Muscatine) but also the central (Grundy, Marshall, Webster) and western (Buena Vista, Carroll, Plymouth) portion of the state.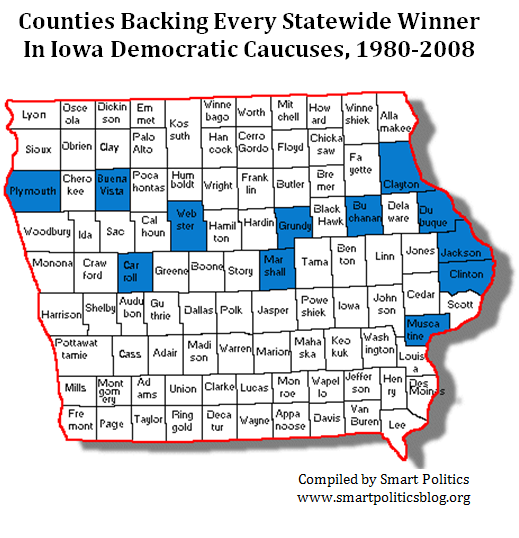 In 2008, Clinton placed third in seven of these counties (Buchanan, Buena Vista, Carroll, Grundy, Jackson, Marshall, Webster) and second in the remaining five (Clayton, Clinton, Dubuque, Muscatine, Plymouth).
Another 40 Iowa counties have backed the winner in six of seven cycles: Audubon, Benton, Black Hawk, Boone, Bremer, Butler, Cass, Cedar, Cherokee, Chickasaw, Crawford, Dallas, Delaware, Des Moines, Dickinson, Fayette, Floyd, Greene, Hamilton, Hardin, Henry, Howard, Iowa, Keokuk, Kossuth, Linn, Marion, Mitchell, Monona, Pottawattamie, Poweshiek, Sac, Scott, Shelby, Sioux, Story, Winnebago, Winneshiek, Woodbury, and Wright.
And which counties have gone rogue in the Democratic caucuses?
Since 1980, two counties have backed the winning candidate in only three of the seven cycles: Adair and Jefferson.
Adair voted for McGovern in 1984, Jackson in 1988, and John Edwards in 2004 and 2008.
Jefferson, meanwhile, voted for Glenn in 1984, Dukakis in 1988, Bradley and Gore (tie) in 2000, and Howard Dean in 2004.
And there is this additional note: of the 12 counties that have a perfect track record on the Democratic side since 1980 – two are also unblemished in backing the Republican caucus winner since 1988.
Buchanan and Grundy are two of 27 counties which are five-for-five in supporting the GOP nominee since Bob Dole's first victory in the Hawkeye State 28 years ago.
Details on the remaining Republican bellwether counties will be revealed in the next Smart Politics report.
Follow Smart Politics on Twitter.