Reid Ribble's Unusual Exit from Congress
Prior to Ribble, each of the last 50 three-term U.S. Representatives from Wisconsin sought reelection or higher office dating back more than 90 years to 1924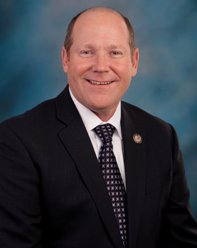 Reid Ribble made headlines last weekend when he announced he would not run for a fourth term to Wisconsin's 8th Congressional District.
The Republican lawmaker, who was elected in 2010, had pledged not to serve more than four terms in the U.S. House, and has been a strong advocate of term limits for members of both chambers. [Ribble introduced legislation limiting House members to three terms of four years and U.S. Senators to two terms of six years].
But the late-January announcement that he wanted to dedicate more time to his family came as a surprise at this stage in the cycle, with Ribble expected to cruise to reelection in November.
No other candidate had yet filed in the race for either party and the congressman had more than $600,000 cash on hand in his campaign coffers.
Moreover, it is extremely unusual for Badger State U.S. Representatives to step away from politics after just three terms in D.C.
A Smart Politics analysis finds that Reid Ribble will be the first Wisconsin U.S. House member to retire from politics after just three terms in more than 90 years after a string of 50 delegation members in a row who sought a fourth term or election to higher office.
Since 1900, only three three-term Wisconsin congressmen before Ribble retired from their U.S. House seat and did not seek other political office and none in the last 90 years.
The last three-term congressman to do so was Republican David Classon in 1922.
Classon, a former mayor of Oconto and judge of Oconto County, was first elected to the chamber in 1916 when he defeated 9th CD incumbent Democrat Thomas Konop by 6.5 points.
Classon breezed to reelection victories in 1918 (by 20.9 points) and 1920 (by 22.0 points) before opting not to run for a fourth term in 1922 and instead return to his law practice in Oconto.
Each of the next 50 men and women in Wisconsin's U.S. House delegation who made it to a third term all sought a fourth or higher office, including 42 who were reelected to their seat.
As for the other eight?
Three lost their party's nomination: Republican Charles Kading (1932), Democrat Raymond Cannon (1938), and Democrat Thaddeus Wasielewski (1946). [Note: Cannon and Wasielewski subsequently ran unsuccessfully as independents in those cycles, winning 7.0 and 28.6 percent respectively].
Three lost the general election: Democrat Thomas O'Malley (1938), Republican Charles Kersten (1954), and Democrat Alvin Baldus (1980). [Note: Kersten's three terms were interrupted, serving from 1947-1949 and 1951-1955].
One ran unsuccessfully for the U.S. Senate: Progressive Thomas Amlie in 1938. [Amlie's three terms were also interrupted, serving from 1931-1933 and 1935-1939].
One will run for reelection in 2016: Ribble's fellow GOP Class of 2010 delegation member Sean Duffy.
Since 1900, a total of 79 of 82 three-term Badger State U.S. Representatives opted not to retire from political office prior to Ribble, or 96.3 percent.
In addition to the aforementioned Classon, the only other two Wisconsinites who retired during the early 20th Century were Republicans Alexander Stewart in 1900 and Webster Brown in 1906.
In the 19th Century it was much more common for members of Congress to simply call it quits after three terms.
From statehood through 1899, just 17 of 27 three-term U.S. House members opted not to retire, or 63 percent.
Ten won reelection, five lost the general election, two lost their party's nomination, and 10 retired.
Follow Smart Politics on Twitter.