Bellwether Counties in New Hampshire Presidential Primaries
Only one Granite State county has backed every GOP primary winner since 1952 with just two on the Democratic side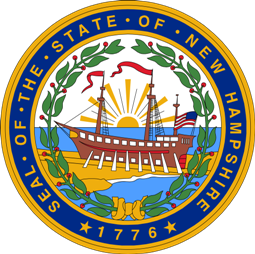 With only a day until the New Hampshire primary, the political world is waiting to see to what extent, if any, Granite State voters have been influenced by the outcome in Iowa, the debates held last week, and the frequent visits to the state made by the 'establishment' wing of the Republican Party.
Donald Trump has maintained a double-digit lead in the state in the vast majority of public polls released over the last half year as has Bernie Sanders on the Democratic side over the last month.
But even if there is less drama as to which candidate will emerge victorious on Tuesday than there was in Iowa last week, it remains to be seen whether the winning candidate can win decisively with a clean sweep across the state.
All told, very few counties in New Hampshire can claim a perfect record when it comes to backing the winners of the presidential primary since candidate voter preference options first appeared on the ballot in the 1952 cycle after the passage of a 1949 state law.
Smart Politics examined the 16 presidential primaries conducted in New Hampshire since 1952 and found that only one county has backed every Republican primary winner (Sullivan) and just two have done so on the Democratic side (Belknap, Hillsborough).
During the 16 presidential primaries since 1952, six Democratic candidates (four of them incumbents) have run the table across all 10 counties in the Granite State: Estes Kefauver (1956), John Kennedy (1960), Lyndon Johnson (1964), Michael Dukakis (1988), Bill Clinton (1996), and Barack Obama (2012).
Overall, New Hampshire counties have voted for the statewide winning Democratic candidate 132 of 160 times, or 82.5 percent.
But the only counties to run the table during this 16-cycle span are the centrally located Belknap County and Hillsborough County – the state's most populous county located along the southern border (Manchester, Nashua).
Although there have been some close races in these areas, particularly in Belknap:
2008: Hillary Clinton defeated Barack Obama by just 41 votes (0.3 percentage points)
2000: Al Gore defeated Bill Bradley by 126 votes (2.1 points)
1992: Paul Tsongas defeated Bill Clinton by 216 votes (3.4 points)
1968: Lyndon Johnson beat Eugene McCarthy by 91 votes (4.5 points)
The closest a New Hampshire Democratic primary winner has come to losing Hillsborough County was in 1984, when Gary Hart defeated Walter Mondale there by 4.3 points with 34.1 percent of the vote.
Ed Muskie (1972, 6.2 points over George McGovern), Jimmy Carter (1976, 6.9 points over Mo Udall), Michael Dukakis (1988, 9.3 points over Dick Gephardt), Al Gore (2000, 7.6 points over Bill Bradley), and Hillary Clinton (2008, 7.0 points over Barack Obama) also carried the densely populated Hillsborough County by single digits en route to statewide victories.
Three New Hampshire counties have backed the state's Democratic Party winner in 14 of 16 cycles since 1952:
Merrimack: George McGovern (1972) and Barack Obama (2008)
Rockingham: Eugene McCarthy (1968) and Ted Kennedy (1980)
Strafford: Harry Truman (1952) and Eugene McCarthy (1968)
Coos County in the north has supported three non-winning candidates: McCarthy (1968), Mondale (1984), and Clinton (1992).
Two other counties have backed four non-winners: Cheshire (Udall in 1976, Clinton in 1992, Dean in 2004, Obama in 2008) and Sullivan (Truman in 1952, Clinton in 1992, Dean in 2004, Obama in 2008).
Carroll County failed to vote for the winning candidate five times: McCarthy (1968), McGovern (1972), Udall (1976), Bradley (2000), and Obama (2008).
And the biggest outlier in the state in Democratic presidential primaries has been Grafton County, which has voted for losing candidates six times: McCarthy (1968), McGovern (1972), Udall (1976), Bradley (2000), Dean (2004), and Obama (2008).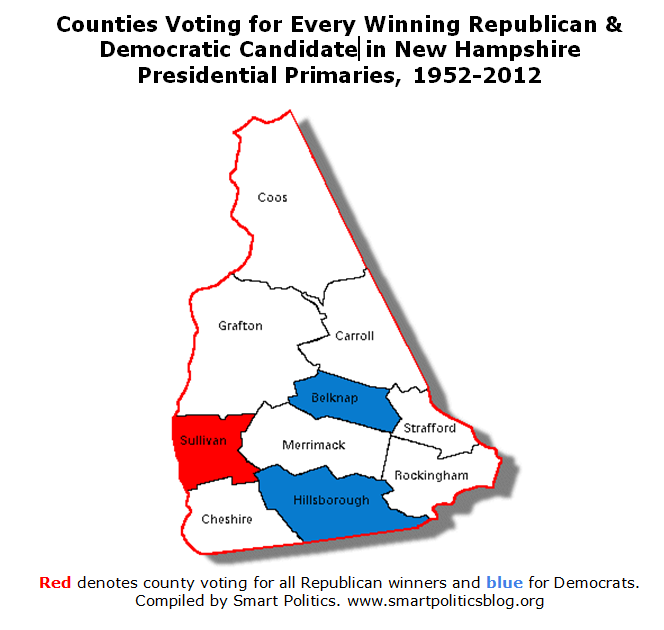 In general, Republican primary winners – even in fairly close races – have had success carrying all 10 counties across the state.
Republican primary winners have swept the state in 10 of the 16 cycles since 1952, including five incumbents: Dwight Eisenhower (1952, 1956), Richard Nixon (1960, 1968, 1972), Ronald Reagan (1980, 1984), George H.W. Bush (1992), John McCain (2000), and George W. Bush (2004).
Overall, New Hampshire counties have voted for the winning GOP candidate 144 of 160 times, or 90 percent.
However, only one county has done so in all 16 of these cycles – Sullivan, a small county in the southwestern part of the state with a population shy of 45,000.
Sullivan County hosted the closest county-wide race in the state in a presidential primary back in 1996 when Pat Buchanan defeated Bob Dole there by just four votes out of 6,845 cast.
Sullivan also had fairly competitive races in 2012 (Mitt Romney by 4.7 points over Ron Paul), 1988 (George H.W. Bush 6.3 points over Bob Dole), 1976 (Gerald Ford 6.9 points over Ronald Reagan), and 1964 (Henry Cabot Lodge, Jr. by 8.0 points over Nelson Rockefeller).
Three counties have backed one non-winning New Hampshire GOP primary candidate during this 16-cycle span:
Merrimack: Bob Dole (1996)
Rockingham: Mitt Romney (2008)
Strafford: Bob Dole (1996)
And five counties have supported two such candidates:
Belknap: Ronald Reagan (1976) and Bob Dole (1996)
Carroll: Ronald Reagan (1976) and Bob Dole (1996)
Cheshire: Bob Dole (1988, 1996)
Grafton: Richard Nixon (1964) and Bob Dole (1996)
Hillsborough: Ronald Regan (1976) and Mitt Romney (2008)
The county with the spottiest (though still decent) record of voting with the rest of the state in GOP primaries is New Hampshire's northernmost county, Coos.
Coos voted for Nelson Rockefeller in 1964, Ronald Reagan in 1976, and Ron Paul in 2012.
In 1996, when Pat Buchanan carried only four counties in the state en route to victory (with six voting for Dole), it was Coos which gave him the most decisive win with 41.4 percent of the vote. Neither Dole nor Buchanan reached 31 percent in any other county. That is the only cycle in which a winning primary candidate from either party did not carry at least five counties in the state.
In two other cycles, winning Democratic candidates carried five counties: Lyndon Johnson in 1968 and Hillary Clinton in 2008.
Follow Smart Politics on Twitter.