Sanders Notches 2nd Biggest Democratic New Hampshire Primary Win in History
Only John Kennedy's victory against the "Space Pen" inventor in 1960 was larger among the 13 contested Democratic primaries in the Granite State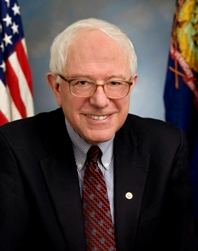 Not only did 'the outsiders' score important victories in the New Hampshire primaries on Tuesday, but they did so in near historic fashion.
On the Democratic side, Bernie Sanders ran up the score over Hillary Clinton by a margin that had only been seen once before in a contested primary – and only then in a race with just one established politician.
A Smart Politics analysis finds that Sanders' 22.4-point victory over Clinton marked the second largest victory margin in a contested Democratic New Hampshire primary – behind only John Kennedy's 1960 win over pen inventor and political novice Paul Fisher.
Sanders swept all 10 counties in the state on Tuesday and recorded 60.4 percent of the vote – more than 22 points ahead of Clinton's 38 percent.
The only other candidate who recorded a more decisive victory for the party in the state was Senator Kennedy in 1960 when he won 85.2 percent of the vote against pen company executive Paul Fisher – a margin of 71.7 points.
Each of the other 11 contested Democratic primaries in New Hampshire were more competitive than Sanders' blow-out win over Clinton with an average victory margin of just 8.5 points:
1952 (10.7 points): Estes Kefauver over Harry Truman
1968 (7.7 points): Lyndon Johnson over Eugene McCarthy
1972 (9.2 points): Ed Muskie over George McGovern
1976 (5.7 points): Jimmy Carter over Mo Udall
1980 (9.8 points): Jimmy Carter over Ted Kennedy
1984 (9.4 points): Gary Hart over Walter Mondale
1988 (16.0 points): Michael Dukakis over Dick Gephardt
1992 (8.4 points): Paul Tsongas over Bill Clinton
2000 (4.1 points): Al Gore over Bill Bradley
2004 (12.1 points): John Kerry over Howard Dean
2008 (2.6 points): Hillary Clinton over Barack Obama
The 11 cycles above include three races, just like in 2016, with only two bona fide candidates in the race: Kefauver vs. Truman in 1952, Johnson (as a write-in) vs. McCarthy in 1968, and Gore vs. Bradley in 2000.
Kefauver (1956), Johnson (1964), Clinton (1996), and Obama (2012) all ran uncontested (aside from fringe or write-in candidates) during their other victories in the state.
The 1952 cycle marked the first presidential primary in the state in which candidate voter preference options appeared on the ballot after the passage of a 1949 state law.
Prior to 1952, delegate slates were either unpledged or unanimously backed a Democratic candidate (Woodrow Wilson in 1916, Al Smith in 1928, Franklin Roosevelt in 1932, 1936, 1940, and 1944, and Harry Truman in 1948).
Follow Smart Politics on Twitter.