Carly Fiorina Records Longest Campaign by Female GOP Presidential Candidate
The former California CEO still fell short of notching the most successful presidential campaign by a Republican woman in party history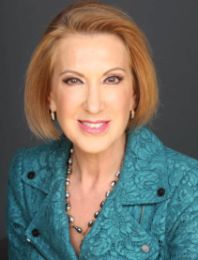 Following disappointing finishes in the New Hampshire primary, New Jersey Governor Chris Christie and Carly Fiorina suspended their presidential campaigns on Wednesday afternoon.
Both candidates fell shy of double-digits – a historic safety net for most participants in the New Hampshire primary over the decades – and became the ninth and tenth candidates to exit the race for the Republican nomination.
Of the two candidates, Fiorina's campaign was viewed as more of a long-shot from the start, entering the race with low name recognition (unlike Donald Trump) and never previously holding political office.
It may be difficult to argue that Fiorina had the most successful presidential campaign by a Republican woman in party history.
At the very least, she was able to last the longest.
Smart Politics tabulated the length of the presidential campaigns for the handful of women who have sought the Republican nomination over the years and found that Carly Fiorina's campaign lasted longer than any other.
Fiorina launched her campaign on May 4th of last year for a 283-day run through Wednesday (9 months, 7 days).
She won 1.9 percent of the vote for a seventh place finish in the Iowa caucuses (receiving one delegate) and 4.1 percent for seventh place in the New Hampshire primary.
Fiorina's campaign lasted three months longer (91 days) than that of former Minnesota U.S. Representative Michele Bachmann in 2012.
Bachmann, the lone female Republican in that race, lasted 192 days (6 months, 9 days) on the campaign trail before her exit on January 4th of 2012, after a disappointing performance in the Iowa caucuses where she received 5 percent of the vote for sixth place.
Prior to Fiorina, the longest campaign by a Republican woman was that of former Transportation and Labor Secretaries Elizabeth Dole in 2000.
Four years after her husband's third failed run at the White House, Dole entered the GOP race on March 10, 1999.
The future North Carolina U.S. Senator's campaign lasted 225 days (7 months, 11 days) and ended on October 20th – a few months shy of the start of primary season.
Before Dole's presidential bid, it had been more than 30 years (aside from fringe candidates) since the last time a woman sought the Republican Party presidential nomination.
Although she had the shortest campaign of the party's four female candidates (due in large part to political era in which she ran), the most successful female Republican presidential campaign was that of Maine U.S. Senator Margaret Chase Smith in 1964.
Smith entered the race on January 27th that cycle and ran through the balloting at the Republican National Convention in San Mateo, California on July 15th for a 171-day campaign (5 months, 19 days).
Senator Smith won 27 votes on the 1st ballot before shifts: 14 delegates from her home state of Maine plus five delegates from Vermont, three from North Dakota, two from Alaska, and one each from Massachusetts, Ohio, and Washington.
That was good for fifth place behind Arizona U.S. Senator Barry Goldwater (883), Pennsylvania Governor William Scranton (214), New York Governor Nelson Rockefeller (114), and Michigan Governor George Romney (41).
Smith did not withdraw after the first ballot and retained 22 of her delegates in the final count – a party record for a female candidate that will remain intact for at least another four years.
Follow Smart Politics on Twitter.