Battle of the Ages: GOP Nomination Fight Features Biggest Frontrunner Age Gap Since 1856
Only once before has there been a larger difference in age between the top two Republican presidential candidates than Trump and Cruz (24 years)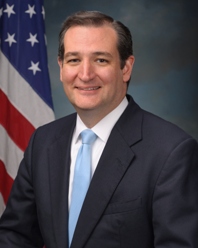 If and when the race for the Republican nomination becomes a two-man battle this cycle, there is a good chance that primary voters will be presented with candidates who could become one of the oldest or one of the youngest nominees in party history.
Donald Trump – who will be 70 years old in November – would be just the fourth Republican standard bearer at or above the age of 70, with the remaining three all nominated during the last few decades: Ronald Reagan in 1984 (73), Bob Dole in 1996 (73), and John McCain in 2008 (72).
Meanwhile, Trump's main competitor thus far this cycle, Texas U.S. Senator Ted Cruz, is 45 years old and will still be so on Election Day. Only two previous GOP nominees were that young at the time of the general election: former California U.S. Senator John Frémont in 1856 (43) and New York Governor Thomas Dewey in 1944 (42).
[Note: Marco Rubio, the current 'establishment lane' pacesetter, will also be 45 on Election Day].
As a result, even though Trump is a far cry from the party's recent 'elder statesmen' who have paid their dues en route to the nomination after failed attempts (Reagan, George H.W. Bush, Dole, Mitt Romney etc.), he is nonetheless markedly older than his strongest primary competitors.
A Smart Politics review of the 41 presidential election cycles since the founding of the Republican Party finds that the age difference between Donald Trump and Ted Cruz (24 years) is the second largest among each cycle's top two GOP candidates and the largest in more than 150 years.
The only pair of Republicans leading the nomination race who had a greater age gap than Trump and Cruz fought for the nomination at the party's first convention in 1856.
The aforementioned John Frémont was 43 years old at the time of the convention and faced only one serious opponent during balloting – Supreme Court Justice John McLean.
McLean was 71 years old for a 28-year difference between the two contenders, four years greater than Trump and Cruz.
To put the candidates' age gap in perspective, McLean was first elected to the U.S. House from Ohio in 1812 a few months before Frémont was born.
Frémont defeated McLean on the convention's first official ballot.
One other pair of Republican frontrunners had an age gap of more than 20 years: Kansas Governor Alf Landon (48) and Idaho U.S. Senator William Borah (70) in 1936, although Landon's nomination was never really in doubt.
While Borah won five primaries that cycle (Pennsylvania, Nebraska, Oregon, West Virginia, Wisconsin) compared to three for Landon (Illinois, Massachusetts, New Jersey) the Kansas governor won more the 98 percent of the delegate vote on the first convention ballot en route to suffering one of the worst general election defeats in major party history.
Three other Republican nominees were at least 15 years older or younger than their main competitor (ages below listed at the time of the convention):
1924 (17 years): President Calvin Coolidge (51) and Wisconsin U.S. Senator Robert La Follette (68)
1972 (16 years): President Richard Nixon (59) and Ohio U.S. Representative John Ashbrook (43)
1996 (16 years): Kansas U.S. Senator Bob Dole (73) and pundit/columnist Pat Buchanan (57)
[Note: Nixon, who won the 1972 GOP nomination in a blow-out, faced only nominal competition during the primaries from Rep. Ashbrook and California U.S. House member Pete McCloskey who was 44 years old before withdrawing from the race].
There have been seven cycles in which the Republican nominee essentially ran unopposed: Ulysses Grant in 1868 and 1872, William McKinley in 1900, Teddy Roosevelt in 1904, Dwight Eisenhower in 1956, Ronald Reagan in 1984, and George W. Bush in 2004.
The average age gap between the top two Republican contenders during the other 33 cycles has been slightly more than nine years.
It has not been unusual for the two leading candidates to be separated by only a few years (ages below listed at the time of the convention):
1884 (0 years): Former Maine U.S. Senator James Blaine (54) and President Chester Arthur (54)
1912 (1 year): President William Howard Taft (54) and former President Teddy Roosevelt (53)
1916 (2 years): Supreme Court Justice Charles Evans Hughes (54) and Massachusetts U.S. Senator John Weeks (56)
1932 (1 year): President Herbert Hoover (57) and former Maryland U.S. Senator Joseph France (58)
1952 (1 year): Retired General Dwight Eisenhower (61) and Ohio U.S. Senator Robert Taft (62)
1976 (2 years): President Gerald Ford (63) and former California Governor Ronald Reagan (65)
1988 (1 year): Vice President George H.W. Bush (64) and Kansas U.S. Senator Bob Dole (65)
A Trump/Rubio battle would also produce near-historic results with a 25-year age gap at the time of the RNC this July.
Meanwhile, the age gap between Jeb Bush and Cruz or Bush and Rubio would be 18 years this July, one shy of the difference between John Kasich and Cruz or Kasich and Rubio (19 years).
Follow Smart Politics on Twitter.