Inevitable? Presidential Candidates Who Won 3 of 4 States But Lost the Nomination
Donald Trump may seem unstoppable, but there have been multiple White House hopefuls who carried three of the first four state primaries or caucuses and did not end up as their party's nominee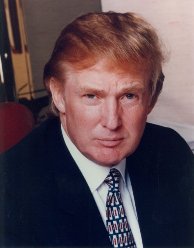 After a three-point loss in the Iowa caucuses, Donald Trump's double-digit wins in the New Hampshire and South Carolina primaries and the Nevada caucuses are convincing the dwindling number of skeptics that he indeed can be the Republican Party nominee in 2016.
To be sure, those victories, combined with solid polling leads nationally as well in most states holding contests on March 1st, have put a charge in the "unstoppable" chatter about Trump's nomination prospects.
Toward that end, some political reporters now believe in Trump's inevitability, and others claim that Trump, by winning three of the first four 2016 contests, would make history by not winning the nomination.
While voters are often quick to get behind an early frontrunner, history sometimes tells a different story and there are actually several cases over the last 75 years in which such candidates did not end up with their party's nomination.
A Smart Politics analysis finds that since 1912 there have been seven presidential candidates who were victorious in three of the first four state primary contests but then failed to win their party's nomination – including three since the 1970s.
Over the last 27 election cycles since the introduction of presidential primaries in 1912, there has been great fluctuation in the number of states that have held primaries or, more recently, caucuses with a preference vote.
To be sure, prior to 1976, when less than half of the states held primaries for the Republican or Democratic nomination, the percentage of delegates tied to primaries was much lower than it is today.
That said, there are examples from both the pre-1976 and post-1976 periods in which winning early did not translate into the coveted prize.
Thomas Dewey (Republican, 1940)
After New Hampshire voted for a slate of unpledged delegates in the cycle's first primary on March 12th, Manhattan District Attorney Thomas Dewey rattled off four consecutive wins in Wisconsin (April 2nd), Illinois (April 9th), Nebraska (April 9th), and Pennsylvania (April 23rd).
The future New York governor only faced a single challenger – Michigan U.S. Senator Arthur Vandenberg – in the Badger and Cornhusker States and defeated him by 45.5 and 17.8 points respectively.
Dewey later won Maryland and New Jersey for six wins across the 13 states holding primary contests.
That summer Dewey received the support of 360 delegates on the first ballot at the Republican National Convention – far ahead of chief rivals Ohio U.S. Senator Robert Taft and eventual nominee Wendell Willkie but nonetheless far short of the majority needed.
Dewey gradually shed delegates on the subsequent ballots and was passed by Willkie on the fourth round.
Estes Kefauver (Democrat, 1952)
Twelve years later, Tennessee U.S. Senator Estes Kefauver was an early frontrunner after winning New Hampshire (March 11th) by 10.8 points over President Harry Truman, Nebraska (April 1st) by 20.6 points over Oklahoma U.S. Senator Robert Kerr, and a largely uncontested win in Wisconsin (April 1st).
In between, Kefauver lost Minnesota (March 18th) to favorite son U.S. Senator Hubert Humphrey.
Kefauver actually won eight of the first nine primaries, adding Illinois (April 8th), New Jersey (April 15th), Pennsylvania (April 22nd), Massachusetts (April 29th), and Maryland (May 5th) to his tally.
After a 12.2-point loss to Georgia U.S. Senator Richard Russell in Florida, Kefauver would close out with wins in Ohio (May 6th), Oregon (May 16th), California (June 3rd), and South Dakota (June 3rd) to claim 12 of the 15 states holding primaries that cycle.
Kefauver had the most delegates after the first two rounds of balloting at the convention – peaking at 362 before shifts on the second ballot.
Illinois Governor Adlai Stevenson, who did not compete in the primaries, passed Kefauver on the third ballot en route to his first of two nomination crowns.
Estes Kefauver (Democrat, 1956)
Kefauver would get out of the gate quickly once again in 1956, claiming first place in the first three contests: New Hampshire (March 13th), a big comeback victory in Minnesota (March 20th), and Wisconsin (April 3rd).
The Tennessee U.S. Senator added New Jersey (April 17th), Maryland (May 7th), Indiana (May 8th), Nebraska (May 15th), Montana (June 5th), and South Dakota (June 5th) to his column to win nine of the 17 states holding primaries that cycle but withdrew before the convention and threw his support behind Stevenson and was rewarded with the VP slot in return.
Eugene McCarthy (Democrat, 1968)
After a strong second-place showing in New Hampshire (March 12th) that effectively served as a no-confidence vote against President Lyndon Johnson (who withdrew a few weeks thereafter), Minnesota U.S. Senator Eugene McCarthy won the next three primaries: in Wisconsin (April 2nd), Pennsylvania (April 23rd), and Massachusetts (April 30th).
McCarthy also won Oregon (May 28th), New Jersey (June 4th), and Illinois (June 11th).
At that summer's convention in Chicago, McCarthy finished a distant second in the delegate count to Vice President Hubert Humphrey.
Ed Muskie (Democrat, 1972)*
Muskie's inclusion on this list does come with an asterisk: the Maine U.S. Senator was the top finisher in the debut Iowa caucuses (January 24th) with 35.5 percent (12.9 points ahead of South Dakota U.S. Senator George McGovern), although a slightly larger number of caucus-goers left uncommitted (35.8 percent).
Muskie then topped New York Mayor John Lindsey in the Arizona caucuses (January 29th) and beat McGovern by 9.2 points in the New Hampshire primary (March 7th).
Muskie would win only one more primary (Illinois, March 21st) before ending his campaign in late April.
Gary Hart (Democrat, 1984)
The Colorado U.S. Senator was a distant second-place finisher to former Vice President Walter Mondale in Iowa (February 20th), but rebounded with four straight victories in New Hampshire (February 28th), the Maine caucuses (March 4th), the Vermont primary (March 6th), and the Wyoming caucuses (March 10th).
Hart ended up winning more state primaries and caucuses than Mondale that cycle, but lost to Mondale by nearly 1,000 delegates at the national convention due in part to the large number of superdelegates in the Minnesotan's column.
Pat Buchanan (Republican 1996)
The conservative columnist and pundit is the last presidential candidate to win three of the first four contests and lose his party's nomination.
Buchanan won the Alaska caucuses (January 29th), the Louisiana caucuses (February 6th), and, most famously, the New Hampshire primary (February 20th).
Kansas U.S. Senator Bob Dole won Iowa the week before New Hampshire and the vast majority of the remaining primaries and caucuses.
Despite these examples listed above, it would be foolhardy to suggest Trump is destined to go down that path.
It has been far more common for candidates who win three of the first four state contests to win the nomination such as Republicans Richard Nixon (1960, 1968, 1972), Gerald Ford (1976), George H.W. Bush (1992), and George W. Bush (2000) and Democrats Franklin Roosevelt (1932, 1940), Harry Truman (1948), John Kennedy (1960), Jimmy Carter (1976, 1980), Al Gore (2000), and John Kerry (2004).
Moreover, none of the seven campaigns mentioned above enjoyed Trump's national numbers nor the personal wealth to continue funding a campaign, should roadblocks emerge along the way to Cleveland.
Follow Smart Politics on Twitter.