Cruz Records Weakest Home State GOP Primary Victory in Party History
Each of the 65+ previous Republican presidential candidates who carried their home state did so with a larger percentage of the vote than Cruz; Cruz is one of only six who failed to reach the 50 percent mark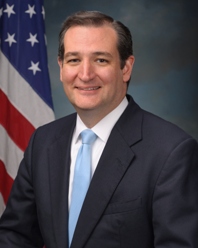 The Ted Cruz campaign delivered on its promise to win the Texas primary on Tuesday and then exceeded 'expectations' by also coming in first place in the neighboring state of Oklahoma and the Alaska caucuses.
With four victories now under his belt, Cruz will attempt to use his comparatively successful electoral track record against the remaining non-Trump candidates (Marco Rubio, John Kasich, Ben Carson) in an attempt to expedite their withdrawal from the race.
To be sure, the Texas U.S. Senator's victory in his home state – and the most delegate rich state on the primary calendar thus far – was crucial for the Cruz campaign, and avoided an embarrassment that might have pressured him to withdraw after Super Tuesday.
While Cruz escaped that unenviable situation, his victory in Texas is decidedly shy of impressive.
In fact, by one measure, it is the least impressive home state primary victory in party history.
A Smart Politics analysis finds that Ted Cruz's 43.8 percent showing in Texas marks the lowest support ever recorded by a Republican presidential candidate in a home state victory out of the more than five-dozen campaigns to win their home state since 1912.
Over the last 104 years since the debut of presidential primaries, Republican White House hopefuls have successfully carried their home state in a presidential primary 69 times.
Prior to Cruz's plurality win in Texas on Tuesday, only five of these candidates failed to win a majority of the primary vote en route to their home state victory:
Henry Ford (Michigan) in 1916: received 47.4 percent in a 3.0-point victory against fellow Michigander William Alden Smith
Warren Harding (Ohio) in 1920: received 47.6 percent in a 5.7-point win against Leonard Wood
Harold Stassen (Minnesota) in 1952: received 44.4 percent in a 7.2-point win against Dwight Eisenhower
John McCain (Arizona) in 2008: received 47.2 percent in a 12.7-point victory against Mitt Romney
Newt Gingrich (Georgia) in 2012: received 47.2 percent in a 21.3-point win against Mitt Romney
Cruz's new low water mark ends the aforementioned former Minnesota Governor Harold Stassen's 64-year plurality record when he won just 44.4 percent of the vote during the Gopher State's controversial and politically messy 1952 primary.
Minnesota had restored its presidential primary law in 1949 after a 1917 repeal in hopes of bolstering Stassen's national profile in the 1952 cycle. Stassen, whose candidacy at the time of the primary was seen as a stalking horse for Eisenhower, nonetheless nearly lost the state to a write-in campaign for the NATO Supreme Commander whose name had been removed from the ballot in a complicated series of events recently chronicled by Smart Politics.
The average home-state showing by Republican candidates who carried their home state over the last 100+ years has been 78.5 percent, with 46 of these 61 GOPers winning at least 60 percent of the vote.
In the early primary era, several Republicans won their home states uncontested: Charles Fairbanks of Indiana (1916), Albert Cummins of Iowa (1916), Calvin Coolidge of Massachusetts (1924), Herbert Hoover of California (1928, 1932), R.N. Davis of West Virginia (1940), Earl Warren of California (1944, 1948), Herbert Hitchcock of South Dakota (1948), John Bricker of Ohio (1956), Richard Nixon of California (1960), James Rhodes of Ohio (1964, 1968), and Ronald Reagan of California (1968).
Recent strong home state showings – some achieved with the nomination effectively sewn up – include George H.W. Bush of Texas in 1988 (63.9 percent), George W. Bush of Texas in 2000 (87.5 percent), and Mitt Romney of Massachusetts in 2012 (71.2 percent),
However, not every presidential candidate wins their home state in the first instance.
Many candidates withdraw from the race before their home state lands on the primary calendar. And some lose their state outright, such as the Republicans listed below in a partial listing:
William H. Taft (Ohio) in 1912: lost by 15.8 points to Teddy Roosevelt
Hiram Johnson (California) in 1924: lost by 8.6 points to Calvin Coolidge
Frank Willis (Ohio) in 1928: lost by 41.6 points to Herbert Hoover
Joseph France (Maryland) in 1932: lost by 22.7 points to Herbert Hoover
Douglas MacArthur (Wisconsin) in 1948: lost by 5.4 points to Harold Stassen
Ed Martin (Pennsylvania) in 1948: lost by 14.0 points to Harold Stassen
John Volpe (Massachusetts) in 1968: lost by 0.5 points to Nelson Rockefeller
George H.W. Bush (Texas) in 1980: lost by 3.6 points to Ronald Reagan
John Anderson (Illinois) in 1980: lost by 11.7 points to Ronald Reagan
Pat Robertson (Virginia) in 1988: lost by 40.0 points to George H.W. Bush
Ron Paul (Texas) in 2008: lost by 46.3 points to John McCain
Ron Paul (Texas) in 2012: lost by 57.1 points to Mitt Romney
One record Cruz did not set on Tuesday is the narrowest home state victory margin in Republican Party history.
That mark still belongs to Henry Ford with his 3.0-point victory over U.S. Senator William Alden Smith in 1916. Cruz beat Trump by 17 points in the Lone Star State.
Follow Smart Politics on Twitter.