The unusually competitive and crowded GOP field is lowering the bar to victory in many states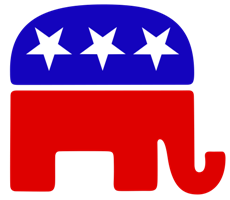 With several caucuses and primaries to be held this weekend (Kansas, Kentucky, Louisiana, Maine for both parties plus Nebraska for the Democrats and Puerto Rico for the GOP), Super Tuesday is already in the rear view mirror.
Smart Politics offers a final serving of tidbits that came out of the 11 states voting for the Republicans on Tuesday.
Low (and Low-ish) Water Marks
Donald Trump's 32.8 percent tally in Arkansas was by far the lowest support ever received by a GOP primary winner in state history. The previous low was George H.W. Bush's 47.0 percent as he defeated Bob Dole by 21.1 points.
The 2.3-point victory margin in 2016 was also a new record for the party in Arkansas which had frequently held its primary much later in the cycle when the presumptive nominee was often already determined – doing so in May in 1976, 1992, 1996, 2000, 2004, and 2012.
Trump also emerged from Virginia as the only GOP primary winner to fail to win a majority of the vote. Trump's 34.7 percent was far below John McCain's 50.0 percent in 2008 when he defeated Mike Huckabee by 9.3 points. The Old Dominion State has only held five Republican presidential primaries to date.
Trump's narrow victory in Vermont over John Kasich with just 32.7 percent was the second lowest support for a primary winner across the dozen GOP contests held in state history. That mark was just ahead of the state's extremely competitive 1980 contest that found Ronald Reagan recording 30.1 percent against 29.0 percent for John Anderson. Trump's 2.3-point win was also second to Reagan's 1.1-point victory for the closest Vermont Republican primary.
Georgians also produced a victor with the second lowest support in party history with Trump at 38.8 percent, which was a few points higher than Mike Huckabee's 33.9 percent in 2008 when he narrowly defeated John McCain.
30s Are the New 50s
Two Super Tuesday states – Oklahoma and Tennessee – crowned Republican primary winners with 30-something percent of the vote for a third consecutive cycle.
John McCain (36.6 percent), Rick Santorum (33.8 percent), and Ted Cruz (34.4 percent) won Oklahoma in 2008, 2012, and 2016 respectively while Mike Huckabee (34.5 percent), Santorum (37.2 percent), and Trump (38.9) did so in the Volunteer State.
Alaska has now produced a 30-something victor in four of its last five caucuses: Pat Buchanan in 1996 (32.6 percent), George W. Bush in 2000 (36.3 percent), Mitt Romney in 2012 (32.3 percent), and Cruz in 2016 (36.4 percent).
In 2012 there were 13 states with primary or caucus winners held below 40 percent: Alaska, Alabama, Iowa, Maine, Mississippi, New Hampshire, North Dakota, Ohio, Oklahoma, Tennessee, Vermont, Washington, and Wyoming.
That number has already reached 11 this cycle: Alaska, Arkansas, Georgia, Iowa, Minnesota, New Hampshire, Oklahoma, South Carolina, Tennessee, Virginia, and Vermont.
Follow Smart Politics on Twitter.