Ex-Presidential Candidates Winning 2 Percent of GOP Primary Vote
Nearly a quarter-million votes have been cast for Republicans in primaries and caucuses who had already exited the race, led by Bush, Carson, Paul, and Huckabee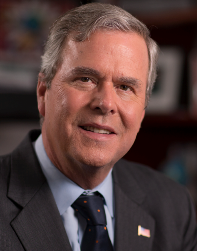 Jeb Bush may have run a disappointing 2016 presidential campaign, but he is by leaps and bounds the favorite Republican candidate among this cycle's losers.
Of the 13 candidates to withdraw from the Republican race thus far, 11 have subsequently received votes since ending their White House bid across the 24 primaries and caucuses conducted through March 8th (all but Scott Walker and Rick Perry).
And none have come close to the support Bush has received.
A Smart Politics analysis of the first two-dozen Republican primaries and caucuses finds that more than 229,000 votes have been cast for ex-presidential candidates (1.84 percent) led by Jeb Bush at more than 88,000 votes.
Since Bush's exit on February 20th, the former Florida governor has won 88,344 votes in 19 states and territories – more than twice as many votes as any other ex-candidate thus far.
Bush racked up 40 percent of these votes on Super Tuesday in Texas (35,418) where he received 1.25 percent of the primary vote.
Bush also won more than one percent of the vote in Vermont (1.80 percent), Tennessee (1.12 percent), and Massachusetts (1.02 percent).
Although he has only been out of the race for a week, Ben Carson has received the second most votes as an ex-candidate at 37,942.
The retired neurosurgeon notched 1.75 percent of the vote in Idaho, 1.61 percent in Michigan, 1.51 percent in Louisiana, and 1.31 percent in Mississippi.
Four other Republican candidates have recorded more than 10,000 votes since they've suspended their campaigns this cycle: Rand Paul (32,098), Mike Huckabee (27,141), Chris Christie (16,013), and Carly Fiorina (11,484).
Huckabee turned in a particularly strong performance in his home state of Arkansas on Super Tuesday (1.17 percent) – a month after the former governor left the race.
That bests the home-state performances of Senator Paul in the Kentucky caucuses (0.38 percent) and Jim Gilmore in the Virginia primary (0.06 percent) but is shy of Carson's 1.61 percent in the Michigan primary.
Other ex-candidates receiving votes in primaries and caucuses this year are Rick Santorum (8,023), Lindsey Graham (4,481), Jim Gilmore (1,691), George Pataki (1,691), and Bobby Jindal (219).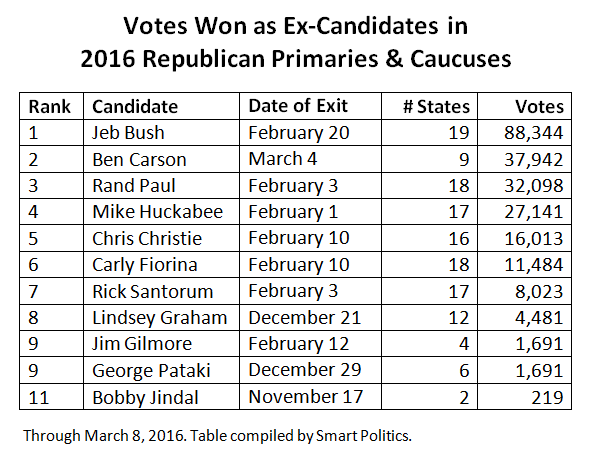 While Bush may have the most well-known name among the baker's dozen of candidates who have ended their quest for the GOP nomination thus far, sometimes lesser known ex-candidates win a larger number of votes than more established names.
For example, in Puerto Rico, Gilmore received 25 votes – five more than Christie. In Massachusetts, Pataki (467 votes) had more supporters than Santorum (290). Meanwhile, Fiorina has received more votes than Santorum in 14 of the 16 states in which both won votes as ex-candidates (all but Alabama and Mississippi, states that Santorum won in 2012).
Gilmore and Pataki are currently in a tight race for ninth place among ex-candidates with each winning 1,691 votes thus far since the end of their respective campaigns.
And which states have seen the largest show of support for those who have abandoned their White House dreams?
To date, voters in 10 states and territories have cast votes for ex-candidates at a rate of 2 percent or higher.
Vermont leads the way at 3.69 percent with 2,266 of 61,428 votes backing Bush (1.80 percent), Paul (0.69 percent), Christie (0.59 percent), Fiorina (0.35 percent), and Santorum (0.27 percent).
Michigan (3.45 percent) and Idaho (3.11 percent) also eclipsed the three percent mark with Louisiana (2.98 percent), Arkansas (2.46 percent), Mississippi (2.43 percent), Puerto Rico (2.17 percent), Massachusetts (2.14 percent), Texas (2.12 percent), and Tennessee (2.07 percent) seeing more than one out of 50 voters back former candidates.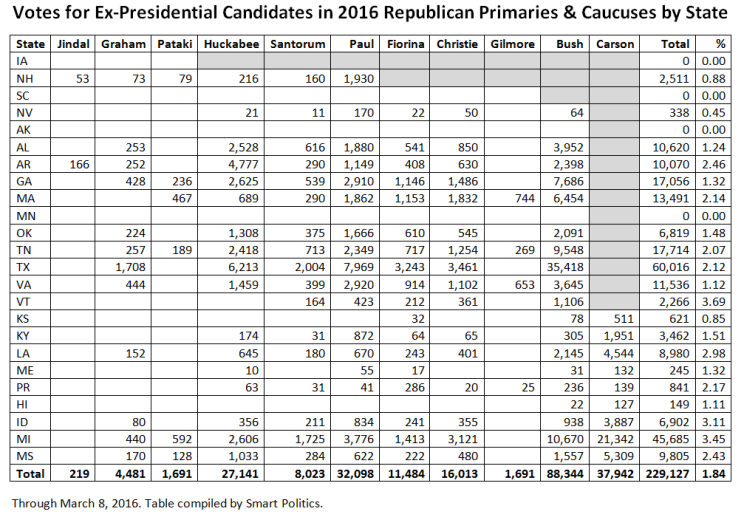 Of course, some states permit early voting – approximately half of the states that have held GOP primaries thus far this cycle – which can also lead to an inflated vote tally for a candidate who recently withdrew from the race. That is expected to be the case for Bush in his home state of Florida next Tuesday.
Not all states have included the names of any ex-candidates on the ballot including the South Carolina primary and the Iowa, Alaska, and Minnesota caucuses.
Follow Smart Politics on Twitter.