Rubio 3rd GOPer in 80 Years to Win a State, But Lose Home Primary
Rubio joins George H.W. Bush in 1980 and Pat Robertson in 1988 as the only Republicans since the mid-1930s with wins under their belt to lose a home state primary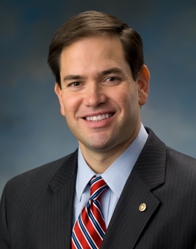 Marco Rubio's presidential campaign came to an end on Tuesday when businessman Donald Trump handily disposed of the U.S. Senator in his home state of Florida.
The double-digit defeat was resounding as expected, even as negative ads against Trump peppered the airwaves all week and Rubio hunkered down in the state in a last ditch attempt to win Florida and keep his campaign alive.
Rubio is far from the first presidential candidate to lose his home state, but few major, bona fide candidates have done so in the primary era.
A Smart Politics analysis finds that Marco Rubio's loss in Florida makes him just the third Republican since the Great Depression to lose a home state primary in a cycle in which the candidate carried at least one state.
For this analysis, Smart Politics tracked Republican candidates who lost their home state primary (before exiting the race) and who were victorious in at least one state with a presidential preference vote.
Rubio lost Florida by nearly 20 points after winning one state this cycle – the Minnesota caucuses on Super Tuesday – as well as the Puerto Rico primary and the Washington, D.C. caucuses.
Since the beginning of the primary era in 1912, just a half-dozen GOPers with at least one victory under their belt fell short in a primary in their home state, with Rubio just the third since the mid-1930s.
In 1912, the two Republican frontrunners lost their home states to each other.
President William Howard Taft lost Ohio to Teddy Roosevelt by 15.8 points. Roosevelt won 55.3 percent of the vote with Taft at 39.5 percent and Robert La Follette at 5.2 percent.
Meanwhile, in New York, Roosevelt was defeated decisively by Taft. Taft won the the former president's home state by 32.8 points with 66.4 percent – nearly doubling up on Roosevelt's 33.6 percent.
That cycle Roosevelt won nine primaries (California, Illinois, Maryland, Nebraska, New Jersey, Ohio, Oregon, Pennsylvania, South Dakota) while Taft won two (Massachusetts, New York).
The next Republican candidate to lose his home state primary after securing a victory was California U.S. Senator Hiram Johnson in 1924.
Johnson was an early winner of the South Dakota primary, narrowly beating President Calvin Coolidge by 1.4 points.
That was the only state Johnson would win, however, and Coolidge defeated the Golden State senator that May in California by 8.6 points.
In 1932, Maryland U.S. Senator Joseph France was the main challenger in the primaries to President Herbert Hoover. France won seven Republican primaries that cycle: Illinois, Nebraska, New Jersey, North Dakota, Oregon, Pennsylvania, and West Virginia.
However, Hoover defeated Senator France in his home state of Maryland by 22.7 points. Hoover carried the state with 60.0 percent with just 37.3 percent for France.
No Republican presidential candidate who won at least one state lost his home state primary for nearly a half-century.
The next to do so was George H.W. Bush in 1980.
Bush won six state primaries and caucuses that cycle – Connecticut, Iowa, Maine, Massachusetts, Michigan, and Pennsylvania (in addition to Washington D.C. and Puerto Rico).
Ronald Reagan upset Bush in his home state of Texas in early May, however, winning the Lone Star State by 3.6 points with 51.0 percent to Bush's 47.4 percent.
Eight years later, Pat Robertson won three caucuses (Alaska, Hawaii, Washington) but was handily defeated by Vice President Bush in his home state primary in Virginia.
Robertson won only 13.7 percent in the Old Dominion State – 40 points behind Bush and also trailing Bob Dole for a distant third place finish.
In addition to the six candidacies listed above there is this addendum.
In 1996, Pat Buchanan won four primaries and caucuses (Alaska, Louisiana, Missouri, New Hampshire) and in March, the conservative columnist also lost the Virginia caucuses. However, there was no preference vote in the state's delegate selection process that cycle.
In 2012, Ron Paul never won the popular vote in any state contest, though he claimed a majority of delegates by the time of the convention in four states (Iowa, Louisiana, Maine, and Minnesota). Paul lost his home state of Texas that cycle by 57.1 points to Mitt Romney, receiving only 12.0 percent of the vote.
Over the last century, nearly two-dozen other candidates lost home state primaries, though none carried a single state that cycle: Herbert Hoover in California (1920), Frank Willis in Ohio (1928), Alan Bogue in South Dakota (1932), Arthur James in Pennsylvania (1940), Ed Martin in Pennsylvania (1944, 1948), Joe Bottum in South Dakota (1944), Douglas MacArthur in Wisconsin (1948), Woods Byrer in West Virginia (1948), Thomas Werdel in California (1952), Wayne Morse in Oregon (1952), George Bender in Ohio (1960), Frank Beckwith in Indiana (1960), John Steffey in Maryland (1964), Robert Ennis in Maryland (1964), John Volpe in Massachusetts (1968), John Anderson in Illinois (1980), Phil Crane in Illinois (1980), Bob Dornan in California (1996), Alan Keyes in Maryland (1996, 2000, 2008), and Ron Paul in Texas (2008, 2012).
With John Kasich's victory in Ohio Tuesday, Republican presidential candidates have now won their home state 70 times since 1912.
Follow Smart Politics on Twitter.