Illinois Democratic Primary Has Closest Finish in State History
The Clinton-Sanders battle easily broke the record for the most competitive presidential primary for either party in Illinois history; the Trump-Cruz race was the second closest GOP battle in the state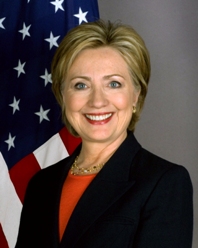 Hillary Clinton had a momentous evening Tuesday, winning all five Democratic primaries including close shaves as expected in Illinois and Missouri where the races were not called until very late into the evening.
During the 2016 election cycle Illinois did not receive nearly as much attention as Ohio or Florida – with just a fraction of polling conducted in the Prairie State vis-à-vis these other delegate rich states.
That was due in part, on the Republican side, to the fact that Florida and Ohio were home to three candidates this cycle plus the fact that each was winner-take-all on the delegate front.
In the end, both the Democratic and Republican races in Florida and Ohio were decided by double-digits.
Meanwhile, Illinois hosted its most competitive primary races in generations.
Smart Politics dug through the numbers and found that the Clinton-Sanders matchup was the closest presidential primary race by either party in Illinois history (at 1.7 points) while the 8.5-point Trump-Cruz margin was the second most competitive Republican race in the state.
Illinois was one of the inaugural 13 states to hold presidential primaries in the 1912 cycle and is one of an even smaller number to have held them without interruption every four years ever since, for a total of 27 election cycles.
Over the course of the previous 26 primaries, the most closely decided race came in 1968 in a battle of write-in campaigns late in the cycle in the Democratic contest.
In the June 11th primary – five days after the assassination of Bobby Kennedy – Minnesota U.S. Senator Eugene McCarthy (38.6 percent) defeated Ted Kennedy (33.7 percent) by 4.9 points. Vice President and fellow Minnesotan Hubert Humphrey won 17.1 percent with Alabama's George Wallace a distant fourth with 6.4 percent.
Only one other Democratic primary in the state had been decided by single digits prior to 2016.
On March 20, 1984, Walter Mondale defeated Gary Hart by 5.2 points in a big victory for the former vice president. Prior to the win, Hart had won early primaries in New Hampshire, Vermont, Florida, Massachusetts, and Rhode Island.
The 2016 race topped both of these races, with Clinton's eight-point advantage in Cook County giving her enough of a cushion to claim a 1.7-point win statewide with 50.5 percent of the vote.
Prior to Tuesday's race, the average victory margin across the previous 26 Democratic primaries was 60.7 points with only three other races decided by less than 25 points aside from the aforementioned 1968 and 1984 contests:
1920: New Jersey Governor Edward Edwards (32.3 percent) defeated former Treasury Secretary William McAdoo (17.9 percent) by 14.4 points with a write-in campaign
1976: Jimmy Carter (48.1 percent) beat Alabama's George Wallace (27.6 percent) by 20.5 points
1988: Illinois U.S. Senator Paul Simon (42.3 percent) defeated Jesse Jackson (32.3 percent) by 10.0 points
On the Republican side, Donald Trump defeated Ted Cruz by 8.5 points – not a close shave by any stretch, but nearly the most competitive Republican presidential primary in Illinois history and the closest in 80 years.
Prior to 2016, only one GOP primary had been decided by single digits.
In 1936, favorite son (and Chicago Daily News publisher) Frank Knox defeated Idaho U.S. Senator William Borah by 7.9 points with 53.7 percent of the vote.
Knox did not run in any other primaries but was selected to be Alf Landon's vice presidential running mate during the 1936 Democratic landslide.
Overall, the GOP primaries in Illinois have been slightly more competitive over the decades than the Democratic races, with seven other contests resulting in victory margins of less than 20 points:
1920: Illinois Governor Frank Lowden (51.1 percent) beat Major General Leonard Wood (33.8 percent) by 17.3 points
1924: President Calvin Coolidge (58.0 percent) defeated California U.S. Senator Hiram Johnson (42.0 percent) by 16.0 points
1976: President Gerald Ford (58.9 percent) was victorious over former California Governor Ronald Reagan (40.1 percent) by 18.8 points
1980: Reagan (48.4 percent) beat Illinois Congressman John Anderson (36.7 percent) by 11.7 points
1988: Vice President George H.W. Bush (54.6 percent) defeated Kansas U.S. Senator Bob Dole (36.0 percent) by 18.6 points
2008: Arizona U.S. Senator John McCain (47.5 percent) beat former Massachusetts Governor Mitt Romney (28.6 percent) by 18.9 points
2012: Romney (45.7 percent) defeated former Pennsylvania U.S. Senator Rick Santorum (35.0 percent) by 10.7 points
Follow Smart Politics on Twitter.