Is the 2016 Democratic Race Really Less Competitive Than 2008?
Delegate counts obscure the fact that Sanders has won more states than Clinton did in 2008 among the 32 to hold primaries and caucuses thus far in 2016; 15 states have been more closely decided than eight years ago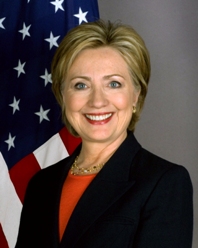 A common refrain heard throughout the 2016 primary season is how Republican turnout in primaries and caucuses is up almost across the board compared to 2012 while Democratic turnout is down from its last contested nomination in 2008.
To be sure, the Republican race is the most competitive since 1976 – buoying in part the continued high turnout that is still being seen even now in the later stages of the primary season.
Until the recent Utah caucuses, no Republican candidate had won a majority of the vote in a statewide preference vote – the longest stretch in the history of the party.
By contrast, there have certainly been plenty of blowouts on the Democratic side with Hillary Clinton racking up huge numbers in the South and Bernie Sanders doing the same in many caucuses out West.
While there is no sign that Sanders will exit the race before June, and the Vermont U.S. Senator will certainly notch several more statewide wins along the way, is it possible that 'Clinton inevitability' has depressed turnout in Democratic contests to some extent?
Or have these statewide contests been more competitive than we think?
By one rough measure – wins and losses – the 2016 Democratic race across the 32 states to vote thus far has been more competitive than eight years ago.
Clinton has won 18 state primaries and caucuses with 14 states going for Sanders; back in 2008, Obama had won 21 of these state primaries and caucuses with just 11 in Clinton's column.
Clinton has been victorious in eight of the 11 states she won in 2008: Arizona, Arkansas, Florida, Massachusetts, Nevada, Ohio, Tennessee, and Texas. Sanders has taken Michigan, New Hampshire, and Oklahoma out of Clinton's 2008 victory column.
Meanwhile, Sanders (Alaska, Colorado, Hawaii, Idaho, Kansas, Maine, Minnesota, Nebraska, Utah, Vermont, Washington) has won 11 states that Obama won eight years ago while Clinton (Alabama, Georgia, Illinois, Iowa, Louisiana, Mississippi, Missouri, North Carolina, South Carolina, Virginia) has won 10.
There have also been more nail-biters in the 2016 cycle.
Five states have already had victory margins inside of two percentage points: Missouri (0.2 points), Iowa (0.2), Massachusetts (1.4), Michigan (1.5), and Illinois (1.8). Unfortunately for Sanders he lost four of these with the only late-night close race call in his favor coming in Michigan.
By contrast, just one of the 32 states to vote thus far in 2016 had a victory margin under two points in 2008 – Missouri (1.4 points).
Overall, contests in 15 states have been more closely decided than they were in 2008 with 17 states having a larger margin of victory.
Of the 15 states that have been more competitive in the 2016 cycle, nine have seen a double-digit percentage point decrease in victory margin compared to eight years ago.
Illinois recorded the biggest drop in the vote difference between the top two candidates from 2008 to 2016: Obama won his home state by 31.9 points in 2008 while Clinton won her birth state this month by just 1.8 points, making the Prairie State 30.1 points more competitive in 2016.
Other state primaries and caucuses that saw a notable decline in victory margins this year vis-à-vis 2008 are Nebraska (-21.1 points), Colorado (-15.6), Massachusetts (-14.0), Michigan (-13.5), Oklahoma (-13.2), Kansas (-12.7), Hawaii (-12.4), and Minnesota (-10.9).
Contests in Arkansas (-7.7 points), Idaho (-5.5), Iowa (-3.5), Missouri (-1.2), North Carolina (-0.8), and Nevada (-0.3) were also tighter this cycle.
On the other side, 10 primaries and caucuses have seen a double-digit increase in the margin of victory compared to 2008.
Seven of these were primaries in the South where Clinton has thoroughly dominated Sanders, particularly among African Americans: Alabama (+44.2 points), Mississippi (+41.7), Texas (+28.5), Louisiana (+26.1), Tennessee (+20.4), South Carolina (+18.5), and Florida (+14.4).
Sanders' home state of Vermont has seen the biggest increase in victory margin among the 31 states to vote at +51.7 points with Utah (+41.3) and New Hampshire (+19.9) also recording notably bigger blowouts.
Seven other states have seen modest increases in victory margins in their respective primaries and caucuses: Arizona (+9.7 points), Maine (+9.3), Washington (+9.2), Alaska (+8.9), Georgia (+7.8), Ohio (+5.1), and Virginia (+0.9).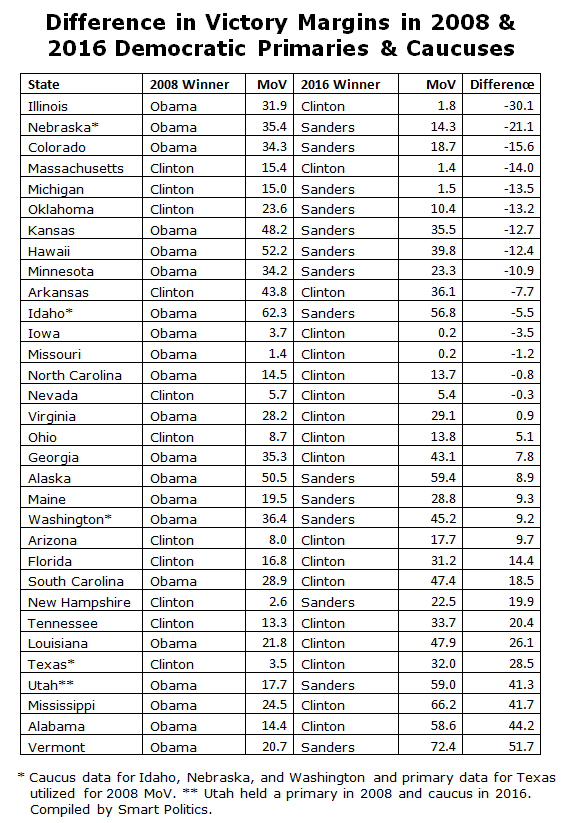 Caucuses vs. Primaries
In general, caucuses have been more competitive this cycle compared to eight years ago with primaries less so.
Of the 11 states to hold caucuses during both cycles, eight have resulted in smaller victory margins this year: Colorado, Hawaii, Idaho, Iowa, Kansas, Minnesota, Nebraska, and Nevada. Only Alaska, Maine, and Washington were less competitive this cycle.
All told, caucuses have been 5.0 points more closely decided in 2016 compared to 2008. That is a problem for Sanders – who has won the vast majority of these contests – as he tries to emulate Obama's path to victory in the pledged delegate count.
Meanwhile, nearly twice as many primaries have seen a larger victory margin in 2016 – good news for Clinton as the winner of all but four of these contests – with the winning margin up 10.4 points in primaries overall.
Thirteen states have seen winning candidates score bigger victories this cycle: Alabama, Arizona, Florida, Georgia, Louisiana, Mississippi, New Hampshire, Ohio, South Carolina, Tennessee, Texas, Vermont, and Virginia.
Seven states have hosted more closely decided primaries: Arkansas, Illinois, Massachusetts, Michigan, Missouri, North Carolina, and Oklahoma.
Data note: Utah held a primary in 2008 and a caucus in 2016. Idaho, Nebraska, Texas, and Washington held both primaries and caucuses in 2008. The primaries in Idaho and Nebraska were not binding so those states' caucuses were used for comparisons in this analysis along with the Washington caucuses and the Texas primary.
Follow Smart Politics on Twitter.