Will Patrick Leahy Break Robert Byrd's US Senate Service Record?
Vermont's other U.S. Senator is also on the ballot in 2016 – and is climbing the list of all-time service in the nation's upper legislative chamber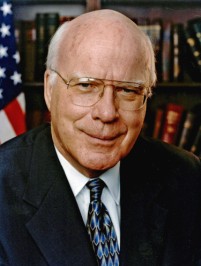 Patrick Leahy, the only Democrat ever to serve in the U.S. Senate from Vermont, might have his easiest road back to Capitol Hill in 2016.
No Republican opponent has yet filed to challenge the seven-term lawmaker with less than two months remaining before the May 26th primary filing deadline (independents have until August 4th to file).
Of course, Leahy's reelection this cycle was never in doubt with the state's senior U.S. Senator notching an average victory margin of 43.1 points over his last three bids since 1998.
All the while Leahy, who just turned 76 years old a little over a week ago, is inching closer to the Top 5 longest serving members of the chamber in U.S. history.
Through Thursday, the Vermont senator has logged 41 years, 3 months, and 5 days in the legislative body – good for sixth place having passed Mississippi Democrat John Stennis (1947-1989) in early March.
Next up is Arizona Democrat Carl Hayden (1927-1969; 41 years, 9 months, 30 days) who Leahy will eclipse on November 5th – just a few days before Leahy is poised to win election to his 8th term.
Leahy will complete his seventh full term next January at the age of 76 years, 9 months, 4 days – the third youngest U.S. Senator to do so.
The chamber's fourth longest-serving member, Massachusetts Democrat Ted Kennedy (1962-2009), was just 72 years, 8 months, and 17 days when he had exactly 42 years in the chamber under his belt in November 2004.
Meanwhile, Hawaii Democrat Daniel Inouye (1963-2012) – ranked #2 in all-time service – was 74 years, 3 months, and 28 days upon completing his seventh full term in January 2005.
All-time U.S. Senate service leader West Virginia Democrat Robert Byrd (1959-2010) was 77 years, 1 month, and 15 days old when he completed his 42nd year in January 2001.
Third-ranked South Carolina Democrat-turned-Republican Strom Thurmond (1954-1956; 1956-2003) was much older after finishing up his 42nd year at 94 years, 7 months, 20 days.
After passing Hayden this November, it will be some time before Leahy leapfrogs Kennedy – although if he serves the entirety of his eighth term he will eclipse both the Massachusetts senator and Thurmond.
Leahy is slated to pass Kennedy (46 years, 9 months, 19 days of service) for fourth place on October 22, 2021 and would overtake Thurmond in June 2022.
The Vermont senator would then need to get reelected to a ninth term in 2022 – at the age of 82 – to have a chance of passing Inouye (49 years, 11 months, 15 days) and Byrd (51 years, 5 months, 26 days) to become the longest serving member of the chamber in U.S. history.
Leahy would pass Inouye on December 18, 2024 at the age of 84 years, 8 months, 19 days and Byrd on June 29, 2026 at the age of 86 years, 2 months, 30 days.
Not to be forgotten, there is speculation that Utah U.S. Senator Orrin Hatch will go back on his statements in 2012 that his seventh term would be his last and run for an eighth in 2018. Republicans returning to power in the chamber after the 2014 election has seemingly reenergized Utah's senior senator.
Hatch currently sits at #9 on the all-time service list and will pass Alaska Republican Ted Stevens on January 14, 2017, Stennis in early March 2018, and Hayden in November 2018 to land in sixth place as he closes his current term.
Recently reelected Mississippi Republican Thad Cochran ranks #13 in all-time service at 37 years, 3 months, 12 days through Thursday.
Follow Smart Politics on Twitter.