States Still in Search of Major Party US Senate Candidates
Democrats and Republicans in four states are still looking for candidates as filing deadlines loom just days or weeks away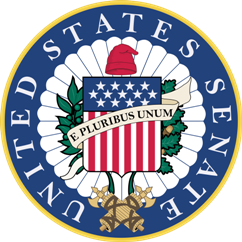 Political observers have been treated to an usually interesting presidential race for both parties this cycle, which at times has obscured the battle for control of the U.S. Senate that some feel may hinge as much on which nominees are perched at the top of the ballot as those candidates actually running for seats in the nation's upper legislative chamber.
That said, even though there are at least two handfuls of hotly contested senate races in the offering of the 34 races on the ballot this November, there will likely be nearly twice as many blow outs and, in some states, a very good chance that incumbents will not even face a major party challenger.
As of Sunday, FEC filings show that major parties in four states do not currently have any candidates for this cycle's U.S. Senate races: Democrats in Alaska and Oklahoma and Republicans in Hawaii and Vermont.
[Democrats in a third state – North Dakota – have also not filed a candidate to challenge one-term incumbent John Hoeven according to the FEC's website, but State Representative Eliot Glassheim of Grand Forks is expected to meet the state's April 11th deadline after accepting the Democratic-Nonpartisan League endorsement at the state convention last weekend].
Alaska is one of 24 states to field both Republican and Democratic nominees in every direct U.S. Senate election – 22 consecutive races since statehood.
That streak is currently in doubt with Democrats so far sitting out a run against three-term U.S. Senator Lisa Murkowski with the June 1st filing deadline less than two months away.
Democrats have only won one election since 1974 in the Last Frontier State – Mark Begich's narrow 2008 upset over embattled Ted Stevens.
If Democrats do fail to run a candidate, Murkowski will not quite have a free pass back to Washington for a fourth term – she faces two GOP primary challengers (Thomas Lamb and Bob Lochner) as well as independent Margaret Stock and likely Libertarian nominee Cean Stevens.
Oklahoma Democrats have placed nominees for the U.S. Senate in each of the 38 elections since the state's first preference vote in 1912.
The party is currently reeling from three consecutive races in which its nominee failed to reach the 30 percent mark – the worst three performances in party history in the Sooner State: Jim Rogers against Tom Coburn in 2010 (26.1 percent), Matt Silverstein against Jim Inhofe in 2014 (28.6 percent), and Connie Johnson against James Lankford in 2014's special election (29.0 percent).
Senator Lankford is up for a full term in 2016 and is the only candidate officially in the race thus far.
Democrats only have until Friday, April 15th to file a candidate or they will miss the deadline.
Each of the previous 38 contests in the state have featured nominees from both major parties with the GOP winning each of the last 10 races.
In Hawaii, the controversial appointment of Democrat Brian Schatz after Daniel Inouye's death in 2012 led to a hotly contested Democratic primary in 2014 with the incumbent narrowly defeating Congresswoman Colleen Hanabusa by less than 2,000 votes.
Schatz then cruised to a 40-point win that November over former state legislator and three-time GOP nominee Cam Cavasso.
No candidate from either party has yet filed to challenge Schatz with the June 7th filing deadline now less than two months away.
Only once has a major party failed to run a nominee across Hawaii's 22 U.S. Senate contests since statehood.
In 1974, Inouye faced only People's Party nominee James Kimmel en route to his third term with over 80 percent of the vote for the second consecutive cycle.
Losers of 16 U.S. Senate races in a row, Hawaii Republicans have recorded north of 40 percent of the vote just once since the 1980s – in 1990's special election when Congresswoman Patricia Saiki recorded 44.4 percent in a loss to Daniel Akaka.
Vermont Republicans have only lost to one Democrat in party history – Patrick Leahy – but they've done so seven times since 1974.
Green Mountain State GOPers have until May 26th to place a candidate on the August 9th primary ballot or the party will be without its first nominee in a U.S. Senate race since the state's first direct election in 1914 – a string of 39 consecutive contests.
Vermont Democrats have had three cycles without a nominee – against George Aiken in 1968 and independent Bernie Sanders in 2006 and 2012 – the third largest number for any state in the nation behind California and Minnesota with four each.
There have been as many as four U.S. Senate races with only one major party nominee in just two of the last 27 cycles since 1962: in 1990 (no Democrats in Mississippi and Virginia and no Republicans in Arkansas and Georgia) and 2002 (no Democrats in Kansas, Mississippi, and Virginia and no GOPer in Massachusetts).
The largest number of races in a given cycle with only one major party nominee is 10 in 1918.
Follow Smart Politics on Twitter.