The Longest Republican US House Delegation Streaks
Just three states have elected at least one Republican to the House of Representatives in every cycle since the founding of the party in 1854; eight other states have streaks dating back to the 19th Century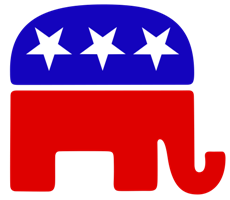 While political prognosticators have carved out a path for Democrats to take back the U.S. Senate in 2016, few see any viable chance that the party will win back the House of Representatives this cycle.
Over the last century, Republicans have seen their numbers shrink from overwhelming majorities in Northeastern and Midwestern state delegations and also grow substantially in the large Southern region.
But even if, hypothetically, Democrats enjoyed a political tsunami this autumn akin to the gains made in the early to mid-1930s, it is a virtual lock that the GOP will retain at least a contingent of U.S. House seats in certain states – large and small – from which at least one Republican delegation member has been sent dating back more than 160 years.
A Smart Politics study finds that since the founding of the Republican Party in 1854, three states have elected at least one GOPer to the U.S. House in every cycle – Illinois, Michigan, and Pennsylvania – with six others recording streaks dating back to the 1850s including Kansas since statehood in 1859.
The Republican Party officially formed in July 1854 at its first state convention in Jackson, Michigan.
The party was not formed and organized in several states for the 1854 cycle and opponents of the Democratic Party also ran under various political banners such as Anti-Nebraska, People's, and Whig with another competing faction – the American Party (Know-Nothings) – also winning dozens of seats.
In elections to the 34th Congress in 1854, Republicans did win seats across some Midwestern and Northeastern states such as Illinois, Indiana, Maine, Michigan, Pennsylvania, and Wisconsin. [Vermont also elected a Republican to the 34th Congress – though in a special election in December 1856].
However, only three of those states have continuously elected at least one Republican to their U.S. House delegation over the last 160+ years: Illinois, Michigan, and Pennsylvania. Indiana saw its GOP streak end in 1912, Wisconsin in 1934, and Maine in 1966.
In 1854, Illinois elected two Republicans to the chamber: one-term Whig Elihu Washburne and James Woodworth.
That number doubled after the Election of 1856 and Republicans would become the majority party in the state delegation by the end of the Civil War.
In Michigan, the all-Democratic delegation elected in 1852 was broken up with victories by three Republicans two years later (William Howard, David Walbridge, and Henry Waldon) and the new party would control all four seats after the Election of 1856.
In Pennsylvania, Lemuel Todd was the sole Republican of the 25 U.S. Representatives elected to the 34th Congress in the Keystone State in 1854 – a number that grew to double digits after the 1856 cycle and an outright majority after 1858.
Since the 1856 cycle, when the Republican Party became well established in most states, four other states have notched an uninterrupted streak of Republican U.S. Representatives ever since: Iowa, New Jersey, New York, and Ohio.
One other state, Kansas, has had a continuous Republican presence in the chamber since achieving statehood in January 1859.
Only three other states have elected at least one Republican U.S. Representative in every cycle since the 19th Century: Minnesota, Tennessee, and California.
Minnesota seated two Democrats to the 35th Congress after statehood in May 1858, but has elected at least one Republican ever since. [The Gopher State has actually voted for at least two GOPers in every cycle with the exceptions of 1868 and 1890].
Tennessee, meanwhile, owns the record for the longest Republican U.S. House streak in the South at nearly 150 years with the state electing an all-GOP delegation to the 40th Congress in 1866 – the first full cycle after being readmitted to the union after the Civil War.
California, meanwhile, has had at least one Republican in its delegation since 1885 – one cycle after Democrats swept the state in the 1882 congressional elections.
No other state owns a Republican streak that predates the Great Depression:
Six states have continuously elected at least one Republican since the 1930s or 1940s: Indiana (1935), Kentucky (1935), Missouri (1935), Nebraska (1935), Wisconsin (1939), and Washington (1943)
Five since the 1950s: Oklahoma (1951), Arizona (1953), North Carolina (1953), Virginia (1953), and Florida (1955)
Six since the 1960s: Maryland (1961), Alabama (1965), South Carolina (1965), Arkansas (1967), Colorado (1967), and Texas (1967)
Five since the 1970s: Alaska (1973), Louisiana (1973), Utah (1977), Georgia (1979), and Wyoming (1979)
Two since the 1980s: Oregon (1981) and Nevada (1983)
Three since the 1990s: Idaho (1993), Mississippi (1995), and Montana (1997)
Six since 2000: West Virginia (2001), New Mexico (2011), North Dakota (2011), South Dakota (2011), Maine (2015), and New Hampshire (2015)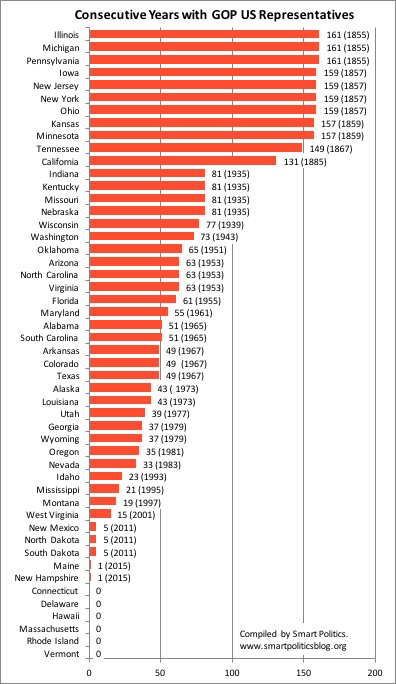 Six states currently have no Republicans in the House of Representatives – Connecticut, Delaware, Hawaii, Massachusetts, Rhode Island, and Vermont.
Republicans have lost a record 101 consecutive elections in Massachusetts, 22 in a row in Rhode Island, and a record 20 in a row in Connecticut.
Follow Smart Politics on Twitter.