Will Scott DesJarlais Lose His Seat in 2016?
The embattled Tennessee U.S. Representative narrowly escaped a primary loss in 2014 to avoid becoming just the second GOP incumbent from the state in 60+ years to lose a renomination bid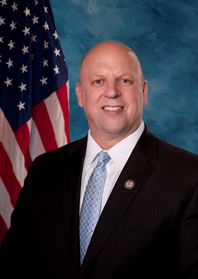 When pondering the reach of the 'incumbency advantage' in U.S. politics one need look no further than Republican Tennessee Congressman Scott DesJarlais.
The state's 4th CD U.S. Representative became embroiled in a high profile scandal at the tail end of his first reelection campaign in 2012 when allegations of physical violence, multiple affairs, and sexual relations with patients (encouraging one to have an abortion) surfaced from old divorce proceeding documents.
The scandal was not enough to derail DesJarlais that cycle – who defeated State Senator Eric Stewart by 11.5 points – but Republicans came out of the woodwork to challenge the congressman in 2014 with six opponents appearing on the August GOP primary ballot.
DesJarlais eked out the narrowest of primary wins by defeating State Senator Jim Tracy by just 38 votes with a plurality 44.9 percent and then cruised to a 23-point win that November against Democrat Lenda Sherell.
This cycle, three Republicans are in the hunt and will square off against the three-term U.S. Representative: attorney Grant Starrett , 2014 GOP candidate Dr. Yomi Faparusi, and information services specialist Erran Persley.
Starrett is raising money at twice the rate as DesJarlais and has nearly $730K cash on hand through March compared to just $345K for the incumbent.
If DesJarlais does lose his renomination bid this year he will become just the 10th Tennessee U.S. Representative to do so in state history and just the second over the last 60+ years.
The most recent GOP incumbent to lose a primary in the Volunteer State was freshman David Davis in 2008.
Davis, a state assemblyman who emerged from a 13-candidate GOP primary in 2006 with a plurality 22.2 percent, lost two years later to physician and Johnson City Mayor Phil Roe – who placed a competitive fourth in the '06 primary.
Roe defeated Davis by just 482 votes in the rematch which had a pared down primary field of just three candidates.
Prior to Davis, it had been 58 years since the last Republican U.S. Representative from Tennessee lost a renomination bid.
In 1950, it happened twice – to the only two GOPers in the state delegation.
In the 2nd CD, six-term Congressman John Jennings was roundly defeated by 35.5 points by former state legislator, attorney, and publisher Howard Baker, Sr.
The 1st CD race was much closer but two-term Congressman Dayton Phillips still lost by 3.1 points to former long-serving U.S. Representative B. Carroll Reece. Reece had served the district from 1921 to 1931 and 1933 to 1947 but had lost a U.S. Senate bid in 1948.
Three other Tennessee Republicans lost their party's nomination during the first half of the 20th Century:
1918 (2nd CD): Five-term Representative Richard Austin lost to former mayor and state insurance commissioner J. Will Taylor
1920 (1st CD): Five-term Representative Sam Sells was defeated by academic B. Carroll Reece
1932 (1st CD): Freshman Oscar Lovette lost in a rematch against B. Carroll Reece. Lovette actually ran as an independent Republican in 1930 when he defeated Reece, then lost the GOP nomination in 1932 and placed a close second in the general election running as an independent.
Another three Republicans lost their nomination bids back in the 1800s:
1868 (8th CD): Freshman David Nunn lost to State Senator William Smith. Nunn still challenged Smith in the general election as an independent Republican but placed third with 20.5 percent. Nunn would later win back his seat in the Election of 1872.
1894 (2nd CD): Two-term Representative John Houk was defeated by former state legislator and journalist Henry Gibson. The congressional seat had been held by John Houk and (previously) his father Leonidas Houk since 1879.
1896 (1st CD): Freshman William Anderson lost his renomination bid to journalist Walter Brownlow
Overall, Republican Tennessee U.S. Representatives have successfully won 184 of 193 renomination bids, or 95.3 percent of the time.
If DesJarlais escapes with a primary win again in 2016 he is virtually assured to win the general election against likely Democratic nominee Steven Reynolds. Tennessee's 4th CD has a +18-point Republican tilt in its partisan voting index.
Follow Smart Politics on Twitter.