Mike Pompeo Eyes Historic Hurdle in Kansas US Senate Race
No popularly elected U.S. Senator from Kansas has ever lost a renomination bid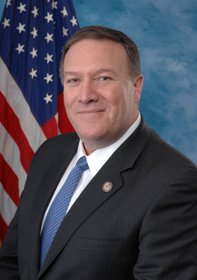 First term Kansas U.S. Senator Jerry Moran seemed poised to cruise to an easy reelection victory this cycle, with hints of another Milton Wolf tea party challenge the only potential headache as he sought to extend his party's 30 consecutive victory streak in elections to the nation's upper legislative chamber.
But Moran changed the political environment in March when he broke from his party leadership by indicating the U.S. Senate should hold hearings on the president's Supreme Court nominee this year.
That lit a fire under the conservative base and Moran soon walked back his comments. However, the controversy gave a new opening to Wolf but also three-term U.S. Representative Mike Pompeo who has since indicated he may now challenge Moran (from his right) in the August primary.
Prominent state and national Republicans – including Bob Dole – have urged Pompeo not to enter the race.
But while Kansas politics has been a bit unpredictable in recent cycles (with Democratic nominee Chad Taylor dropping out of the 2014 race and his party opting to back Greg Orman's independent bid instead of fielding another nominee), Pompeo would have to rewrite the state's history books to knock Moran out of office.
A Smart Politics analysis finds that no popularly elected Kansas U.S. Senator – from either party – has ever lost a renomination bid.
Such officeholders are a perfect 27-0 in the direct election era: Republicans are 24-0 and Democrats 3-0.
Only three U.S. Senate incumbents from the Sunflower State have lost primaries – though none had been elected to the office at the ballot box:
1912, Republican Charles Curtis: Curtis was elected by the GOP-dominated Kansas legislature in 1907. While Curtis won the August 1912 primary popular vote by 1,216 votes over two-term Governor W.R. Stubbs, he lost his renomination bid by coming up short on the determinative state legislative district count.
1914, Republican Joseph Bristow: Bristow also won his first term in the chamber via election by the state legislature in 1908 but six years later voters chose to send the aforementioned Curtis back to D.C. – by a 1.6-point margin in a four-candidate race.
1996, Republican Sheila Frahm: Lieutenant Governor Frahm was appointed in June to Bob Dole's seat after he resigned to launch his general election campaign for president. Frahm was defeated less than two months later by freshman Congressman Sam Brownback.
The two-dozen GOP incumbents who launched successful renomination bids are Charles Curtis (1920, 1926), Arthur Capper (1924, 1930, 1936, 1942), Clyde Reed (1944), Andrew Schoeppel (1954, 1960), Frank Carlson (1956, 1962), James Pearson (1966, 1972), Bob Dole (1974, 1980, 1986, 1992), Nancy Kassebaum (1984, 1990), Sam Brownback (1998, 2004), and Pat Roberts (2002, 2008, 2014). Henry Allen (1930) and Pearson (1962) also won their party's primary after being appointed to the office.
Democratic U.S. Senators who won renomination bids are William Thompson (1918) and George McGill (1932, 1938).
Not only do popularly elected incumbents have a perfect record in Kansas primaries, every popularly elected GOP U.S. Senator has also followed that up with a general election victory for a second consecutive term: Curtis (1920), Capper (1924), Reed (1944), Schoeppel (1954), Carlson (1956), Pearson (1966), Dole (1974), Kassebaum (1984), Brownback (1998), and Roberts (2002).
While Moran enters the 2016 race as the favorite, primary bids by Pompeo (or Wolf) would almost assuredly make for a third consecutive competitive GOP U.S. Senate primary in the state after decades of blowouts.
The average victory margin across the 37 Kansas Republican U.S. Senate primaries from 1912 through 2008 was 49.9 points with only four contests decided by single digits: Curtis' 1.0-point popular vote victory over W.R. Stubbs in 1912, Curtis' 1.6-point win over Bristow in 1914, Pearson's 9.1-point win over Congressman Robert Ellsworth in 1966, and Kassebaum's 6.0-point win over college professor Wayne Angell (in a nine-candidate field) in 1978.
Only five other contests were decided by less than 20 points.
That changed this decade with two fairly close races: Moran beat fellow Congressman Todd Tiahrt by 5.1 points in 2010 and Pat Roberts defeated physician Milton Wolf by 7.3 points in 2014.
Last place GOP primary finisher Al Zahnter is campaigning again for the senate this cycle and any other GOP challenger needs to file paperwork by noon on June 1st to appear on the August 2nd primary ballot.
On the Democratic side, only 2010 and 2014 candidate Patrick Wiesner has filed candidacy papers. Wiesner, an attorney and accountant, finished fourth in the 2010 race won by Lisa Johnston with 16.4 percent of the vote and lost to Chad Taylor in 2014's two-candidate race with 46.7 percent.
Follow Smart Politics on Twitter.