Could Rhode Island Host Its 1st Ever Competitive GOP Primary?
No Republican presidential primary has been decided by less than 20 points in state history with winners landing north of 60 percent of the vote in every cycle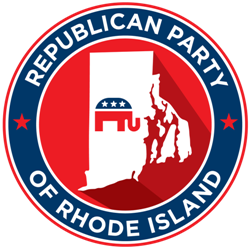 When thinking of states that have hosted hotly contested Republican presidential primaries over the last several decades, Rhode Island does not come to mind.
Since its first primary in 1972, Rhode Island has held its contests in March, April, May, and June. But no matter when the state has hosted its primary, there has been the same through line: a blow-out in the Republican contest.
That may change on Tuesday when Donald Trump, John Kasich, and Ted Cruz square off in the Ocean State.
Public polling in the state has been sparse – with only a single Brown University survey (of a very small sample of GOP voters) released over the last two months. Trump held a 13-point lead over Kasich in that poll released this weekend.
If the Brown survey is anywhere close to being in the ballpark of reflecting what happens in Tuesday's actual vote, the 2016 race will be the most competitive GOP presidential primary in the history of the state.
Across the 11 Republican contests that have been held in Rhode Island since enacting its presidential primary law in 1969, every winner has received north of 60 percent of the vote with an average victory margin of 49.8 points.
The closest contest took place in 2000. In that cycle, John McCain defeated George W. Bush by a decisive 23.8 points with 60.2 percent of the vote.
Rhode Island was one of just seven states – five in the Northeast – won by the Arizona U.S. Senator in his first quest for the GOP nomination.
Three other Republican primaries were decided by between 30 and 40 points over the last 40+ years:
1992 (31.2 points): George H.W. Bush (63.0 percent) over Pat Buchanan (31.8 percent)
1976 (36.1 points): Gerald Ford (65.3 percent) over Ronald Reagan (31.2 percent)
2012 (39.1 points): Mitt Romney (63.0 percent) over Ron Paul (23.9 percent)
Three other cycles saw the Republican vote decided by between 40 and 50 points:
1988 (42.3 points): George H.W. Bush (64.9 percent) over Bob Dole (22.6 percent)
2008 (42.7 points): John McCain (64.2 percent) over Mike Huckabee (21.5 percent)
1996 (45.3 points): Bob Dole (64.4 percent) over Lamar Alexander (19.1 percent)
In each of these seven races listed above, the second place finisher had not yet suspended his campaign, though Alexander and Huckabee each did within hours of their loss.
Four other GOP primaries were decided by more than 50 points:
1980 (53.4 points): Ronald Reagan (72.0 percent) over George H.W. Bush (18.6 percent). [Bush had exited the race a week prior to the June 3rd contest].
2004 (72.5 points): George W. Bush (84.9 percent) over votes cast for unpledged delegates (12.4 percent)
1984 (81.4 points): Ronald Reagan (90.7 percent) over unpledged (9.3 percent)
1972 (82.3 points): Richard Nixon (88.3 percent) over Pete McCloskey (6.0 percent)
The Democratic contest is expected to be fairly competitive as well on Tuesday, which would also be somewhat of a novelty in Rhode Island politics although Democratic races have been more closely contested in the state than those on the Republican side.
Only one of the state's 11 Democratic primaries has been decided by single digits. In 1976, votes cast for unpledged delegates totaled 31.5 percent – 1.3 points higher than support for Jimmy Carter (30.2 percent). Idaho U.S. Senator Frank Church ran three points behind Carter at 27.2 percent.
Three other races were decided by between 10 and 20 points:
1984 (10.5 points): Gary Hart (45.0 percent) over Walter Mondale (34.5 percent)
2000 (16.5 points): Al Gore (56.9 percent) over Bill Bradley (40.4 percent)
2008 (18.0 points): Hillary Clinton (58.4 percent) over Barack Obama (40.4 percent)
However, just three other races were decided by less than 50 points:
1972 (20.5 points): George McGovern (41.2 percent) over Ed Muskie (20.7 percent)
1992 (31.7 points): Paul Tsongas (52.9 percent) over Bill Clinton (21.2 percent)
1980 (42.4 points): Ted Kennedy (68.3 percent) over Jimmy Carter (25.9 percent)
Winners in each of the remaining four races recorded at least two-thirds of the vote:
2004 (52.6 points): John Kerry (71.2 percent) over John Edwards (18.6 percent)
1988 (54.7 points): Michael Dukakis (69.9 percent) over Jesse Jackson (15.2 percent)
2012 (69.4 points): Barack Obama (83.4 percent) over votes cast for unpledged delegates (14.0 percent)
1996 (83.0 points): Bill Clinton (89.1 percent) over unpledged (6.1 percent)
Although Rhode Island will be offering only a small slice of the delegates up for grabs on Tuesday, for candidates in need of a victory (Sanders) or a strong second place showing (Kasich) to demonstrate momentum at this late stage in the campaign, the Ocean State will be one to watch – for a change.
Follow Smart Politics on Twitter.