Katie McGinty and a Brief History of Female Pennsylvania US Senate Candidates
McGinty is the 10th woman to appear on a Pennsylvania Democratic or Republican U.S. Senate primary ballot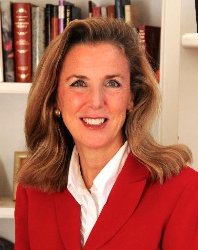 The Democratic Party has thrown its considerable weight behind Pennsylvania U.S. Senate candidate Katie McGinty in Tuesday's primary against Joe Sestak and two other hopefuls, but will it be enough to overcome the (ever-shrinking) advantage the former Keystone State congressman and 2010 nominee has enjoyed throughout the campaign?
The race is expected to be one of the nation's most closely contested U.S. Senate primary battles – with the winner faced with the task of taking back the state's Class III seat against incumbent Pat Toomey who is running uncontested for the Republicans.
McGinty, former Chief of Staff to Governor Tom Wolf and ex-Secretary of the Pennsylvania Department of Environmental Protection, is one of 10 women to make it to a major party U.S. Senate primary ballot in her state out of more than 130 Democrats and Republicans to seek the office in the direct election era.
None of the previous nine candidates won a majority of the primary vote (averaging 24.5 percent), just two won their party's nomination, and none were victorious in the general election.
The first woman to appear on a Democratic or Republican U.S. Senate primary ballot in Pennsylvania was Republican Elizabeth Jordan in 1946.
Jordan, a housewife from Pittsburgh, challenged Governor Ed Martin for the GOP nomination and lost by a 10:1 margin with just 9.6 percent of the vote.
A generation later the state would have its first female major party U.S. Senate nominee in what also marked the most competitive primary battle for the office over the last century.
Democrat Genevieve Blatt was the first woman elected to statewide office in Pennsylvania – winning the race for Secretary of Internal Affairs in 1954, 1958, and 1962.
In 1964, Blatt ran for the Democratic nomination to take on two-term Republican Senator Hugh Scott.
Blatt faced the party-backed Supreme Court Justice Michael A. Musmanno and Allegheny County court clerk David Roberts. [Industrialist and future Governor Milton Shapp also briefly ran for the nomination, but did not appear on the primary ballot].
Blatt, who had been a fixture in the Democratic Party for two decades, challenged Musmanno in the primary in part because he had refused to resign from the bench to run for the U.S. Senate seat.
Blatt ended up defeating Musmanno by just 491 votes out of over 1 million votes cast in the primary, but her general election campaign was stalled by court challenges from the Musmanno campaign that lasted months.
This resulted in Blatt's narrow defeat, unable to ride the tide of the 1964 Democratic wave with Lyndon Johnson at the top of the ticket – losing by just 1.5 points to Senator Scott.
In 1976, State Senator Jeannette Reibman made a bid for the Democratic nomination but was easily defeated by six-term Congressman William Green.
Green won by 37.6 points in the two-candidate race with Reibman winning 31.1 percent of the primary vote.
That same cycle saw Mary Foltz, a Gettysburg real estate broker, run for the Republican nomination. Foltz placed a distant fifth out of six candidates with 3.1 percent in a race won by John Heinz.
In 1980, civil rights activist and former Secretary of State C. Delores Tucker placed fourth out of eight candidates in the largest Democratic U.S. Senate primary in state history.
Tucker – who had been fired by Governor Shapp three years prior for using state employees to write speeches for which she had been compensated – received 7.4 percent, more than 45 points behind former Pittsburgh mayor and 1974 nominee Peter Flaherty.
In 1988, former Potter County Commissioner Susan Kefover made a strong showing in her Democratic nomination bid to take on Heinz who was vying for his third term.
Kefover placed second, 11.2 points behind former Philadelphia City Controller Joe Vignola in a four-candidate field.
Four years later, the second – and most recent – female U.S. Senate nominee from the Keystone State emerged with Womens Way president Lynn Yeakel winning the Democratic primary over two-term Lieutenant Governor Mark Singel.
Yeakel defeated Singel by 12.3 points with 44.8 percent of the vote in the five-candidate Democratic field. Yeakel then lost to two-term Senator Arlen Specter by 2.4 points in the general election.
In 2000, State Senator Allyson Schwartz took on four-term Congressman Ron Klink and four other Democrats to challenge Rick Santorum that November.
Schwartz lost by 14.2 points with 26.5 percent of the vote – good for second place, narrowly ahead of former state Secretary of Labor and Industry Tom Foley.
Prior to McGinty, the last woman to appear on a major party U.S. Senate primary ballot in Pennsylvania was Republican Peg Luksik.
Luksik, a former three-time gubernatorial candidate (and two-time Constitution Party gubernatorial nominee), won only 18.6 percent of the GOP vote against Toomey in 2010, losing by 62.9 points.
In addition to Sestak, McGinty will also face Braddock Mayor John Fetterman and perennial candidate and small business owner Joe Vodvarka on the Democratic primary ballot.
Follow Smart Politics on Twitter.