How Big of a Footprint Will Alan LaPolice Leave On Kansas' 1st CD Race?
It has been 142 years since the last time an independent U.S. House candidate from Kansas won 10 percent of the vote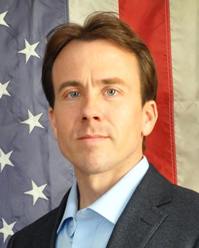 In a state that has elected at least one Republican to the U.S. House in every cycle since statehood (and has the longest Democratic drought in the nation to the U.S. Senate), Kansas congressional elections frequently seem to have more drama within the GOP than between Republicans and Democrats in the general election.
That was true in Kansas' 1st Congressional District in 2014, when then two-term incumbent Tim Huelskamp was nearly upset in the August primary by farmer and educator Alan LaPolice.
Huelskamp won by just 9.9 points and was poised to face LaPolice and another Republican, physician Roger Marshall, in his renomination bid this summer.
Anti-Huelskamp forces were worried, however, that fractured support between LaPolice and Marshall would enable Huelskamp to eke out another primary win.
But last week LaPolice announced he would not run for the GOP nomination and instead would seek the 1st CD seat as an independent – with anti-Huelskamp Republicans now able to solidify around the well-funded Marshall as a result.
No Democrat has yet entered the race in advance of the June 1st filing deadline – not surprising for a congressional district in which the Republican nominee has not faced a Democratic opponent in four of the last eight cycles (2000, 2002, 2004, 2012).
Still, Huelskamp's relative vulnerability did help launch Kansas Democrats to their strongest performance in a generation in the 1st CD in 2014 with Jim Sherow winning 32.1 percent – last topped by Duane West's 37.4 percent against Pat Roberts in 1990.
[Democrats have not won more than 40 percent of the 1st CD vote since 1970 (Billy Jellison, 43.2 percent) and have not captured the seat since Howard Miller in 1952].
LaPolice, meanwhile, faces an uphill battle if he wishes to leave a footprint in the November general election.
Although the state had a high profile independent candidate in its 2014 U.S. Senate race with Greg Orman winning 42.5 percent, independent bids have been extremely rare in elections to the U.S. House from Kansas over the past 100 years.
Since 1916, there have been 120 non-major party candidacies from Kansas across 285 general and special U.S. House elections. But only 10 of these were independents, and only one since 1936:
1916, 1st CD: Eva Harding (7.6 percent)
1932, 1st CD: George Hall (8.8 percent)
1924, 2nd CD: Arthur McKenney (6.7 percent)
1936, 2nd CD: Glenn Steven (2.2 percent)
1918, 3rd CD: Robert Herrick (2.4 percent)
1936, 3rd CD: L.P. Beard (6.0 percent)
1984, 3rd CD: John Ralph (5.3 percent)
1932, 4th CD: F.M. Shonkwiler (0.3 percent)
1936, 4th CD: A.D. Wiseman (0.5 percent)
1934, 5th CD: C.F. Whitson (5.4 percent)
Looking more broadly at non-major party U.S. House candidates from the Sunflower State over the last century, just two of these 120 candidates received more than 10 percent of the vote.
Both ran during cycles in which there was no Democrat in the general election.
In 2000, Libertarian Jack Warner won 10.7 percent against two-term Republican incumbent Jerry Moran in the 1st CD.
In 2012, Libertarian Joel Balam received 31.6 percent of the vote in the 3rd CD against freshman Kevin Yoder.
No other third party or independent candidate over the last century reached double-digits in cycles with or without both major parties fielding candidates on the ballot.
By contrast, from statehood in 1859 through 1914, there were 67 third party and independent candidates who received at least 10 percent of the vote across 135 races to the chamber.
That tally includes 27 Populists, eight Progressives, six Socialists, five People's Party nominees, five Greenback Laborites, four Union Laborites, three Greenbacks, two independents, two independent Greenbacks, two Unionists, one independent Republican, one National Unionist, and one Prohibitionist.
Twenty of these candidates were victorious between 1864 and 1898: 15 Populists, three People's Party nominees, one independent, and one Unionist.
The last cycle in which a true independent won at least 10 percent of the vote in a Kansas U.S. House race was 1874 in the 1st CD.
In that cycle, former state legislator John Goodin won 51.2 percent as an independent and defeated Republican state House Speaker Stephen Cobb by 2.5 points.
Goodin lost his reelection bid in 1876 as an independent Greenback by 11.5 points to Republican state House Speaker Dudley Haskell  and was the failed Democratic nominee for governor in 1878.
Also in 1874, independent J.K. Hudson won 40.4 percent in the 3rd CD race, losing to Republican state Judge William Brown.
The only other true independent to run for Congress in the 19th Century was John Martin in an 1889 4th CD special election where he won just 0.7 percent.
Whether or not Rep. Huelskamp wins his primary, LaPolice is almost assured to reach well past the 10 percent mark in 2016 if no Democrat files for the 1st CD race with independents, Democrats, and some lingering GOP supporters from his 2014 primary bid helping him to cross that line.
Follow Smart Politics on Twitter.