The Potential Pitfall of Selecting Sherrod Brown as Clinton's VP
If Democrats win the White House and net just four U.S. Senate seats this November, they will lose their majority status in the chamber by January 20th should Clinton pick Brown, Cory Booker, or Elizabeth Warren as her running mate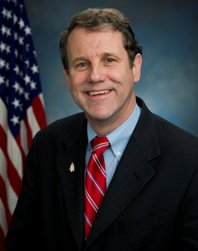 Buzz about Sherrod Brown being on Hillary Clinton's vice presidential nominee short list continues, even after the Ohio U.S. Senator stated in late April that he does not want the job and has no interest in being on the presidential ticket.
Journalists and prognosticators still highlight the attractiveness of a Brown selection due to the Buckeye State slated to be a key battleground once again in 2016. [Setting aside the many cycles during which presidential tickets have failed to carry the home state of their VP nominees such as Lloyd Bentsen of Texas in 1988, Jack Kemp of New York in 1996, John Edwards of North Carolina in 2004, and Paul Ryan of Wisconsin in 2012].
But the reason Senator Brown might be a particularly risky pick this cycle – for the party, not the ticket – has less to do with his ability or inability to help carry the Buckeye State, but the long game: what the party breakdown of the U.S. Senate will look like once Clinton (theoretically) takes office.
It is this same reason Clinton might be shy to pick other supposed short-listed U.S. Senators like Cory Booker of New Jersey or (even more unlikely) Elizabeth Warren of Massachusetts.
If Clinton wins the White House this November, the hope and expectation for the Democrats is that they will pry back control of the nation's upper legislative chamber along the way.
To do so, they will need to net four seats – the odds of which have been frequently discussed elsewhere, but, in short, the scenario is certainly plausible.
The problem with choosing Brown (or Booker or Warren) as a running mate, is that a Republican governor would get to appoint the replacement once the senator resigns from those states.
And if Democrats net exactly four seats in the chamber, the 50-50 tie they would enjoy on January 3, 2017 would become a 49-50 deficit upon the running mate's resignation and swearing-in as Vice President (January 20th at the latest) and a 49-51 deficit after the subsequent GOP appointment.
And that is because Republican Governors John Kasich of Ohio, Charlie Baker of Massachusetts, or Chris Christie of New Jersey would undoubtedly choose a fellow party member to fill the seat until the next election.
Under this scenario, a Brown pick would probably be the least attractive option for the Democrats in the U.S. Senate as Ohio's vacancy rules are such that the appointed Senator would hold the seat until the next regularly scheduled general election – November 6, 2018 – at which point special and general elections would be held simultaneously.
In Massachusetts, state law requires that a special election be held for the seat between 145 and 160 days after the vacancy occurs. That means – should Senator Warren be selected and not resign until January 20, 2017 – the latest date a Democrat could win back the seat would be June 28, 2017. Democrats have won 15 out of 16 general and special U.S. Senate elections in Massachusetts since 1976 and would be strongly favored to reclaim control at that time.
In New Jersey, state laws are such that a special election would be held a few months later on November 7, 2017. Democrats have won 15 consecutive general and special elections to the chamber from the Garden State since 1976 and would almost be assured to take back the seat in that contest.
Temporarily losing control of these seats in states governed by Republicans is perhaps one reason why neither Brown, Booker, nor Warren top many prognosticator lists for the most likely U.S. Senator to be picked by Clinton as VP.
That honor usually belongs to Virginia's Tim Kaine.
Kaine too satisfies the 'battleground state' component for those who believe it should be a determining factor in the selection of a running mate, with the added benefit that the state is currently governed by a Democrat – Terry McAuliffe.
McAuliffe would ensure the seat remains in the hands of a Democrat through his appointment during Clinton's honeymoon period, although, like New Jersey, a special election would be called on November 7, 2017.
However, unlike New Jersey, the odds of Republicans winning a U.S. Senate election in Virginia are much stronger, which could then bring back control of the chamber to the GOP.
Follow Smart Politics on Twitter.