Minnesota GOP Could Win Just 1 US House Seat for 1st Time Since 1890
Gopher State Republicans have claimed less than two seats in the chamber in just three of 81 cycles since statehood – all during the 19th Century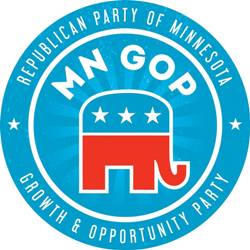 With John Kline's retirement in Minnesota's 2nd Congressional District and the DFL recruiting a top-tier challenger to Erik Paulsen in the 3rd CD, Gopher State Republicans will be fighting to hold serve in the 2016 cycle.
In previous cycles, the party has made efforts to take back Tim Walz's 1st CD seat as well as Collin Peterson's long-held seat in the conservative 7th CD.
Those hurdles have continually proved to be too high, even when lowered during cycles with a national GOP wind at the backs of its candidates (e.g. 2010, 2014).
And while Republicans will rally behind Stewart Mills in his rematch against incumbent Rick Nolan in the 8th CD, the focus will remain on holding onto the 2nd and 3rd – particularly with Donald Trump's unknown top of the ticket effects this cycle.
Both districts have a slight Republican lean (+2 points according to Charlie Cook's Partisan Voting Index) but Democrats offer two top-tier candidates – former medical executive Angie Craig in the 2nd and State Senator Terri Bonoff in the 3rd.
The open 2nd CD should be the easier pick-up opportunity for the DFL, despite running a relative political novice against the eventual Republican nominee.
[Craig's eventual opponent likely won't be a seasoned officeholder either: talk show host Jason Lewis recently won the GOP endorsement but will face at least one opponent, Kline-endorsed businesswoman Darlene Miller, in the August primary].
During the last two election cycles, Kline ran only 5.2 points ahead of Mitt Romney and 7.0 points ahead of GOP gubernatorial nominee Jeff Johnson at the top of the ticket in his district while Paulsen did so by 9.5 points and 12.4 points respectively.
If the DFL holds its five seats as projected and picks up these two battleground districts, Republicans will be in unfamiliar territory – holding just one U.S. House seat for the first time in more than a century.
Smart Politics examined the cycle-to-cycle partisan breakdown of the Minnesota U.S. House delegation and found that the last time Republicans were held to just one seat was over 125 years ago after the 1890 election.
In 1890, Minnesota had only five seats in the chamber and was coming off its fourth GOP sweep out of the last five cycles.
However, the 1890 cycle saw a massive national mid-term wave with Republicans shedding over 90 seats to Democrats and Populists.
Republicans lost four of its five seats in Minnesota that year – incumbents Mark Dunnell in the 1st CD, Darwin Hall in the 3rd, Samuel Snider in the 4th, and Solomon Comstock in the 5th.
Only John Lind (who would later become a Democratic governor of the state) held his seat – winning by just 1.1 points over Democrat-Farmers Alliance nominee James Baker.
Prior to 1890, there were only two other cycles in which Republicans failed to win more than one Minnesota U.S. House seat – and that was back when the state held only two seats in the chamber: after statehood in 1858 (losing both at-large seats) and in 1868 (winning the 1st CD).
Overall, Minnesota Republicans still hold an enormous historical advantage in the state, winning 378 of 592 general and special elections to the chamber (63.9 percent).
The DFL (formed in 1944) has won 158 elections (26.7 percent), with Farmer-Laborites winning 25 (4.2 percent), Democrats winning 24 prior to 1944 (4.1 percent), and independents and other third parties winning seven (1.2 percent).
Of particular note is the fact that five of Minnesota's eight districts currently have a GOP tilt according to the Cook Partisan Voting Index: +1 in the 1st, +2 in the 2nd and 3rd, +6 in the 7th and +10 in the 6th. Democrats also hold only a +1 point advantage in Nolan's 8th CD.
Should the DFL strike gold and win seven seats in 2016, those numbers will likely change.
Given Paulsen's incumbency advantage and relatively non-controversial tenure, the more likely scenario is that the DFL gains just one seat in 2016.
Republicans have been held to two seats in just five cycles since the 1890s (from 1990 through 1998). The party also won exactly two seats in 1878 and 1886 as well as in six cycles from the late 1850s through 1870 when the state only held two seats in the chamber.
Follow Smart Politics on Twitter.