Are There Any Democratic Primary Bellwethers?
Unlike their GOP counterparts, Democrats have few states that have consistently backed the party's eventual nominee over the last 40+ years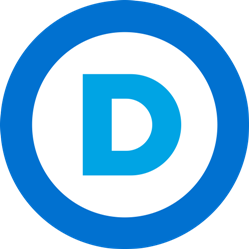 A recent Smart Politics report documented how, with Donald Trump's impending nomination, seven states maintained their perfect track record in backing the eventual Republican presidential nominee in every cycle since 1972: Florida, Illinois, Kentucky, Maryland, New Jersey (voting June 7th), New York, and Oregon.
On the Democratic side, Hillary Clinton will effectively become her party's presumptive nominee after the June 7th primaries, although nearly half of the states will have voted against her in primaries and caucuses this cycle.
Bernie Sanders has already won 20 states: Alaska, Colorado, Hawaii, Idaho, Indiana, Kansas, Maine, Michigan, Minnesota, Nebraska, New Hampshire, Oklahoma, Oregon, Rhode Island, Utah, Vermont, Washington, West Virginia, Wisconsin, and Wyoming.
The longtime legislator from Vermont is also expected to rack up more wins in June with strong showings in Montana, North Dakota, and South Dakota and perhaps put up a good fight in California and possibly New Mexico.
Entering the 2016 cycle, only three states could make the argument that they have been primary bellwethers for the Democrats over the last five decades – Kansas, Texas, and Wisconsin – although each state comes with an asterisk (and two ended up voting for Sanders this cycle).
Wisconsin – one of the originators of the presidential primary in 1912 – chose to select its convention delegates via caucuses in 1984, which saw establishment favorite Walter Mondale win by a double-digit margin over Gary Hart.
However, the state also held an advisory primary a few days prior in which Hart edged Mondale by 3.3 points with more than 635,000 votes cast (compared to 33,734 caucus voters).
Regardless of how one characterizes the winner of the Badger State in that cycle, Wisconsin's streak certainly came to an end in 2016 when Sanders defeated Clinton by 13.5 points in the April primary.
Texas, meanwhile, did not hold its first Democratic presidential preference vote primary until 1976, but a plurality of state delegates did back George McGovern (54) on the first ballot of the 1972 convention over George Wallace (48).
For the next 40+ years, the Lone Star State voted for every eventual Democratic nominee in its primary in every cycle except for 2008, when Clinton defeated Barack Obama by 3.6 points.
However, Obama did win the Texas Democratic caucuses which were held that same day – as did Jesse Jackson in 1988 by 5.3 points over Michael Dukakis.
Kansas also had one quasi-red mark on its resume as a Democratic primary bellwether state entering the 2016 campaign.
In its 1976 caucuses, a plurality of Kansas Democrats were uncommitted (48.4 percent) with Jimmy Carter receiving 41.6 percent. However, by the convention, Carter did receive the votes of 30 of the state's 32 delegates with just two going to Mo Udall.
In 2016, Kansas overwhelming supported Sanders in its caucuses with the Vermont U.S. Senator winning by 35.5 points.
One other state has supported the ultimate Democratic nominee in all but one cycle since 1972 – Virginia –with no asterisk needed. In 1988, Jesse Jackson won the state's primary by 22.8 points over Al Gore with Dukakis in third.
Three other states have backed the eventual Democratic nominee during the primary season in all but two cycles during this period under analysis: Georgia, Illinois, and Montana.
In 1972, Georgia's convention delegates were split nearly evenly among four candidates, with George McGovern and Scoop Jackson tying at 14.5 votes. George Wallace won 12 and Shirley Chisholm received 11.
In 1988, Jesse Jackson won the state's Democratic primary by 7.5 points over Gore with Dukakis a distant third.
Illinois Democrats voted for Ed Muskie in the 1972 primary (though McGovern, who did not compete in the primary, had the support of 119 of the state's 170 delegates by the convention's first ballot).
The state also saw U.S. Senator and favorite son Paul Simon cruise to a 10-point victory over Jackson in 1988 for the only victory of his presidential campaign.
Montana, which has still yet to hold its primary this cycle, has seen two losing Western Democrats carry the state during the primary season.
Idaho U.S. Senator Frank Church beat Carter by 34.8 points in 1976 and Colorado's Hart defeated Mondale by 13.6 points in the 1984 caucuses.
On the other end of the spectrum is Oklahoma, which has been an anti-bellwether state for the Democrats over the decades – failing to back the eventual nominee during the primaries seven times:
1972: Scoop Jackson won 23.5 of the Sooner State's 39 delegates at the national convention
1976: Uncommitted delegates outnumbered those for Carter by more than 14 percentage points. [At the convention, support coalesced for Carter with the Georgian claiming 32 of 37 delegates on the first ballot].
1984: Hart won the caucuses by 1.7 points over Mondale
1988: Gore won the primary by 20.4 points over Dick Gephardt
2004: Wesley Clark scored his only primary win with a 0.4-point victory over John Edwards
2008: Clinton defeated Obama by 23.6 points
2016: Sanders beat Clinton by 10.4 points
Two other states have failed to back the eventual nominee in six cycles (Arizona and Rhode Island) with nearly a dozen other states doing so five times (Alaska, Colorado, Maine, Massachusetts, Michigan, Nevada, New Hampshire, South Carolina, South Dakota, Vermont, and Washington). South Dakota will hold its primary on June 7th.
Follow Smart Politics on Twitter.