Beyoncé Becomes 9th Living Individual to Receive Dayton Proclamation
The pop diva joins a list that includes two ex-governors, a state senator, a conductor, a Beatle, an educator, a basketball coach, and a labor leader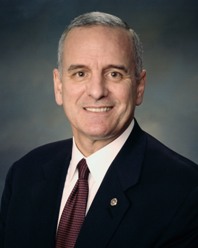 In advance of her concert at TCF Stadium in Minneapolis on Monday, Minnesota Governor Mark Dayton (and Lieutenant Governor Tina Smith) signed a proclamation declaring Monday, May 23rd as "Beyoncé Day" in the state.
The governor singled out the singer's commercial successes (millions of records sold), her widely-recognized impact around the globe (making Time Magazine's 100 Most Influential People in the world list and Forbes' 100 Most Powerful Women in the world), and her achievements as a role model (influencing "many young girls and women with powerful, positive messages in her songs").
Beyoncé is not the first living individual or musician to receive such an honor from the Democratic governor, but she does add her name to a fairly short list.
Since taking office in January 2011, Dayton has issued 890 proclamations – however, only nine of which have honored living individuals, or one percent.
That puts Beyoncé in some exclusive company, at least in the governor's eyes.
The first two individuals to be recognized with a proclamation from Dayton were actually former governors.
DFLer Wendell Anderson was the first, receiving the honor on February 1, 2013 – on his 80th birthday.
Later that fall, Republican Al Quie received a similar acknowledgment when Dayton proclaimed September 22, 2013 "Albert H. Quie Day" – four days after the former governor's 90th birthday.
Dayton proclaimed days in honor of five individuals in 2014:
McCartney, like Beyoncé, performed in Minneapolis on the day of Dayton's proclamation.
The governor did not bestow any other proclamations upon living individuals until earlier this month when long-serving DFL State Senator Jim Metzen was honored on May 13th.
Dayton has issued proclamations for many deceased individuals over the years, such as Dr. Martin Luther King (multiple times), Leif Erickson (October 9, 2013), John Kennedy (November 22, 2013), former Supreme Court Justice Rosalie Wahl (September 21, 2013), Dr. Norman E. Borlaug (multiple times), and Dred and Harriet Scott (December 5-6, 2015).
Follow Smart Politics on Twitter.