North Dakota Republicans Eye Rare Competitive Gubernatorial Primary
The 2016 race ends a streak of eight uncontested GOP primaries and is the first in 70 years with three candidates on the ballot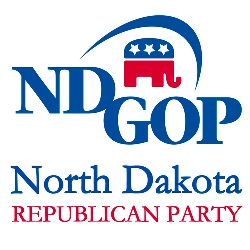 On paper, long-serving North Dakota Attorney General Wayne Stenehjem should be a shoo-in to win the state's Republican gubernatorial primary next month.
The former state legislator has won five consecutive statewide elections for the state's top law enforcement office, largely has the backing of the party establishment, and won his party's endorsement at the state convention on the second ballot in early April against State Representative Rick Becker and Fargo business executive Doug Burgum.
Becker withdrew after the convention but the wealthy Burgum will be on the primary ballot as well as architect Paul Sorum. [Sorum unsuccessfully sought the GOP endorsement for U.S. Senate against John Hoeven in 2010 and for governor against Jack Dalrymple in 2012].
However, 2016 is not shaping up to be an ordinary election cycle and, in the GOP presidential race, has proven to be the year of the 'outsider.'
Public polling has been scant on the gubernatorial race, for a seat that Republicans will almost certainly hold. North Dakota has the third longest Democratic gubernatorial drought in the nation – behind South Dakota and Utah – with the last GOP loss coming in 1988 to Governor George Sinner.
Whether Burgum's outsider status and campaign fundraising advantage – outraising Stenehjem nearly 2:1 this year, buoyed in part by a $100K donation from former colleague Bill Gates – propels him into a close race with the party favorite on Primary Day is unclear.
But one thing is for certain – this cycle will have the most interesting and competitive North Dakota gubernatorial primary Republicans have seen in decades.
For starters, each of the last eight Republican nominees since 1984 ran uncontested in the primary (although some were challenged for their party's endorsement along the way).
Allen Olson (1984), Leon Mallberg (1988), Ed Schafer (1992, 1996), John Hoeven (2000, 2004, 2008), and Jack Dalrymple faced no primary opposition when securing the GOP nomination in June primaries over the last 30+ years.
Secondly, it has been 48 years since the last time a Republican gubernatorial primary was anything but a blowout.
In 1968, Ford dealer Bob McCarney defeated party-endorsed newspaper editor Ed Doherty by just 5.0 points – the last contest decided by single digits.
Over the next three cycles, Lieutenant Governor Richard Larsen defeated McCarney by 35.6 points in 1972, farmer Richard Elkin beat Herb Geving by 63.8 points in 1976, and state Attorney General Allen Olson defeated former Lieutenant Governor Orville Hagen by 51.4 points in 1980.
Thirdly, North Dakota Republican voters have not had a choice of three candidates in a gubernatorial primary in 70 years.
The last time three GOP candidates ran in a primary for the state's highest office was in 1946.
That June, Governor Fred Aandahl defeated former state legislator and Railroad Commissioner Elmer Cart by 43.1 points with former Governor Lynn Frazier a distant third with just 11.9 percent of the vote.
The 1946 contest was the only Republican gubernatorial primary to have more than two candidates on the ballot out of 27 cycles from 1936 through 2012.
Prior to the 1960s, it was quite common for the state's GOP gubernatorial primaries to be competitive.
From the first primary for the office in 1908 through 1958 a total of 14 of the 26 Republican primaries were decided by single digits:
1910 (8.0 points): C.A. Johnson (36.5 percent) over J.A. Buchanan (28.5 percent)
1912 (2.8 points): Louis Hanna (42.6 percent) over J.A. Buchanan (39.8 percent)
1914 (6.6 points): Governor Louis Hanna (42.9 percent) over Usher Burdick (36.3 percent)
1920 (4.8 points): Governor Lynn Frazier (52.4 percent) over Wild Bill Langer (47.6 percent)
1922 (6.2 points): Governor Ragnavald Nestos (51.9 percent) over Bert Baker (45.7 percent)
1924 (1.5 points): Arthur Sorlie (48.6 percent) over Governor Ragnavald Nestos (47.1 percent)
1928 (5.0 points): George Shafer (50.9 percent) over T.H.H. Thoresen (45.9 percent)
1936 (0.4 points): Governor Walter Welford (50.2 percent) over former Governor Wild Bill Langer (49.8 percent)
1938 (4.8 points): John Hagan (52.4 percent) over T.H.H. Thoresen (47.6 percent)
1940 (9.6 points): Jack Patterson (54.8 percent) over Lewis Orlady (45.2 percent)
1944 (8.6 points): Fred Aandahl (54.3 percent) over Alvin Strutz (45.7 percent)
1948 (6.4 points): Governor Fred Aandahl (54.3 percent) over Ervin Schumacher (46.8 percent)
1954 (7.6 points): Governor C. Norman Brunsale (53.8 percent) over Wallace Warner (46.2 percent)
1956 (6.6 points): John Davis (53.3 percent) over Ray Schnell (46.7 percent)
Since 1956, the only contest decided by less than 35 points is the aforementioned 1968 race won by Bob McCarney.
North Dakota's primary will be held on June 14th. State legislator Marvin Nelson is running unopposed for the Democratic-NPL nomination as is businessman Marty Riske for the Libertarian nod.
Follow Smart Politics on Twitter.