Iowa US Representatives Extend Primary Winning Streak to 192
With Steve King easily brushing aside a top-tier GOP challenger on Tuesday, it has now been 66 years since the last incumbent from the Hawkeye State lost a renomination bid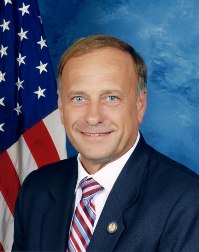 Iowa's four U.S. Representatives all advanced from their primaries on Tuesday with two running uncontested (1st CD Republican Rod Blum and 2nd CD Democrat Dave Loebsack).
Republican David Young of the 3rd CD won 84.7 percent of the vote against challenger Joe Grandanette while GOPer Steve King's tally in the 4th CD (64.7 percent) nearly doubled that of State Senator Rick Bertrand (35.2 percent).
The Bertrand-King matchup was one of Tuesday's featured U.S. House contests with the state legislator receiving key endorsements in his failed bid to upset the outspoken seven-term congressman.
Smart Politics previously documented the long incumbency advantage Iowa's U.S. Representatives have had in seeking renomination over the last several decades.
And now, with its delegation going 4-for-4 on Tuesday, that winning streaked has topped 190.
A Smart Politics review of Iowa primary data finds that its U.S. Representatives have won 192 consecutive renomination bids from 1950 through the 2016 cycle.
The last Iowan to lose a primary for a U.S. House seat was seven-term Republican John Gwynne in 1948.
Gwynne was first elected to the chamber in 1934 when he ousted Democratic freshman Albert Willford by 8.4 points in a cycle where Republicans lost 14 seats nationally.
Gwynne was challenged by journalist Harold Gross in the 1948 3rd CD GOP primary and lost by 11.4 points.
Since Gwynne's loss, Iowa U.S. Representatives have rattled off 192 primary wins in a row with 16 other primaries held for open seats.
GOP incumbents have won 132 consecutive renomination bids during this 66-year span since Gwynne's loss while Democratic congressmen have claimed 60 wins in a row since 1950.
In total, Democratic U.S. Representatives from the Hawkeye State have now won 79 consecutive primaries dating all the way back 100 years to 1916.
The last Democrat to lose a renomination bid was freshman Sanford Kirkpatrick in 1914.
Kirkpatrick, a Civil War veteran and former long serving Internal Revenue Service agent, lost his 6th CD nomination bid that cycle to W.H. Hamilton of Sigourney by 6.4 points.
As mentioned above, Congressman Loebsack – the lone Democratic member of Iowa's current U.S. House delegation – did not face a primary challenger on Tuesday. Loebsack has not run in a contested primary as an incumbent in four of his five reelection bids (2008, 2010, 2014, 2016).
Follow Smart Politics on Twitter.