Warren, Brown VP Pick Could Create Rare Vacancy
Only five out of nearly 200 U.S. Senate vacancies since 1913 were caused by a voluntary resignation that resulted in a change in partisan control of the seat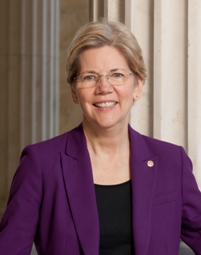 Last month, Smart Politics discussed why the buzz surrounding potential Hillary Clinton running mate Sherrod Brown (as well as fellow shortlisters Cory Booker and Elizabeth Warren) may be premature.
The post detailed how Democratic hopes of taking back control of the U.S. Senate could come down to a single seat. If Clinton won the election with any of the aforementioned three members of the chamber as her VP pick, such a majority would be threatened with Republican governors in each of these states controlling the appointments of their replacements.
Reports have recently surfaced that Elizabeth Warren is indeed being vetted to be Clinton's running mate while Cory Booker recently stated that he was not.
If one is skeptical that selecting Senators Warren (or Brown) may be a risky strategy, at the very least it is unusual. Consider the following data.
Smart Politics examined the nearly 200 U.S. Senate appointments that have occurred during the direct election era and found that only five involved a voluntary resignation that resulted in a partisan pick-up of the seat.
During the last 103 years since the passage of the 17th Amendment, there have been a total of 45 appointments that have resulted in a change of partisan control of 194 vacant U.S. Senate seats, or 23.2 percent of the time.
However, 39 of these 45 vacancies were caused by the U.S. Senator's death or a resignation due to ill health. Thirty-seven were the result of death with Oregon Republican Frederick Steiwer in 1938 (replaced by Democrat Alfred Reames) and New York Democrat Robert Wagner in 1949 (replaced by GOPer John Dulles) both resigning after experiencing significant health problems.
Of the remaining six vacancies, one involved a resignation to avoid expulsion from the chamber. In 1982, New Jersey Democrat Harrison Williams resigned his position, almost a year after his 1981 conviction in the FBI's Abscam operation.
That leaves just five instances over the past century in which a U.S. Senator willfully created such a vacancy, knowing that his state's governor would then fill the seat with a member from the opposing party.
Interestingly, two of these took place in Ohio.
The first time such a political event occurred during the direct election era was in 1921 in Delaware.
First term Democratic Senator Josiah Wolcott resigned his seat in July of that year to become Chancellor of Delaware. Wolcott was appointed to the Court of Chancery by Republican Governor William Denney and, as a result, Denney appointed a GOPer to fill the open U.S. Senate seat – T. Coleman du Pont.
It would be nearly a quarter century before another U.S. Senate seat was voluntarily lost and flipped after the vacancy, happening twice in 1945.
In September 1945, President Harry Truman nominated first term Ohio Republican U.S. Senator Harold Burton to the U.S. Supreme Court – opening up a seat for his party.
Ohio Governor Frank Lausche appointed attorney James Huffman to pick up the seat for the Democrats.
Just a few weeks later, former Kentucky Democratic governor and two-term U.S. Senator Happy Chandler resigned from the chamber in November 1945 to become commissioner of baseball – a position he held until 1950.
Republican Governor Simeon Willis subsequently appointed GOP attorney William Stanfill to the seat.
At the end of the decade, former Connecticut governor and two-term Republican U.S. Senator Raymond Baldwin resigned his seat in December 1949 to become an associate justice of the Connecticut Supreme Court of Errors.
Democratic Governor Chester Bowles appointed Democratic diplomat and Encyclopedia Britannica publisher William Benton to fill the vacancy.
The last time a U.S. Senator voluntarily resigned from his or her seat with the knowledge it would flip to the opposing party also took place in Ohio more than 40 years ago.
In January 1974, first term Republican Bill Saxbe resigned from the chamber to become Attorney General under President Nixon.
Democratic Governor John Gilligan appointed former Democratic state legislator Howard Metzenbaum to fill Saxbe's seat.
All told, it has been extremely unusual for U.S. Senators to knowingly leave their post when doing so would result in losing the seat to their opponents – as would be the case with a Democratic victory in November with Senators Warren or Brown on the ticket.
By contrast, more than three-dozen U.S. Senators have resigned from the chamber for another political office with the knowledge that the governor from their own party would keep the seat in their column.
That tally includes 10 victorious vice-presidential nominees: Kansas Republican Charles Curtis (1929), Missouri Democrat Harry Truman (1945), Kentucky Democrat Alben Barkley (1949), California Republican Richard Nixon (1953), Texas Democrat Lyndon Johnson (1961), Minnesota Democrats Hubert Humphrey (1964) and Walter Mondale (1976), Indiana Republican Dan Quayle (1989), Tennessee Democrat Al Gore (1993), and Delaware Democrat Joe Biden (2009).
[It should be noted there have been a few VP picks who did not lose their U.S. Senate seat, but only because they lost the general election: Texas Democrat Lloyd Bentsen in 1988 (with GOPer Bill Clements serving as governor) and Connecticut Democrat Joe Lieberman in 2000 (Republican John Rowland).
U.S. Senators who resigned to take other political positions without the risk of losing their seat to another party include:
Presidents or presidential nominees: Massachusetts Democrat John Kennedy (1960), Kansas Republican Bob Dole (1996), Illinois Democrat Barack Obama (2009)
Supreme Court Justices: Alabama Democrat Hugo Black (1937), South Carolina Democrat James Byrnes (1941)
Governors: New Jersey Democrat A. Harry Moore (1938), West Virginia Democrat Matthew Neely (1941), Washington Democrat Monrad Wallgren (1945), Texas Democrat Price Daniel (1957), California Republican Pete Wilson (1991), Alaska Republican Frank Murkowski (2002), New Jersey Democrat Jon Corzine (2006)
Presidential cabinet members: Virginia Democrat Claude Swanson (1933), Tennessee Democrat Cordell Hull (1933), Rhode Island Democrat J. Howard McGrath (1949), Maine Democrat Ed Muskie (1980), Texas Democrat Lloyd Bentsen (1993), Colorado Democrat Ken Salazar (2009), New York Democrat Hillary Clinton (2009), Massachusetts Democrat John Kerry (2013)
U.S. Ambassadors: New Jersey Republican Walter Edge (1929), Kentucky Republican Frederic Sackett (1930), Montana Democrat Max Baucus (2013)
United Nations Representative: Vermont Republican Warren Austin (1946)
Federal judges: Iowa Republican William Kenyon (1922), New Mexico Democrat Sam Bratton (1933), Arkansas Democrat John Miller (1941)
Another 97 U.S. Senators died between 1913 and 2012 with their seats remaining in their own party's column after the vacancy was filled.
Follow Smart Politics on Twitter.