History Suggests Rubio Should Win Reelection Despite Failed Presidential Campaign
Since 1972, all seven sitting U.S. Senators who ran for reelection in the cycle of their failed presidential bid won another term – each by double digits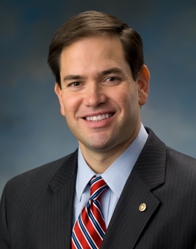 With suspense gradually building over the last month, Florida Republican U.S. Senator – and failed 2016 presidential candidate – Marco Rubio announced he would run for reelection at the 11th hour Wednesday despite multiple claims to the contrary over the past year.
Rubio's entrance into the high profile race had the net effect of diluting what was poised to be the largest GOP primary field in state party history for the office, with Congressmen David Jolly and Ron DeSantis dropping out to run for reelection to their U.S. House seats and Lieutenant Governor Carlos Lopez-Cantera – a Rubio ally – also exiting the race.
Senator Rubio is not the first sitting member of the chamber to run for president, fail, and then seek reelection back to his seat all in same cycle.
In fact, those senators who have done so over the past half-century have an unblemished track record at keeping their seat.
A Smart Politics analysis finds that all seven sitting U.S. Senators who ran for reelection in the cycle of their failed presidential bid since 1972 were victorious – and each by double-digit margins.
Since 1972, U.S. Senators have run for president more than four-dozen times – the vast majority doing so during cycles in which their seat was not on the ballot.
A total of 23 senators ran for president two years before their seat came up for reelection (e.g. the terms of Bernie Sanders and Ted Cruz end in 2018) while 15 others ran for president four years before their seat would next appear on the ballot (e.g. Lindsey Graham's term expires in 2020).
Only 12 sitting U.S. Senators over the last 44 years ran for president in a cycle during which their term in the chamber expired including Rubio and fellow 2016 GOP presidential contender Rand Paul of Kentucky. [Paul has already won his party's primary in May and will face Lexington Democratic Mayor Jim Gray in November].
Three of these senators opted not to run for reelection after their failed White House bids:
Two-term Oklahoma Democrat Fred Harris in 1972
Three-term Florida Democrat Bob Graham in 2004
One-term North Carolina Democrat John Edwards in 2004
All three of these seats subsequently flipped to the GOP in very close races.
Harris' seat was won by Governor Dewey Bartlett (by 3.9 points over Congressman Edmond Edmondson), Graham's was claimed by HUD Secretary Mel Martinez (1.1 points over state Education Commissioner Betty Castor), and Edwards' was won by Congressman Richard Burr (4.6 points over Erskine Bowles).
That leaves seven sitting U.S. Senators since the 1970s who – like Rubio and Paul – failed to win their party's nomination for president and then decided to run for another term in the nation's upper legislative chamber that same cycle.
All seven were reelected.
First term Texas Democrat Lloyd Bentsen exited the presidential race on February 10, 1976. Less than three months later, Bentsen cruised to a 35.6-point primary win in May over future senator Phil Gramm.
Bentsen won the general election by 14.5 points over Congressman Alan Steelman. That more than doubled his victory margin over Congressman George H.W. Bush during his previous bid in 1970 (7.1 points).
That same cycle, three-term West Virginia Democrat Robert Byrd announced his presidential campaign in January 1976 and that May simultaneously won renomination (uncontested) and the Mountain State's Democratic presidential primary as a favorite son candidate by nearly 80 points over George Wallace.
Byrd also did not face any opposition in the general election that November en route to a fourth term.
A third sitting Democratic U.S. Senator who failed to win his party's nomination for president in 1976 also successfully won reelection to his seat – four-term incumbent Scoop Jackson of Washington.
Jackson was an early entrant into the crowded Democratic field that cycle, announcing his campaign in February of 1975. Jackson was an early favorite and won a few contests but eventually bowed out in early May.
Senator Jackson easily won Washington's blanket primary that September as well as the general election by 47.6 points over Republican George Brown, which was not quite as big as his 66.4-point blowout win six years prior against State Senator Charles Elicker.
Next up was two-term Kansas Republican Bob Dole in 1980.
Dole's first presidential campaign was a disastrous one – with the lawmaker barely registering any support in the primaries and caucuses that were held before his exit on March 15th.
Undeterred, Dole ran for reelection and won his party's nomination with a 63.7-point primary victory against Jim Grainge that August and then a 27.5 general election win over John Simpson that fall – a noticeable improvement over his 1.7-point victory six years prior against Congressman Bill Roy during the 1974 Democratic wave.
In 1996, two-term Texas Republican Phil Gramm also had an early exit from the presidential race, bowing out on February 14th after the New Hampshire primary.
Less than a month later, Gramm rolled to a 77.4-point renomination win against David Young in the March primary, although his 10.8-point general election victory over high school civics teacher Victor Morales was the narrowest of his three U.S. Senate victories.
In 2000, four-term Utah Republican Orrin Hatch suspended his presidential campaign on January 26th after finishing last in the Iowa caucuses.
Hatch was renominated by convention and then defeated State Senator Scott Howell by 34.1 points in November –  only slightly less dominant than his 40.5-point win in 1994 against Pat Shea.
The seventh and most recent example is six-term Delaware Democrat Joe Biden in 2008.
Biden exited the presidential race after a last place finish in Iowa on January 3rd. Biden ran for reelection to his seat as well as vice president that November – winning both contests including a 29.4-point victory over Christine O'Donnell. Biden served until mid-January in the 111th Congress until his resignation to become vice president.
Overall, sitting and former U.S. Senators have run for president more than 70 times since 1972 (excluding incumbent president Richard Nixon). Only one – Barack Obama – was victorious.
Follow Smart Politics on Twitter.