A Review of States Electing Governors and US Senate Delegations from Different Parties
After the 2016 election, 10 states could have a Republican governor and two Democratic U.S. Senators; only one state currently has the reverse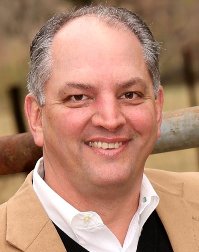 When John Bel Edwards was elected governor of Louisiana in a runoff against embattled U.S. Senator David Vitter last year, it marked not only a rare statewide win for Democrats in the deep South but also created what has become a political rarity across the country.
Edwards' victory resulted in Louisiana becoming the only state in the nation with a Democratic governor and two Republican U.S. Senators (Vitter and Bill Cassidy).
[It was also the first time in nearly 150 years for Louisiana to be governed by a Democrat with two GOPers serving in the nation's upper legislative chamber. In 1868, Democrat/Unionist Joshua Baker was appointed governor by General Winfield Hancock with Republicans John Harris and William Kellogg serving in the U.S. Senate].
With 12 gubernatorial elections on the ballot in 2016, there is a chance another state could join Louisiana with this unique distinction – North Carolina.
The Tar Heel State – currently governed by Republican Pat McCrory and represented in the senate by GOPers Richard Burr and Thom Tillis – is poised to have competitive gubernatorial and U.S. Senate races this cycle.
A McCrory loss to Democratic Attorney General Roy Cooper is perhaps the more likely scenario, and that outcome combined with a Burr win against former State Representative Deborah Ross would add North Carolina to the list.
North Carolina has frequently split its ticket in this fashion in gubernatorial and U.S. Senate elections over the last few decades:
1980: Democratic Governor Jim Hunt and Republican U.S. Senator John Porter East
1992: Democratic Governor Jim Hunt and Republican U.S. Senator Lauch Faircloth
1996: Democratic Governor Jim Hunt and Republican U.S. Senator Jesse Helms
2004: Democratic Governor Mike Easley and Republican U.S. Senator Richard Burr
There is also a slight chance that Colorado could join this group in 2016 if Michael Bennet is upset in his U.S. Senate reelection bid.
But while Louisiana currently sits alone in the nation for states with a Democratic governor and a pair of GOP U.S. Senators, there are several examples demonstrating the reverse.
Five states across the Northeast, Midwest, and Western regions of the country are currently governed by a Republican with two Democrats in the senate:
Maryland: Governor Larry Hogan and Senators Barbara Mikulski and Ben Cardin
Massachusetts: Governor Charlie Baker and Senators Elizabeth Warren and Ed Markey
Michigan: Governor Rick Snyder and Senators Debbie Stabenow and Gary Peters
New Jersey: Governor Chris Christie and Senators Bob Menendez and Cory Booker
New Mexico: Governor Susana Martinez and Senators Tom Udall and Martin Heinrich
Several other states could be added to that list this November with Democratic pick-ups in various U.S. Senate seats.
States that are already governed by a Republican, have one Democratic U.S. Senator, and have a vulnerable GOP senator on the ballot this cycle include Florida (Marco Rubio), Illinois (Mark Kirk), Ohio (Rob Portman), and Wisconsin (Ron Johnson).
Republican gubernatorial victories are also possible this cycle in Missouri and New Hampshire, but Democratic pick-ups against GOP U.S. Senators Roy Blunt and Kelly Ayotte in those states would simultaneously need to occur to add those states to this partisan category.
After the passage of the Civil Rights Act in 1964, it became increasingly common for Southern states to elect Republicans to the U.S. Senate while still supporting Democrats in state government including governorships. Most of those Democratic holds in the South have now evaporated, making John Bel Edwards' victory in Louisiana last year all the more noteworthy.
Currently 10 states have both Democratic governors and U.S. Senators (California, Connecticut, Delaware, Hawaii, Minnesota, New York, Oregon, Rhode Island, Virginia, and Washington) while 18 states have Republicans in all three positions (Alabama, Arizona, Arkansas, Georgia, Idaho, Iowa, Kansas, Kentucky, Mississippi, Nebraska, North Carolina, Oklahoma, South Carolina, South Dakota, Tennessee, Texas, Utah, and Wyoming).
Follow Smart Politics on Twitter.