Could a Feingold Victory Help Flip a US House Seat for Wisconsin Democrats?
Badger State Democrats have the rare opportunity to pick up seats in both legislative chambers this November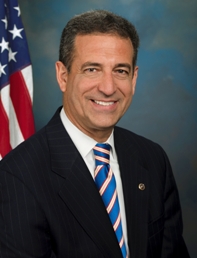 Russ Feingold has consistently polled ahead of Ron Johnson ever since the former lawmaker announced he would challenge the first-term Republican U.S. Senator in what is the first rematch for the office in Wisconsin history.
Feingold's defeat of Johnson is an essential component in the party's recipe to take back control of the U.S. Senate this November.
Along the way, Wisconsin Democrats are also hoping to pick up legislative seats down the ballot, including one in the nation's lower legislative chamber – the 8th Congressional District.
Three-term Republican Reid Ribble's unusual exit from the 8th CD puts a competitive district in play for Democrats, who solidified around their candidate in advance of the August 9th primary.
Former assemblyman and Outagamie County Executive Tom Nelson is running uncontested for the Democratic nomination while three Republicans are vying for their party's nod – State Senator Frank Lasee, former Scott Walker advisor Mike Gallagher, and Forestville village president Terry McNulty.
But even with a Feingold victory up the ballot this November, there is little guarantee that will translate into a pick-up of this house seat which has a Partisan Voting Index tilt of +2 Republican.
During the direct election era, Wisconsin Democrats have picked up U.S. Senate seats four times in general elections:
1914, Paul Husting: winning an open seat race against Governor Francis McGovern
1932, F. Ryan Duffy: defeating John Chapple who had ousted Senator John Blaine in the GOP primary
1962, Gaylord Nelson: defeating four-term Senator Alexander Wiley
1992, Russ Feingold: defeating two-term Senator Bob Kasten
[Note: Democrats also picked up a seat during the August 1957 special election to fill the vacancy after the death of Joe McCarthy with William Proxmire beating former Governor Walter Kohler].
In only one of these cycles, did that pick-up coincide with a gain down the ballot in a U.S. House race.
That came during the Democratic landslide of 1932 when the party gained 97 seats across the country including four in Wisconsin:
2nd CD: C.W. Henney over John Gay in an open seat race (Gay defeated three-term Congressman Charles Kading in the GOP primary)
4th CD: Raymond Cannon over five-term Congressman John Schafer
5th CD: Thomas O'Malley over Joseph Padway in an open seat race (Padway defeated 10-term Congressman William Stafford in the GOP primary)
8th CD: James Hughes over five-term Congressman George Schneider
Meanwhile, Democrats lost one U.S. House seat in 1914 despite Husting's U.S. Senate victory and saw no net change in their delegation after wins by Nelson in 1962 and Feingold in 1992.
By contrast, Republicans have gained U.S. House seats during each general election in which the party picked up a U.S. Senate seat:  gaining +8 seats in 1938 (Alexander Wiley), +3 seats in 1946 (Joe McCarthy), +1 seat in 1980 (Bob Kasten), and +2 seats in 2010 (Ron Johnson).
Both parties have seen a strong correlation between picking up U.S. House seats and taking back the governorship.
Republicans picked up at least one house seat after winning back the governor's mansion in 1894 (+6 seats), 1938 (+8), 1944 (+2), 1978 (+1), and 2010 (+2). They failed to do so twice – in 1964 (-1) and 1986 (no change).
Democrats won back the governorship and picked up U.S. House seats down the ballot in 1890 (+6 seats), 1932 (+4), 1958 (+2), and 1970 (+1). They also failed to do so twice – in 1982 (no change) and 2002 (-1, after losing a seat to reapportionment).
Since the post-Watergate 1974 election cycle, Wisconsin Democrats have only enjoyed a net gain in U.S. House seats in just two cycles: in 1996 and 2006 – gaining two seats each time.
Republicans, meanwhile, have netted seats in five cycles during this span: 1978 (+1), 1980 (+1), 1990 (+1), 1994 (+1), and 2010 (+2).
In 1998, the two parties swapped control of the 2nd CD (GOP to Democrat) and 8th CD (Democrat to GOP).
Two other candidates have also filed to run for the 8th CD seat as independents, Wendy Gribben and Ralph Robbie Hoffman.
Follow Smart Politics on Twitter.