6 Elected Officials Who Gave Up Their Seats Only to Lose as Their Party's VP Nominee
Indiana Governor Mike Pence's name may be added to a very short list of failed vice-presidential nominees who gave up their seats along the way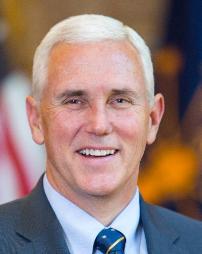 With the Republican convention less than two weeks away, a handful of names continue to be circulated as finalists to become Donald Trump's running mate such as Newt Gingrich, U.S. Senator Jeff Sessions of Alabama, and governors Chris Christie of New Jersey and Mike Pence of Indiana.
Pence is the only candidate on that list of front runners up for reelection this cycle and, unfortunately for him, the Hoosier State does not have a "Lyndon's law" and thus the governor is prohibited from running for both offices simultaneously.
[In 1959, Senate Majority Leader Lyndon Johnson successfully pressured the Texas legislature to pass a bill allowing a candidate to run for both statewide office as well as president or vice-president; Johnson won reelection and the vice-presidency in 1960].
As such, if Pence does get asked to be Trump's VP pick, he will have to decide if he wants to give up his governorship in a race for which he is slightly favored (in a rematch against 2012 Democratic nominee John Gregg) or the vice-presidency for which he would be considered an underdog with Trump trailing in the polls to Hillary Clinton.
Across the 47 presidential election cycles since the dawn of the modern two-party system in 1828, very few vice-presidential nominees who lost the general election were forced to make such a decision.
A Smart Politics analysis finds that if Mike Pence is chosen to be Donald Trump's running mate and loses in November he will become just the seventh elected official since 1828 to give up his or her seat only to be defeated as the party's vice-presidential nominee that cycle – and just the third in the last 140+ years.
Nearly half of these failed candidates – 22 – were not in elected office at the time of the VP selection:
National Republican Richard Rush (1828)
Whigs John Sergeant (1832), Theodore Frelinghuysen (1844), and William Graham (1852)
Democrats William Butler (1848), Herschel Johnson (1860), Francis Blair (1868), William English (1880), Allen Thurman (1888), Arthur Sewall (1896), Adlai Stevenson (1900), Henry Davis (1904), John Kern (1908), Franklin Roosevelt (1920), and Sargent Shriver (1972)
Republicans William Dayton (1856), Whitelaw Reid (1892), Nicholas Butler (1912), Charles Fairbanks (1916), Frank Knox (1936), Henry Cabot Lodge, Jr. (1960), and Jack Kemp (1996)
Another three failed nominees were already sitting vice-presidents at the time: Republicans Charles Curtis (1932) and Dan Quayle (1992) and Democrat Walter Mondale (1980).
That leaves 22 losing vice-presidential nominees who were sitting elected officeholders at the time of their selection.
Three of these candidates were permitted and chose to simultaneously run for reelection to their seat – all occurring within the last 30 years:
1988: Texas Democratic U.S. Senator Lloyd Bentsen (winning by 19.2 points over Congressman Beau Boulter)
2000: Connecticut Democratic U.S. Senator Joe Lieberman (by 29.0 points over Waterbury Mayor Philip Giordano)
2012: Wisconsin U.S. Representative Paul Ryan (by 11.5 points over Kenosha County Supervisor Rob Zerban)
No vice-presidential nominee has simultaneously decided (or been able) to run for both offices in the same cycle and lost each race.
One failed VP nominee did not run for reelection to the office he currently held because he was term-limited: Indiana Democratic Governor Thomas Hendricks in 1876.
Nine other failed VP nominees were not up for reelection to their seats that cycle:
1884: Illinois Republican U.S. Senator John Logan
1928: Arkansas Democratic U.S. Senator Joseph Robinson
1940: Oregon Republican U.S. Senator Charles McNary
1948: California Republican Governor Earl Warren
1952: Alabama Democratic U.S. Senator John Sparkman
1956: Tennessee Democratic U.S. Senator Estes Kefauver
1968: Maine Democratic U.S. Senator Ed Muskie
1976: Kansas Republican U.S. Senator Bob Dole
2008: Alaska Republican Governor Sarah Palin
[Note: Logan was not up for reelection until 1885, when he was reelected that March on the 118th ballot by the Illinois legislature].
Three other elected officials had already decided they were not running for reelection prior to their selection as vice-presidential nominee:
1944: Ohio Republican Governor John Bricker. Bricker had served three terms as governor, but did not run in his party's May 1944 primary (won by James Stewart). He won the VP slot in June on Thomas Dewey's ticket.
1964: New York Republican U.S. Representative Bill Miller. The seven-term congressman was retiring from the chamber and did not run in his party's June 2nd primary (won by Henry Smith). Miller became Barry Goldwater's running mate at the RNC that July.
2004: North Carolina Democratic U.S. Senator John Edwards. Edwards decided he would not seek reelection after just one term and launched his first presidential bid in mid-September 2003 instead. John Kerry announced Edwards would be his running mate on July 6, 2004.
That leaves just six elected officeholders who did not run for reelection in order to become their party's vice-presidential nominee – only to lose that November:
1836: New York Whig U.S. Representative Francis Granger. After losing as William Harrison's running-mate (as well as Daniel Webster's in Massachusetts), the first-term Congressman would run for his 26th CD seat again and win two more terms in 1838 and 1840.
1860: Oregon Democratic U.S. Senator Joseph Lane. Lane was selected to fill out the Southern Democratic ticket headed by sitting Vice President John Breckinridge which carried 11 states.
1864: Ohio Democratic U.S. Representative George Pendleton. The four-term congressman only carried three states with George McClellan while his former law partner George Pugh tried (and failed) to hold his 1st CD seat. Pendleton would later return to D.C. winning a U.S. Senate seat in 1879.
1872: Missouri Democratic Governor B. Gratz Brown. Brown could have been the second governor from the Show-Me State to seek reelection after term limit provisions were changed by the state's 1865 constitution. Instead he and presidential nominee Horace Greeley carried only six states.
1924: Nebraska Democratic Governor Charles Bryan. The first-term governor had already won his party's gubernatorial primary but abandoned that bid after his selection as the Democratic VP nominee after shifts on the first ballot following the volatile 103-ballot process that resulted in John Davis heading the ticket. Bryan would later win two more terms as governor in 1930 and 1932.
1984: New York Democratic U.S. Representative Geraldine Ferraro. The three-term congresswoman became Walter Mondale's running mate on July 12th – nearly three months before the primary for her 9th CD seat (won by Tom Manton).
In the 1840 cycle, the Democratic Party did not field a running mate to join President Martin Van Buren on the ticket – the only time since the passage of the 12th Amendment for this to occur.
Follow Smart Politics on Twitter.