Democrats Seek to Extend, Tie Record Gubernatorial Winning Streaks in 2016
After the 2016 cycle, the party could reach record winning streaks for governor in five states across three regions of the country

The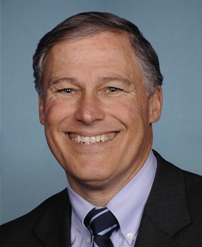 gubernatorial elections held in a dozen states this cycle may be taking a back seat to the colorful presidential race at the top of the ticket as well as the battle for control of the U.S. Senate with its many competitive matchups.
All the while, Democrats are quietly poised to match or extend record gubernatorial winning streaks in several states, even though the party has been decimated in races for the office in recent cycles: Democrats have won just 37 percent of gubernatorial contests so far this decade (35 of 94), its lowest rate in more than a century.
On the west coast, Democrats are poised to continue the two longest Republican gubernatorial droughts in the nation.
In Washington, Democrats have won eight straight races for governor ever since Booth Gardner ousted GOP Governor John Spellman in 1984.
Governor Jay Inslee (pictured) and Republican Seattle Port Commissioner Bill Bryant are expected to emerge from the August 2nd nonpartisan blanket primary, with Inslee favored in November.
Prior to this current streak, Democrats had never accumulated more than two victories in a row for the office in the Evergreen State.
In neighboring Oregon, a special election will be held with Governor Kate Brown facing Republican physician Bud Pierce of Salem, as a result of the February 2015 resignation by scandal-plagued Governor John Kitzhaber.
Democrats have also won eight straight elections in Oregon dating back to Neil Goldschmidt's victory in 1986 – far and away besting the party's previous high water mark of three straight wins recorded shortly after the Civil War (in 1870, 1874, and 1878).
Governor Brown is favored to hold the seat for her party in the general election.
On the east coast, three-term Congressman and former Lieutenant Governor John Carney is the frontrunner to win the governorship in Delaware.
That would match the party's all-time winning streak at seven consecutive cycles which began with Tom Carper's first victory in 1992.
Democrats have faced only one close call during this period when Ruth Ann Minner won reelection by 5.1 points over Bill Lee in 2004.
Delaware Democrats last won seven straight elections to the office in the 19th Century (from 1866 through 1890), escaping with single-digit victories in four of these: by 6.6 points in 1866 (electing Gove Saulsbury), 5.2 points in 1874 (John Cochran), 6.2 points in 1882 (Charles Stockley), and 1.6 points in 1890 (Robert Reynolds).
The Republican Party has its third longest gubernatorial drought in the nation in Delaware at 28 years and counting.
Democrats in West Virginia will face a tougher challenge, but wealthy businessman and nominee Jim Justice has led GOP State Senator Bill Cole in most public polls conducted this year.
A victory by Justice would equal the party's record of six consecutive wins in the Mountain State dating back to Bob Wise's upset victory over Republican Governor Cecil Underwood in 2000.
West Virginia is one of the last southern states to have withheld an erosion of support for Democrats in state constitutional offices, with Republicans only winning the race for attorney general in 2012 (ending a Republican drought for that office dating back to 1932).
Republicans also now control both state legislative chambers but, despite a weakening Democratic hold on state government, the party could equal its record of six straight gubernatorial wins previously recorded from 1932 to 1952.
While Democrats won't match any records in two other northeastern states, the party could get closer to doing so in 2016.
A victory in Vermont, where Peter Schumlin is not seeking reelection after three terms, would give Democrats their second longest gubernatorial streak in state history and one shy of the all-time record.
It is unclear at this point as to which candidate will emerge as the Democratic primary winner in August, but Lieutenant Governor Phil Scott appears to have a significant advantage over businessman Bruce Lisman in the race for the Republican nomination.
A win by the Democrats will bring the party one victory shy of its party record of five in a row set from 1992 to 2000 when Howard Dean won five terms.
After Republicans won an incredible 62 straight gubernatorial elections in Vermont from 1854 to 1960, Democrats won three in a row from 1962 through 1966 (electing Phillip Hoff) and then three straight elections from 1984 through 1988 (Madeleine Kunin).
Next door in New Hampshire, Democrats are eying their seventh consecutive gubernatorial win in an open seat race after Maggie Hassan decided to challenge U.S. Senator Kelly Ayotte.
The party's current six-cycle streak is the longest since the founding of the Republican Party and is the third longest in Democratic history, trailing the 14 consecutive victories from 1832 to 1845 and the eight wins notched from 1847 to 1854.
Five candidates have filed to run in both the Democratic and Republican primaries held in mid-September with fellow Executive Councilors Colin Van Ostern and Chris Sununu emerging as the early frontrunners for their respective parties.
A fifth state which does not host a gubernatorial election this cycle – California – is also tied for its longest Democratic gubernatorial winning streak in history at a modest two in a row, a mark reached five previous times (1851 & 1853, 1882 & 1886, 1958 & 1962, 1974 & 1978, 1998 & 2002).
Follow Smart Politics on Twitter.