Bayh and Feingold Could Become 1st Pair of Ex-US Senators to Return to Chamber in 60 Years
It has been 30 cycles since the last time multiple former Senators returned to their old job in the same cycle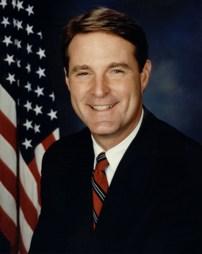 When Indiana Republican Dan Coats was elected to the U.S. Senate in 2010 he became the 150th former member of the chamber to make a return appearance to the legislative body since the late 1700s.
Coats is the most recent lawmaker to succeed in this endeavor, although several former senators have made attempts in recent cycles such as Nebraska Democrat Bob Kerrey (2012), Virginia Republican George Allen (2012), New Hampshire Republican Bob Smith (2014), South Dakota Republican-turned-independent Larry Pressler (2014), and Massachusetts-turned-New Hampshire Republican Scott Brown (2014).
And on Monday news broke that Coats' successor in the late 1990s, Evan Bayh, is looking to succeed him once again.
Bayh, who served for two terms in the U.S. Senate after winning the Elections of 1998 and 2004, retired in January 2011 with north of nine million dollars in his campaign coffers and has rebuffed past attempts by his party to coax him into running for political office.
Former congressman and 2016 Democratic U.S. Senate primary winner Baron Hill announced his withdrawal from the race today to purportedly make way for Bayh who is expected to be selected by state Democrats as their nominee.
Bayh would be the second ex-U.S. Senator to fill out the general election ballot for Democrats in 2016, joining former Wisconsin U.S. Senator Russ Feingold who is also vying for another nonconsecutive term in the legislative body this cycle.
Unlike Bayh, however, Feingold did not leave the senate on his own terms – losing reelection to Ron Johnson during the 2010 GOP tsunami.
In fact, Feingold is already trying to make history by becoming just the third U.S. Senator since 1956 to return to the chamber after losing their seat at the ballot box (joining Ohio Democrat Howard Metzenbaum and Washington Republican Slade Gorton).
Feingold is favored in his rematch against Senator Johnson while Bayh's entrance in the race against three-term GOP Congressman Todd Young makes the Indiana contest a toss-up at worse for the Democrats.
If both Bayh and Feingold are successful, it would be the first time in 30 election cycles that two former U.S. Senators simultaneously returned to the nation's upper legislative chamber.
Overall, during the last 60 years, just eight ex-U.S. Senators returned to their old job via appointment or the ballot box: Texas Democrat William Blakley (appointed in 1961), Arizona Republican Barry Goldwater (elected in 1968), Minnesota Democrat Hubert Humphrey (1970), New Hampshire Republican Norris Cotton (appointed in 1975), Ohio Democrat Howard Metzenbaum (1976), Washington Republican Slade Gorton (1988), New Jersey Democrat Frank Lautenberg (2002), and Indiana's Coats (2010).
The last time more than one former U.S. Senator came back to the chamber at the same time was in 1956 when three ex-legislators were elected for another stint:
West Virginia Republican Chapman Revercomb (1943-1949; 1956-1959): Revercomb served one term before losing reelection in 1948. The GOPer then won a special election in November 1956 to fill the vacancy after the death of Democrat Harley Kilgore. Revercomb would lose his reelection bid to a full term in 1958.
Kentucky Republican John Sherman Cooper (1946-1949; 1952-1955; 1956-1973). Cooper won a special election to his third stint in the chamber in November 1956 following the death of Democrat Alben Barkley. Cooper also won special elections in 1946 and 1952 but was defeated in 1948 and 1954 respectively.
South Carolina Democrat Strom Thurmond (1954-1956; 1956-2003). The former governor and presidential candidate served a shade over two years in the senate after winning election as a write-in candidate in November 1954, but then resigned in April 1956 as per a campaign pledge. Thurmond won a special election to the seat vacated by his resignation in November 1956 and served in the chamber for the next 46+ years.
Four other sets of ex-U.S. Senators were simultaneously elected to the chamber during the same cycle in the direct election era:
1918: Delaware Republican L. Heisler Ball (1903-1905; 1919-1925) and West Virginia Republican Davis Elkins (1911-1911; 1919-1925)
1930: Illinois Democrat James Hamilton Lewis (1913-1919; 1931-1939), Oklahoma Democrat Thomas Gore (1907-1921; 1931-1937), and West Virginia Democrat Matthew Neely (1923-1929; 1931-1941).
1946: Indiana Republican William Jenner (1944-1945; 1947-1959) and Massachusetts Republican Henry Cabot Lodge, Jr. (1937-1944; 1947-1953)
1948: Iowa Democrat Guy Gillette (1936-1945; 1949-1955) and West Virginia Democrat Matthew Neely (1923-1929; 1931-1941; 1949-1958)
Two additional pairs of former U.S. Senators were elected on the same day, but did not take their seats at the same time as one candidate immediately took office having won a special election while the other waited until the convening of the next Congress in January to be seated having won a full term:
1926: Massachusetts Democrat David Walsh (1919-1925; 1926-1947) and Iowa Republican Smith Brookhart (1922-1926; 1927-1933)
1954: Wyoming Democrat Joseph O'Mahoney (1934-1953; 1954-1961) and Kentucky Democrat Alben Barkley (1927-1949; 1955-1956)
Coats is the third Indiana U.S. Senator to record interrupted periods of service since statehood 200 years ago.
Democrat David Turpie was elected in January 1863 and served for less than two months to fill the vacancy after Democrat Jesse Bright was expelled for supporting the rebellion.
After practicing law and serving as speaker in the Indiana House, Turpie was elected to the U.S. Senate again in 1887 and served two full terms.
Turpie's 24-year gap in senate service is the third longest in U.S. history behind Maryland Democrat William Whyte (25 years, 3 months, 5 days) and Andrew Jackson of Tennessee (24 years, 11 months, 3 days).
More than 80 years later, former Republican State Senator William Jenner won a special election in November 1944 to fill the vacancy after the death of Democrat Frederick Van Nuys and served for less than two months.
Jenner was not a candidate for the full term, but was elected back to the U.S. Senate in 1946 and served two full terms until January 1959.
Coats was out of office for 12 years when he won a seat in the senate in 2010 which marked the longest gap in service for any member in the legislative body in 80 years when Illinois Democrat James Hamilton Lewis was elected in 1930 – 12 years after he lost his 1918 reelection bid.
Follow Smart Politics on Twitter.