Bayh Could Succeed Same US Senator Twice for Just 2nd Time in US History
It has been 135 years since the last – and only – time one senator directly followed another twice in the chamber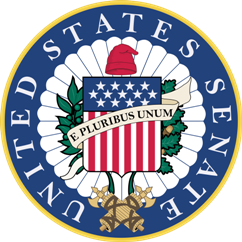 Evan Bayh officially launched his Indiana U.S. Senate campaign on Wednesday and his 11th hour entry into the race complicates the Republican Party's prospects of holding onto power in the 115th Congress.
Smart Politics recently highlighted how it has been unusual for ex-U.S. Senators to return to the chamber in recent decades, let alone two doing so in one cycle (with Wisconsin Democrat Russ Feingold taking aim in November as well).
But there is an even more extraordinary aspect to Bayh's election bid.
Smart Politics reviewed the tenures of the nearly 2,000 U.S. Senators in history – including more than 12-dozen with interrupted service across 43 states – and found an Evan Bayh victory in November would make him just the second member to succeed the same senator twice in the chamber's history.
Bayh, of course, was first elected to the senate in 1998 when Republican Dan Coats chose not to run for reelection. After winning two terms, Bayh retired in 2010 with Coats succeeding him with a double-digit win aided by the winds of that cycle's GOP tsunami at his back.
Bayh is now poised to face Congressman Todd Young and Libertarian nominee Lucy Brenton in November in a bid to directly follow Senator Coats in office for a second time.
The only example in which one senator directly followed another in office twice in the history of the U.S. Senate came about 135 years ago in Wisconsin.
Republican attorney Matthew Carpenter was elected to the Badger State's Class I U.S. Senate seat in 1869 and served one term but lost in his reelection bid to fellow GOPer Angus Cameron in 1875.
Cameron, a former state legislator, served one full term but did not seek reelection in 1881.
In 1879, two years before the end of Cameron's term, Carpenter was again elected to the chamber – this time to Wisconsin's Class III U.S. Senate seat. Carpenter died in office in February 1881.
However, while Cameron did not run for reelection to his Class I seat, he was victorious in a special election in March to fill the Class III seat vacancy – following Carpenter in office for a second time.
Cameron served to the completion of that term until March 1885 when he retired.
There have been a few examples that came close but fell shy of this rare political occurrence. Take the following example from 19th Century Tennessee politics:
In 1829, former Congressman Felix Grundy was elected as a Jacksonian to the U.S. Senate in a special election to fill the vacancy after the resignation of John Eaton. Grundy was reelected as a Democrat to a full term in 1838 but resigned to become Attorney General in Martin Van Buren's administration.
Former state legislator and Whig Ephraim Foster was appointed to Grundy's seat in September 1838 and had been reelected to a full term in 1839 but chose to resign in March 1839 instead.
Foster's vacancy prompted a special election in November 1839 which was won by Grundy. However, it was unclear at the time whether Grundy was eligible to serve as U.S. Senator while holding his Attorney General post, so he resigned from both positions but was reelected immediately to the U.S. Senate again by the Tennessee legislature in December 1839.
Grundy served until his death one year later in December 1840.
Democrat Alfred Nicholson was appointed to fill the vacancy caused by Grundy's death and served for 13 months until February 1842. At that point the seat was vacant until Foster was elected and served from October 1843 (a few years removed from succeeding Grundy for a second time) until the end of the 28th Congress in March 1845.
There have been other instances in which a pair of U.S. Senators took turns succeeding each other, as was the case with Maryland Democrats William Whyte and Arthur Gorman.
Whyte lost his reelection bid to Gorman in 1880 at the end of Whyte's second stint in the chamber.
Gorman served three terms but lost his reelection bid in 1898. The former senator was elected again in 1902 and served until his death in 1906.
In June 1906, Whyte was then appointed (and subsequently elected) to the seat caused by Gorman's death.
Whyte holds the all-time U.S. Senate record with the largest gap in service at 25 years, 3 months, and 5 days between his second (1875-1881) and third (1906-1908) stints in the chamber.
Follow Smart Politics on Twitter.