A Brief Look at Indiana's Rich History of Landing Vice-Presidential Nominees
The Hoosier State has produced the second largest number of running mates in U.S. history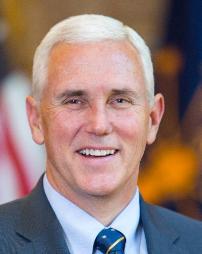 A week of chaotic and at times surprising political news out of Indiana culminated with an exclamation point on Friday when Donald Trump tweeted that Governor Mike Pence would indeed be his running mate.
While only one Hoosier State politician can lay claim to landing a major party presidential nomination (Benjamin Harrison in 1888 and 1892), Indiana has produced an abundance of vice-presidential picks.
In fact, only one other state in U.S. history has produced a larger number of running mates.
The selection of Mike Pence as Donald Trump's running mate brings the total number of major party vice-presidential picks from Indiana to 12 since the dawn of the modern two-party era in 1828 – second only to New York's 14.
Barring unforeseen political upheaval at the RNC in Cleveland this week, Governor Pence brings the number of Indianans who have won their party's nomination as vice-president to eight – for a collective 12 times.
Six of these nominations resulted in victory – also second only to New York's seven during the last 188 years.
It took 52 years from statehood in 1816 until the first Indianan won a major party vice-presidential nomination in 1868. Indiana would notch a nominee for the office in four of the next five cycles through 1884.
Seven-term Republican U.S. Representative Schuyler Colfax was the first – selected at the party's 1868 convention to be Ulysses Grant's running mate.
Colfax trailed Ohio U.S. Senator Benjamin Wade at the convention until solidifying his support on the fifth round of balloting.
Grant and Colfax won the election with more than 72 percent of Electoral College votes.
In 1876, Democratic Governor Thomas Hendricks was a near-unanimous selection to be Samuel Tilden's VP pick.
Hendricks, a former U.S. Senator and U.S. Representative, had challenged Tilden for the presidential nomination, placing second on both rounds of balloting.
Hendricks would again garner support in presidential balloting in 1880 (peaking with 49.5 votes on the first ballot) and 1884 (receiving 123.5 votes pre-shifts) before again winning his party's nomination for vice-president in 1884 to join Grover Cleveland's winning ticket.
Indiana's second vice president died in office in November 1885.
In between Hendrick's 1876 and 1884 VP nods another Indiana politician – William English – was selected as the Democratic nominee.
At the 1880 convention, the former four-term Congressman (who had been out of elected office for nearly two full decades), was the unanimous selection to be Winfield Hancock's running mate.
The Democratic ticket narrowly lost the general election that November to James Garfield and Chester Arthur.
Indiana would once again become a breeding ground for presidential running mates at the beginning of the 20th Century – with its politicians claiming five VP slots over four consecutive cycles between 1904 and 1916:
1904: Indiana U.S. Senator Charles Fairbanks was the unanimous pick at the Republican National Convention to be Teddy Roosevelt's running mate. The duo won more than 70 percent of the Electoral College vote.
1908: Former Indiana Democratic state legislator and assistant U.S. district attorney John Kern was the unanimous pick to run with William Jennings Bryan on his third failed White House bid
1912: Indiana Democratic Governor Thomas Marshall was selected to be Woodrow Wilson's running mate on the second ballot, after running a distant fifth in a majority of the 46 rounds of balloting for the presidential nomination
1916: Four years later, Vice President Marshall was the unanimous pick to once again run on Wilson's ticket
1916: Former Republican Vice President Charles Fairbanks had the support of more than 87 percent of delegates to join Charles Evans Hughes' ticket after placing fourth in the second round of balloting for the presidential nod
In that 1916 cycle, Indiana became the first state in the two-party era to lay claim to both vice-presidential nominees. The only other instance in which this political rarity occurred was in 1972 with Vice President Spiro Agnew and Sargent Shriver of Maryland.
With a remarkable run of nine vice-presidential nominees across 13 election cycles from 1868 to 1916, Indiana showcased itself as a major player in presidential politics.
To be sure, Indiana was a very competitive state in presidential elections during this span –  flipping its partisan vote for president during eight of these 13 cycles including six times in a row: 1876, 1880, 1884, 1888, 1892, 1896, 1912, and 1916.
The only other state to do so more times during this span was New York with 10: 1868, 1872, 1876, 1880, 1884, 1888, 1892, 1896, 1912, and 1916.
The Empire State had seven vice presidential nominees during this 48-year stretch: Republicans William Wheeler (1876), Chester Arthur (1880), Levi Morton (1888), Whitelaw Reid (1892), Theodore Roosevelt (1900), James Sherman (1908), and Nicholas Butler (1912).
Between Fairbanks in 1916 and Pence in 2016 the only Indianan to win a major party vice-presidential nomination was U.S. Senator Dan Quayle in 1988 (and, as Vice President, in 1992).
After New York (14) and Indiana (12) there is a large gap on the list of states with the most vice presidential nominees since 1828.
Texas is next with six, followed by Illinois with five, Kentucky and Tennessee with four, and California, Kansas, Maine, Maryland, Massachusetts, Minnesota, Missouri, Ohio, New Jersey, and Pennsylvania with three.
Five states have produced two nominees (Alabama, Delaware, North Carolina, Oregon (including Joseph Lane on the 1860 Southern Democratic ticket), and Wyoming) and 10 states have produced one (Alaska, Arkansas, Connecticut, Georgia, Iowa, Nebraska, South Carolina, Virginia, West Virginia, and Wisconsin).
That leaves 19 states with no major party vice-presidential nominees on their resume during the modern two-party era: Arizona, Colorado, Florida, Hawaii, Idaho, Louisiana, Michigan, Mississippi, Montana, Nevada, New Hampshire, New Mexico, North Dakota, Oklahoma, Rhode Island, South Dakota, Utah, Vermont, and Washington.
Ten additional states have never produced a winning vice-presidential nominee: Alaska, Arkansas, Connecticut, Georgia, Nebraska, North Carolina, Ohio, Oregon, West Virginia, and Wisconsin.
Adjusting for variations in statehood dates (particularly those achieved after the 1828 election), yields the following results.
New York had a vice-presidential nominee in 14 of the 47 election cycles since 1828, or 29.8 percent of the time, while Indiana has done so in 11 of 47 cycles, or 23.4 percent.
Only two other states have had a vice-presidential nominee in at least one in 10 election cycles since statehood during this span: Texas at 14.3 percent (six of 42 cycles) and Illinois at 10.6 percent (five of 47 cycles).
Note: For the analysis above, in cycles during which a major party had multiple vice-presidential nominees across various states (e.g. the Whigs in 1836), the nominee that appeared on a majority of state ballots was identified as the party's main VP nominee.
Follow Smart Politics on Twitter.