Bill Clinton Was Not the Youngest Ex-Governor in History
Contrary to what he said during his DNC speech Tuesday, the former Arkansas governor did not even rank in the Top 10 youngest ex-governors when he lost his 1980 election bid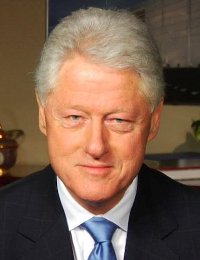 During Bill Clinton's laudatory speech about his wife and the Democratic Party's 2016 presidential nominee, the former president recounted a story about when he lost his job after the 1980 cycle – as Republican Frank White narrowly defeated the Arkansas governor in his bid for a second term.
Clinton told the story to contrast the chaos felt by the young governor as his political career hit a roadblock, and the wise counsel provided by his wife and the First Lady of the Natural State:
When Chelsea was 9 months old, I was defeated for reelection in the Reagan landslide. And I became overnight, I think, the youngest former governor in the history of the country. We only had two-year terms back then. Hillary was great. Immediately she said, OK, what are we going to do? Here's what we're going to do, we're going to get a house, you're going to get a job, we're going to enjoy being Chelsea's parents. And if you really want to run again, you've got to go out and talk to people and figure out why you lost, tell people you got the message and show them you've still got good ideas. I followed her advice. Within two days we had a house, I soon had a job. We had two fabulous years with Chelsea. And in 1982, I became the first governor in the history of our state to be elected, defeated and elected again. I think my experience is it's a pretty good thing to follow her advice.
There is just one slight problem with Clinton's tale.
A Smart Politics review of gubernatorial exits finds that Bill Clinton was not the youngest former governor in U.S. history when he was defeated in 1980 – in fact, he didn't even crack the Top 10.
Clinton's last day in office after his 3.9-point loss to White was January 19, 1981.
At that time, Clinton was 34 years and five months old (12,572 days) which did not even make him the youngest former governor in the 20th Century. Overall, more than a dozen statehood governors from the 19th and 20th Centuries were younger than Clinton when they left office.
The youngest former governor in U.S. history was Michigan Democrat Stevens Mason.
After Michigan passed its first constitution while a territory in 1835, the 23 year-old Mason won the state's first popular vote gubernatorial election with 91.2 percent against Whig John Biddle.
Michigan achieved statehood in January 1837 and Mason was reelected by 2.6 points over former Detroit Whig Mayor Charles Trowbridge.
Mason served as governor until January 7, 1840 and left office at the age of 28 years, 2 months, 11 days (10,299 days) – or more than six years younger than Clinton.
The second youngest ex-governor was Louisiana Republican Henry Warmoth. Warmoth was the first governor elected to the office after the Pelican State was readmitted to the union in the summer of 1868 at the age of 26.
Warmoth's term ended on December 9, 1872 when he was just 30 years and 7 months old (11,172 days).
The third youngest ex-governor in U.S. history was Idaho Democrat Frank Hunt. Hunt was the first true Democrat elected governor in the Gem State in 1900 at the age of 29 (his predecessor, Frank Steunenberger, ran on the Populist-Democratic Fusion ticket).
Hunt ran for reelection in 1902, but was defeated by former GOP state committee chair John Morrison by 9.7 points.
Governor Hunt's last day in office was January 5, 1903 when he was 31 years, 20 days old (11,342 days).
One other governor was more than two years younger than Clinton when he left office: Wyoming Republican Amos Barber (1890-1893) at 31 years, 5 months, 8 days (11,484 days).
And six others were more than a year younger:
California Know-Nothing J. Neely Johnson (1856-1858): 32 years, 5 months, 6 days (11,847 days)
Rhode Island Republican William Sprague (1860-1863): 32 years, 5 months, 19 days (11,860 days)
California Democrat Milton Latham (1860-1860): 32 years, 7 months, 22 days (11,924 days)
Ohio Democrat Thomas Bartley (1844-1844): 32 years, 9 months, 22 days (11,984 days)
Delaware Whig William Temple (1846-1847): 32 years, 10 months, 22 days (12,013 days)
South Carolina Democrat John Evans (1894-1897): 33 years, 3 months, 3 days (12,149 days)
Other statehood governors who were younger than Clinton upon their exits include Maryland Democrat Enoch Lowe (33 years, 5 months, 1 day), Kansas Republican Samuel Crawford (33 years, 6 months, 25 days), and California Independent Democrat John MacDougall (34 years, 7 days).
[Note: MacDougall may have been even younger – he is known only to have been born sometime in 1818; January 1, 1818 was used as his birthday for the calculations].
Clinton and Hunt were the only two governors of those mentioned above who saw their term end by losing at the ballot box.
Follow Smart Politics on Twitter.