Gwen Graham Would Be Rare Female Governor from Parental Political Royalty
Only one female governor in history was the daughter of a governor and only a few others had parents serve at any level of elected office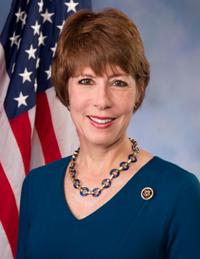 Hillary Clinton made history by officially becoming the first major party presidential nominee this week.
But in a political cycle in which women have also reached (U.S. House) or equaled (U.S. Senate) record levels in Congress, their numbers have fallen short of the peak level in governorships across the country.
There are currently six female governors in the United States – Democrats Maggie Hassen of New Hampshire, Kate Brown of Oregon, and Gina Raimondo of Rhode Island and Republicans Susana Martinez of New Mexico, Mary Fallin of Oklahoma, and Nikki Haley of South Carolina.
That is down from a high of nine women who held their state's top executive position more than a decade ago.
In July 2004, Republicans Jodi Rell of Connecticut, Linda Lingle of Hawaii, Judy Martz of Montana, and Olene Walker of Utah and Democrats Janet Napolitano of Arizona, Ruth Ann Minner of Delaware, Kathleen Sebelius of Kansas, Kathleen Blanco of Louisiana, and Jennifer Granholm of Michigan were all in office.
Brown is running in a special election in Oregon this cycle and is favored to hold her seat but Hassan opted to challenge U.S. Senator Kelly Ayotte instead and there is no guarantee another woman will take her place across the dozen states holding contests this year to keep that number at six.
Potential female nominees this November include former Democratic state legislator Sue Minter in Vermont, retired Republican state police officer Lacey Lafferty in Delaware, former Republican state legislator Catherine Hanaway in Missouri, and Republican State Senator Jeanie Forrester in New Hampshire.
One woman who has been making the early rounds to launch a gubernatorial bid in 2018 is Florida Congresswoman Gwen Graham.
Graham, the daughter of former governor and U.S. Senator Bob Graham would become the first female governor of the Sunshine State and just the second daughter of a former governor to follow in her father's gubernatorial footsteps.
In fact, of the three-dozen women to serve as governor in U.S. history only a small handful had a parent with as notable political credentials as Graham.
Leading the way is Kansas Democrat Kathleen Sebelius, whose father Jack Gilligan was a member of the Cincinnati City Council (1953-1963), U.S. House of Representatives (1965-1967), and governor of Ohio (1971-1975).
Sebelius is the only daughter of a governor to become a governor in her own right.
Sebelius served 22+ years as an elected official in Kansas government: eight years each as a state legislator (1987-1995) and state insurance commissioner (1995-2003) and six-plus as governor (2003-2009) before resigning to become President Obama's Secretary of Health and Human Services.
Few other female governors had parents with resumes that included holding elected office:
Nebraska Republican Kay Orr (1987-1991): Her father, Ralph Stark, was a member of the Burlington (Iowa) City Council
Oklahoma Republican Mary Fallin (2011-present): Both of her parents – Joseph and Mary Jo Copeland – each served as Democratic mayors of Tecumseh, Oklahoma
A few others had parents in political office, though not to elected positions:
New Hampshire Democrat Maggie Hassan (2013-present): Her father, political science professor Robert Wood, briefly served as Secretary of Housing and Urban Development during the last two weeks of President Lyndon Johnson's administration in 1969
New Jersey Republican Christine Todd Whitman (1994-2001): Her father, wealthy businessman Webster Todd, was a state party leader for years including head of the New Jersey Republican State Committee during two stints (1961-1969; 1974-1976). Her mother, Eleanor Todd, was vice-chair of the RNC in 1956 and a national committeewoman for a decade (1956-1966).
Equally common were women who rose to the highest statewide elected office despite facing difficult childhoods:
Vermont Democrat Madeleine Kunin (1985-1991): Her father, Ferdinand May, committed suicide by drowning when she was three before the family emigrated from Switzerland
Kansas Democrat Joan Finney (1991-1995): Her father, Leo McInroy, abandoned her mother and two older sisters shortly before she was born in 1925
Connecticut Republican Jodi Rell (2004-2011): Her mother, Foy Rell, died when she was seven
Washington Democrat Christine Gregoire (2005-2013): Gregoire never knew her father, from whom her mother fled while a teenage mother due to his abusive behavior
Arizona Republican Jan Brewer (2009-2015): Her father, Perry Drinkwine, died from lung disease when she was 11 from fumes ingested as a civilian supervisor for a naval munitions depot
The occupations of the parents of other female governors run the gamut such as a farmer (Delaware Democrat Ruth Ann Minner), a plumber (Massachusetts Republican Jane Swift), a reporter and editor (Arizona Republican Jane Dee Hull), miners (Arizona Democrat Rose Mofford, Montana Republican Judy Martz, North Carolina Democrat Bev Perdue), mill workers (Connecticut Democrat Ella Grasso and Oregon Democrat Barbara Roberts), funeral home directors (Kentucky Democrat Martha Collins), professors (Arizona Democrat Janet Napolitano and South Carolina Republican Nikki Haley), bank tellers (Michigan Democrat Jennifer Granholm), teachers (Utah Republican Olene Walker and Alaska Republican Sarah Palin), a law enforcement official (New Mexico Republican Susana Martinez), a pharmaceutical salesman (Texas Democrat Ann Richards), a commercial printer (Washington Democrat Dixy Lee Ray), a shoe manufacturer (New Hampshire Democrat Jeanne Shaheen), an air force serviceman (Oregon Democrat Kate Brown), a watch company worker (Rhode Island Democrat Gina Raimondo), and a carpet cleaner (Louisiana Democrat Kathleen Blanco).
While not from parental political royalty, it should be noted that the first three female governors in U.S. history were wives of former governors: Wyoming Republican Nellie Tayloe Ross (1925-1927), Texas Democrat Miriam Ferguson (1925-1927; 1933-1935), and Alabama Democrat Lurleen Wallace (1967-1968).
Congresswoman Graham is not running for reelection to her U.S. House seat due to redistricting and stated last month she will focus on her potential gubernatorial run after the end of her term in January.
Follow Smart Politics on Twitter.