Tim Huelskamp Braces for Rare Primary Loss in Kansas
Kansas U.S. Representatives have lost just 1 of 103 primaries since 1964 and only 10 of 289 since primaries began in 1908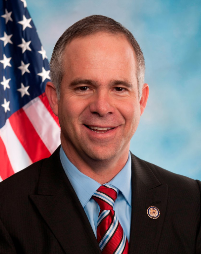 Kansans head to the polls on Tuesday with two of the state's four Republican U.S. Representatives facing primary challengers this cycle.
Both congressmen are from the Class of 2010. Kevin Yoder of the 3rd CD has a contested primary for the first time as an incumbent with U.S. Army veteran Greg Goode of Louisburg taking on the well-funded officeholder.
Goode has raised approximately three percent of the $1.9 million Yoder's campaign has collected this cycle.
The marquee matchup, however, takes place in Kansas' 1st CD where for the second consecutive cycle controversial Freedom Caucus member Tim Huelskamp will face another bona fide challenger in OB-GYN Dr. Roger Marshall.
In 2014, Huelskamp escaped with a 9.9-point primary victory over Alan La Police who is running as an independent against Huelskamp this cycle along with Libertarian Kerry Burt. [No Democrat filed for the race].
This year, Representative Huelskamp faces a challenger in Marshall who had outraised him by more than $150K through mid-July.
While prognosticators have been circling this August 2nd matchup for months, a victory by the Great Bend physician over Huelskamp would be a monumental achievement in the annals of Kansas politics.
Over the previous 26 cycles since 1964, just one of 103 Kansas U.S. Representatives seeking reelection has lost a renomination bid – Republican Dick Nichols in 1992.
Nichols was a freshman from the 5th Congressional District, which was eliminated after reapportionment in the 1992 cycle.
Congressman Nichols ran in the state's 4th CD to take on eight-term Democrat Dan Glickman, but was upended before he got the chance in a competitive three-candidate GOP primary.
State Senator Eric Yost won the nomination with 45.1 percent of the vote with Nichols at 33.6 percent and retired Wichita police chief Richard LaMunyon at 21.3 percent.
In all other 102 instances, sitting U.S. House members from Kansas have prevailed in their renomination bids over the last half-century.
Kansas was an early adopter of the direct primary and held their first such contests on August 4, 1908.
All eight Republican incumbents were renominated that cycle but two years later four were defeated in the primary:
Five-term Republican Charles Scott (46.4 percent) to Kansas University Board of Regents member Alexander Mitchell (53.6 percent) in the 2nd CD
Six-term Republican James Miller (36.6 percent) to Kansas Attorney General Fred Jackson (63.4 percent) in the 4th CD
Seven-term Republican William Calderhead (38.6 percent) to judge Rollin Rees (61.4 percent) in the 5th CD
Six-term Republican William Reeder (27.6 percent) to former state legislator Isaac Young (43.3 percent) in the 6th CD [also trailing Hays White (29.1 percent) in the three-candidate field]
Even still, between 1908 and 1962, Kansas U.S. Representatives amassed a renomination record of 177 wins against nine losses, or a 95.2 percent rate of victory in the primary.
The remaining five Kansas U.S. House delegation members to lose primaries over the decades are:
1922 (3rd CD): Ten-term Republican Philip Campbell (43.8 percent) to Sedan Mayor William Sproul (48.5 percent) in a three-candidate field
1932 (1st CD): Seven-term Republican James Strong (43.0 percent) to two-term Congressman William Lambertson (57.0 percent) in an incumbent-on-incumbent matchup [Strong was redistricted from the 5th CD after Kansas lost a seat due to reapportionment]
1944 (1st CD): Eight-term Republican William Lambertson (46.8 percent) to State Senator Albert Cole (53.2 percent)
1946 (3rd CD): Four-term Republican Thomas Winter (48.1 percent) to newspaper publisher and former oil executive Herbert Meyer (51.9 percent)
1962 (5th CD): Freshman Republican Walter McVey (39.8 percent) to attorney and U.S. Senate aid Joe Skubitz (40.1 percent) in a four-candidate field [McVey was redistricted from the 3rd CD after Kansas lost a seat due to reapportionment]
Interestingly, none of the 25 Democrats elected to serve in the U.S. House from Kansas since statehood ever lost their party's nomination – with the 23 who served during the primary era amassing a 62-0 record since 1908.
However, all but five of them were eventually defeated in the general election. Only William Carpenter, Dennis Moore, George Neeley, Bill Roy, and James Slattery exited the chamber on their own terms. (Note: Neeley and Roy launched unsuccessful U.S. Senate bids in 1914 and 1974 respectively and Slattery lost a gubernatorial campaign in 1994).
Overall, Kansas U.S. House members have tallied 279 primary wins against 10 losses from 1908 through 2014, for a 96.5 percent renomination winning percentage.
Twenty-nine primaries have not involved incumbents and were open seat races during this span.
Four-term Congresswoman Lynn Jenkins (2nd CD) and three-term Congressman Mike Pompeo (4th CD) are running unopposed for the GOP nomination on Tuesday.
Follow Smart Politics on Twitter.