John Conyers Wins Renomination by Narrowest Margin of Congressional Career
The 87-year old Democrat is still on track to become the second longest-serving member of the U.S. House in history during the 115th Congress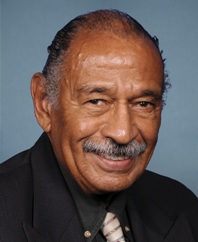 Twenty-six term Democratic Congressman John Conyers won his party's renomination on Tuesday, defeating City Clerk Janice Winfrey in Michigan's 13th Congressional District primary.
While there was only a little drama in the race, Winfrey did receive the largest support ever recorded for a primary challenger against Conyers during his reelection bids over the last half-century at 39.2 percent.
Conyers – the third longest serving member in the history of the U.S. House at more than 51 years – has had a rocky last few years in office.
Two years ago, he was nearly left off the primary ballot by failing to gather the required number of valid petition signatures, but was saved by a federal district court judge who put Conyers' name back on the ballot after state election officials had ruled his name should be left off.
This cycle, Conyers outraised his Democratic opponent by a 6:1 margin and although he won by a comfortable margin it was the closest he has come to a renomination loss in 26 reelection campaigns.
Conyers (60.8 percent) defeated Winfrey (39.2 percent) by 21.6 points – just the second time he has won renomination by less than 35 points and the fifth time by less than 50 points.
Prior to 2016, Conyers' closest race came in 1994, when he defeated attorney Butch Hollowell by 22.1 points with a narrow majority (50.5 percent) in a three-candidate field. Hollowell's 28.4 percent showing had been the best for a primary challenger of the Detroit Congressman until Winfrey on Tuesday.
Two of the other three instances in which Conyers failed to win a primary by at least 50 points came during the last two cycles:
1992: Conyers beat John Kelly by 38.3 points with 64.0 percent in a four-candidate field
2012: In a five-candidate field that included three state legislators who all registered in double digits (State Senators Glenn Anderson and Bert Johnson and State Representative Shanelle Jackson), Conyers defeated Anderson by 37.2 points with 55.4 percent of the vote
2014: Conyers defeated Horace Sheffield by 47.8 points with 73.9 percent of the vote
To be sure, throughout most of his D.C. legislative career Conyers has had an easy ride back to Capitol Hill.
The Michigan Democrat faced only nine primary challengers during his first 23 reelection campaigns from 1966 through 2010, but has seen six Democratic opponents contest him during the primaries over just the last three cycles.
Three of his nine Democratic opponents from 1966 through 2010 ran in the 1992 cycle after Conyers was one of nearly two-dozen members of the chamber who were publicly admonished by the House Ethics Committee during the House banking scandal. Conyers was found to have written 273 overdrafts.
If (and when) Conyers is reelected to a 27th term this November in the heavily Democratic district, he will pass Mississippi Democrat Jamie Whitten for second place on the chamber's all-time service list in March 2018 during the 115th Congress.
That would give Michigan the top two slots for U.S. House tenure with legendary Democrat John Dingell at #1 logging in more than 59 years from December 1955 to January 2015.
Conyers was the second African-American elected to the House from Michigan when he won his first term in 1964 in an eight-candidate Democratic primary that included long-serving State Senator Charles Blondy and Richard Austin, who would later become the first African American secretary of state – winning that post in Michigan six times.
Conyers defeated Austin by just 0.2 points in the race with 27.0 percent of the vote. During 18 of the next 25 cycles Conyers did not receive a primary challenger.
Charles Diggs was the first of seven black Americans from Michigan to serve in Congress – winning his first of 13 terms in 1954.
Follow Smart Politics on Twitter.