Number of Female Lieutenant Governors to Increase After 2016
Midwestern states account for 40 percent of the cumulative female lieutenant gubernatorial service in U.S. history along with the three longest current streaks (Minnesota, Iowa, and Wisconsin)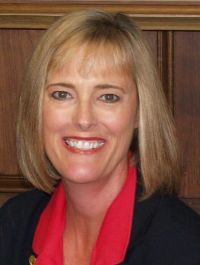 Smart Politics recently reported how women will have few opportunities to increase the number of governorships they hold after the 2016 elections.
With former Republican state legislator Catherine Hanaway in Missouri placing fourth in that state's primary last week, the best chance for a female pick-up this cycle is former Vermont Democratic state legislator Sue Mintor who faces a competitive primary on Tuesday.
The six governorships currently held by women is down from a peak level of nine back in 2004.
By contrast, women hold twice as many lieutenant gubernatorial seats across all four regions of the country: in Alabama (Republican Kay Ivey), Colorado (Democrat Donna Lynne), Connecticut (Democrat Nancy Wyman), Illinois (Republican Evelyn Sanguinetti), Iowa (Republican Kim Reynolds), Kentucky (Republican Jenean Hampton), Massachusetts (Republican Karyn Polito), Minnesota (DFLer Tina Smith), New Jersey (Republican Kim Guadagno), New York (Democrat Kathy Hochul), Ohio (Republican Mary Taylor), and Wisconsin (Republican Rebecca Kleefisch). [Note: With the exception of Alabama, which holds a stand-alone election for the office, the other 11 states listed above elect lieutenant governors on a single ticket with the governor].
And that number is assured to increase in 2016.
None of the female lieutenant governors currently in office are up for reelection this cycle and several women have already been selected as major party nominees across the nine states holding contests this cycle where the position is a constitutional office.
[The remaining three states with elections this year – New Hampshire, Oregon, and West Virginia – are among the seven states without lieutenant governors as stand-alone positions. The state senate in Tennessee and West Virginia elect leaders that also receive the title of 'lieutenant governor.'].
Both major party nominees in Indiana are women which will ensure there will be at least 13 female lieutenant governors come January 2017.
Democratic state representative Christina Hale was selected to run on John Gregg's ticket while Republican State Auditor Suzanne Crouch (pictured at top) was chosen by the party's state committee to run on Eric Holcomb's ticket in a high profile 11th hour reshuffling of the state's GOP political deck after Governor Mike Pence became Donald Trump's vice-presidential running mate.
In Montana, rancher and Philips County Commissioner Leslie Robinson is Republican Greg Gianforte's running mate with the ticket an underdog against incumbent Governor Steve Bullock this November.
In North Dakota, Democratic State Senator Joan Heckaman was chosen to be Marvyn Nelson's running mate in a state where Democrats are in the midst of their third longest gubernatorial drought in the nation – losing the last six contests since 1992.
In North Carolina, the position of lieutenant governor is a stand-alone election with former Democratic state legislator and 2012 nominee Linda Coleman easily winning a four-way primary in March. Coleman is challenging Lieutenant Governor Dan Forest with polling a dead heat between the two candidates.
Women also have a chance to claim seats in two other states pending primary elections.
In Vermont, State Representative Kesha Ram is one of three Democrats squaring off in next week's primary along with State Senator David Zuckerman and State House Speaker Shap Smith.
Meanwhile, three women are running for the Democratic nomination in Delaware in a six-candidate field: State Senator Bethany Hall-Long, Wilmington Councilwoman Sherry Dorsey Walker, and Rehoboth Beach Commissioner Kathy McGuiness.
The winner of that primary will be favored to win the seat in the general election.
In total, women have been elected over 110 times to the office of lieutenant governor and served a collective 414 years in the office.
The partisan division has been fairly equal: Democrats have accounted for 211 of these years with Republicans tallying 195 years and third parties at eight years.
The Midwest has by far led the way in electing (or appointing) women to this position with the 12-state region accounting for 164 of these years of service collectively, or 39.6 percent.
The Northeastern region accounts for 94 years of service (22.8 percent) with the South and West at 78 years each (18.8 percent).
Each of the 12 states in the Midwest region can list at least one woman who served as lieutenant governor as well as all nine states in the Northeast that have this constitutional office. Women have held the position in eight southern states and six in the West.
Minnesota leads the nation with women serving 33.5 years (and counting) as lieutenant governor – a streak that began with the election of DFLer Marlene Johnson (1983-1991) in 1982. Johnson was followed by Republicans Joanell Dyrstad (1991-1995) and Joanne Benson (1995-1999), the Independence Party's Mae Schunk (1999-2003), Republican Carol Molnau (2003-2011), and DFLers Yvonne Solon (2011-2015) and Tina Smith (2015-present).
Women have served in the office continuously in one other state since the 1980s with five serving as lieutenant governor in Iowa for the last 29.5 years since 1987: Democrat Jo Ann Zimmerman (1987-1991), Republican Joy Corning (1991-1999), Democrat Sally Pederson (1999-2007), Democrat Patty Judge (2007-2011), and Republican Kim Reynolds (2011-present).
Another Midwestern state has the third longest consecutive streak in the nation with women holding the lieutenant governorship in Wisconsin for the last 15+ years since May 2001.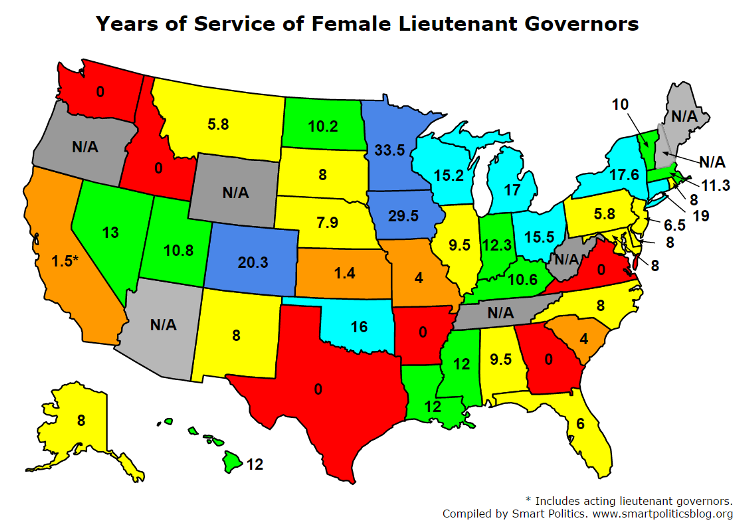 After Minnesota (33.5 years) and Iowa (29.5 years), Colorado has the third longest years of service for female lieutenant governors at 20.3 years followed by Connecticut (19), New York (17.6), Michigan (17), Oklahoma (16), Ohio (15.5), Wisconsin (15.2), and Nevada (13).
Of the 86 women to serve as lieutenant governor across three-dozen states, 55 have served in the 21st Century, or 64 percent.
Follow Smart Politics on Twitter.