Majority of Wisconsin US Reps Face Primary Challengers for 1st Time Since 1950
Approximately five in six incumbents have run unopposed for their party's nomination in the Badger State over the last six-plus decades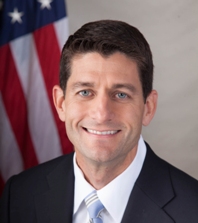 Wisconsin is one of four states to hold primaries on Tuesday and the most high profile race is not likely to be much of a contest.
For just the second time in his Congressional career, Paul Ryan does not get a free pass to the general election with businessman Paul Nehlen challenging the House Speaker from his right. [Ryan also had a primary opponent in 2014, Jeremy Ryan, who won just 5.7 percent of the vote].
Nehlen has raised a considerable amount of money for his long-shot bid – nearly $870K through July 20th.
But while that could make most incumbents sweat, it comes to less than six percent of the $14.8 million Speaker Ryan has tallied thus far this cycle.
Any chatter about a potential upset in the Badger State at this point in the election cycle is news, however, as Congressional primaries have been historically noncompetitive in Wisconsin for decades.
Earlier this year, Smart Politics reported that just one Wisconsin U.S. Representative has lost a renomination bid since 1950 out of more than 50 contested primaries conducted during this 33-cycle span through 2014, with nearly 90 percent of these incumbents winning by more than 20 points.
But although Ryan should cruise to the general election on Tuesday, there may be something brewing in the Badger State.
Ryan is one of four members of the Wisconsin delegation who will face a primary challenger this cycle along with 10-term Democrat Ron Kind in the 3rd CD (Myron Buchholz of Eau Claire), six-term Democrat Gwen Moore in the 4th CD (Gary George of Milwaukee), and three-term Republican Sean Duffy in the 7th CD (Donald Raihala of Superior).
Like the nine-term incumbent Ryan, this is just the second time Kind has faced a primary challenger in two full decades of serving his district. [Kind defeated Chip De Nure by 67.4 points in 2006].
And so, with three-term Republican Reid Ribble retiring from the 8th Congressional District, that means a majority of Wisconsin U.S. Representatives seeking reelection are running with opposition in their party's primary for the first time in over 65 years (four of seven incumbents, or 57.1 percent).
The last time more than half of the Badger State's U.S. House delegation were challenged in a primary was in 1950.
In that cycle, nine of the state's 10 U.S. Representatives ran for reelection – all except six-term Republican Frank Keefe of the 6th CD.
Five of these nine faced at least one primary opponent (55.6 percent):
3rd CD: Five-term Progressive-turned-Republican Gardner Withrow defeated Foster Porter by 2.0 points in a three-candidate field
4th CD: Freshman Democrat Clement Zablocki beat Thaddeus Wasielewski by 44.4 points
7th CD: Six-term Republican Reid Murray defeated Malcolm Rosholt by 49.5 points in a three-candidate field
9th CD: Nine-term Republican-turned-Progressive-turned-Republican Merlin Hull beat George Sipple by 16.6 points
10th CD: Four-term Republican Alvin O'Konski beat Andy Borg by 9.6 points in a three-candidate field
The last time a higher percentage of incumbents were contested in their quest for renomination was two years prior in 1948.
During that cycle, each of the 10 members of Wisconsin's all-GOP U.S. House delegation ran for reelection and eight of them were challenged by one or more candidates: Lawrence Smith (1st CD), William Stevenson (3rd CD), John Brophy (4th CD), Charles Kersten (5th CD), Reid Murray (7th CD), John Byrnes (8th CD), Merlin Hull (9th CD), and Alvin O'Konski (10th CD).
Stevenson lost by 2.8 points to Gardner Withrow in his primary.
The only Wisconsin U.S. Representative to lose a primary ever since was Republican Glenn Davis of the 9th Congressional District in 1974. Davis was in his 10th nonconsecutive term in the U.S. House that cycle when he lost to State Senator Bob Kasten by 14.4 points.
From 1950 through 2014, just 51 of 282 incumbents faced at least one primary challenger, or 18.1 percent.
Every delegation member running for reelection ran unopposed in six cycles during this span: 1956, 1978, 1986, 1992, 2004, and 2012.
The Democratic primary in the 4th CD Tuesday between Gwen Moore and Gary George is a rematch of the 2014 contest which saw the Congresswoman defeat the former state senator (and felon).
Two years ago Moore defeated George by 42.2 points.
Follow Smart Politics on Twitter.