Indiana Voters Could See Rare Split-Ticket in 2016
Over the last century, Indiana voters have never backed a presidential nominee without also supporting that party's gubernatorial or U.S. Senate nominee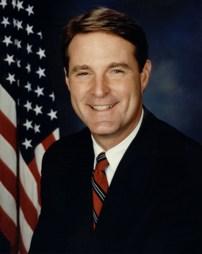 A new poll released this week by Monmouth University indicates Indiana voters are currently poised to cast their Electoral College votes for Republican Donald Trump, elect Democrat Evan Bayh back to his old seat in the U.S. Senate, and are divided in their support for governor between Republican Eric Holcomb and Democrat John Gregg.
The Monmouth survey found Trump up 47 to 36 percent against Hillary Clinton with Bayh leading Todd Young 48 to 41 percent and Holcomb (42 percent) and Gregg (41 percent) in a dead heat.
To be sure, Indiana has been no stranger to splitting its vote for governor and U.S. Senator in recent decades.
Over the last five cycles in which both offices were on the ballot since 1988, neither party has swept both contests – with Bayh involved in three of these:
1988: Democrat Evan Bayh (governor) and Republican Dick Lugar (U.S. Senate)
1992: Democrat Evan Bayh (governor) and Republican Dan Coats (U.S. Senate)
2000: Democrat Frank O'Bannon (governor) and Republican Dick Lugar (U.S. Senator)
2004: Republican Mitch Daniels (governor) and Democrat Evan Bayh (U.S. Senate)
2012: Republican Mike Pence (governor) and Democrat Joe Donnelly (U.S. Senate)
Overall, Indiana has split its ballot for governor and U.S. Senator in seven of 17 cycles over the last century (41.2 percent).
The new Monmouth polling numbers explain why Democrats have felt justifiably bullish about picking up a U.S. Senate seat in Indiana after Bayh's eleventh hour entrance into the race this summer as well as the GOP's vulnerability in holding the governorship in that open seat race.
But could Indiana Democrats pick up both U.S. Senate and gubernatorial seats whilst simultaneously seeing their presidential nominee lose the state at the top of the ticket?
If they do, it'd be a feat neither party has ever accomplished in the Hoosier State.
Over the 17 election cycles since 1916 in which presidential, U.S. Senate, and gubernatorial elections were all on the ballot in the state, Indiana voters have never cast their votes for a presidential nominee without also voting that party into office for governor or U.S. Senate.
In eight cycles, the state has uniformly voted Republican for all three offices: in 1916 (voting GOP for both U.S. Senate seats), 1920, 1928, 1944 (voting GOP for both U.S. Senate seats), 1952, 1956, 1976, and 1980.
Democrats have swept the vote for each office in Indiana in two cycles – each during massive wave elections for the party in 1932 and 1964.
Indiana voters backed the Republican presidential nominee in each of the remaining seven cycles: voting for the GOP gubernatorial nominee in 1968, 2004, and 2012 and the Republican U.S. Senate nominee in 1940, 1988, 1992, and 2000.
Looking strictly at presidential and U.S. Senate elections, Indiana ranks near the bottom in splitting its vote for these two federal offices, despite doing so two times during the 21st Century.
Since the passage of the 17th Amendment, Indiana sits at #45 in the nation – splitting its vote for president and U.S. Senate in just three out of 19 instances (including two special elections), or 15.8 percent of the time. Indiana is ahead of only Wisconsin (11.8 percent), North Carolina (6.3 percent), Utah (5.9 percent), and Kansas and Wyoming (5.6 percent).
In addition to Democrat Joe Donnelly's victory in 2012 with Mitt Romney carrying the state, the only other cycles in which the Hoosier State split its presidential and U.S. Senate vote were in 1968 (with Richard Nixon and Birch Bayh) and 2004 (George W. Bush and Evan Bayh).
Looking at presidential and gubernatorial races, Indiana has split its vote in 10 of 41 cycles (24.4 percent) since the state began holding elections for governor every four years in 1852, including five of the last seven cycles since 1988.
The state has backed a Republican presidential nominee and a Democrat for governor in nine of these cycles (1872, 1908, 1940, 1948, 1960, 1988, 1992, 1996, 2000) and the Democratic presidential nominee with a Republican for governor once (2008).
Follow Smart Politics on Twitter.