A Strong Performance By Trump Might Not Save Some GOP US Senators
Since 1972, 12 of the 27 Republican U.S. Senators to lose during presidential election cycles did so while the GOP White House nominee carried their state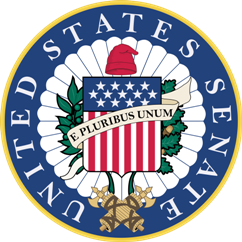 With Donald Trump's polling numbers still on the wrong side of even in several key battleground states, Republicans remain concerned about potential down-ballot effects, particularly in races for the U.S. Senate which has a good chance of flipping this cycle.
As things currently stand, several Republican incumbents are expected to be on – or at least near – the hot seat in November such as Mark Kirk of Illinois, Chuck Grassley of Iowa, Roy Blunt of Missouri, Kelly Ayotte of New Hampshire, Richard Burr of North Carolina, Rob Portman of Ohio, Pat Toomey of Pennsylvania, Ron Johnson of Wisconsin as well as two lawmakers who still need to get through moderately contested primaries – John McCain of Arizona and Marco Rubio of Florida.
Hillary Clinton is currently leading in the Real Clear Politics polling average in all but two of these states – Arizona and Missouri – although Trump is well within striking distance in many of them.
It makes intuitive sense that the performance at the top of the ticket is bound to have some effect on races down the ballot. The question often posed this cycle is how much of a 'Trump drag' can these U.S. Senators withstand before losing their seats?
But although it is never favorable for a candidate to have an unpopular member of their party as its standard-bearer, it should not be forgotten that there are plenty of examples in political history of incumbents losing their seats even as their party's nominee won their state.
In other words, even a more popular Trump would not guarantee reelection for some of these officeholders.
A Smart Politics analysis finds that over the last 25 presidential election cycles since 1916, 30 percent of U.S. Senators who lost their general election races did so in states won by their party's White House nominee.
Since 1916, there have been 124 renominated Democratic and Republican U.S. Senators who were defeated in the general election in a presidential election cycle.
Of these 124 incumbents, 37 came up short despite their party's presidential nominee winning their state, or 29.8 percent.
In recent decades, Republicans in particular have seen many of its defeated incumbents fail to capitalize on the success their presidential nominee has had at the top of the ticket in their state.
Since 1972, 12 of the 27 Republican U.S. Senators to lose in November during presidential election cycles did so while their White House nominee received their state's Electoral College votes, or 44.4 percent:
1972: Gordon Allott of Colorado
1972: J. Caleb Boggs of Delaware
1972: Jack Miller of Iowa
1972: Margaret Chase Smith of Maine
1984: Charles Percy of Illinois
1984: Roger Jepsen of Iowa
1988: Lowell Weicker of Connecticut
1988: David Karnes of Nebraska
1988: Chic Hecht of Nevada
1996: Larry Pressler of South Dakota
2000: John Ashcroft of Missouri
2008: Ted Stevens of Alaska
Meanwhile, just two of 21 losing Democratic U.S. Senators have met this same fate across the 11 presidential election cycles since 1972 (9.5 percent) – both from Georgia: Herman Talmadge in 1980 and Wyche Fowler in 1992.
In other words, the electoral failures of Democratic incumbents have been more tied to the performance of their party's presidential nominee in their state than that of Republicans.
This partisan disparity has existed for decades.
Since 1916 – the first presidential election cycle after the passage of the 17th Amendment – 26 of the 68 defeated Republican U.S. Senators on Election Day came from states won by their presidential nominee (38.2 percent) compared to just 11 of 56 Democrats (19.6 percent).
The Republican Party has had particular trouble with incumbents holding their seats in recent cycles – whether or not the GOP White House nominee carried their state. During the last five presidential election cycles since 1996, 12 of the 14 incumbents to lose on Election Day were Republicans:
1996: Larry Pressler of South Dakota
2000: Bill Roth of Delaware
2000: Spencer Abraham of Michigan
2000: Rod Grams of Minnesota
2000: John Ashcroft of Missouri
2000: Slade Gorton of Washington
2008: Ted Stevens of Alaska
2008: Norm Coleman of Minnesota
2008: John Sununu of New Hampshire
2008: Elizabeth Dole of North Carolina
2008: Gordon Smith of Oregon
2012: Scott Brown of Massachusetts
Only Chuck Robb of Virginia (2000) and Tom Daschle of South Dakota (2004) have fallen to defeat after winning renomination during this 16-year span. [No Democratic incumbent up for reelection in 2016 is considered vulnerable at this time].
Ten states have never seen an incumbent lose a general election U.S. Senate race in a presidential election cycle over the last century: Alabama, Arkansas, Florida, Hawaii, Kansas, Louisiana, Mississippi, South Carolina, Texas, and Vermont.
Delaware has seen the largest number of such incumbents fall with eight. Half of these senators lost their seats while their party's presidential nominee carried the state: Republican Henry du Pont in 1916, Republican Clayton Buck in 1948, Democrat J. Allen Frear in 1960, and Republican J. Caleb Boggs in 1972.
Four others senators from Delaware lost along with the top of the ticket: Democrat Thomas Bayard in 1928, Republican Daniel Hastings in 1936, Republican John Townsend in 1940, and Republican Bill Roth in 2000.
Other states to see several U.S. Senators go down in defeat during presidential cycles over the last century are Iowa with seven, Indiana and Kentucky with six, and Idaho, Maryland, and Wyoming with five each.
[Note the tallies above exclude U.S. Senators who lost their party's nomination].
In short, while it may seem difficult to conceive of a scenario at this time in which Trump carries one of the aforementioned battleground states – only to see that state's Republican U.S. Senator lose in November – history offers dozens of examples in which this has occurred.
Follow Smart Politics on Twitter.