2016 Libertarian US Senate Candidates at a Glance
A half-dozen Libertarians on the ballot this cycle had previously represented their party as a U.S. Senate nominee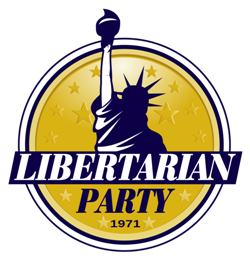 A Smart Politics report from earlier this summer highlighted how the Libertarian Party is situated to have strong showings in this cycle's gubernatorial elections with a large number of nominees and its strongest presidential ticket in party history.
The nation's third largest political party is also fielding a large slate of U.S. Senate candidates – although shy of the party record.
Libertarians are slated to have candidates from 21 states on the ballot in November.
The Libertarian nominee has  yet to be decided in Florida where primary voters will choose between Augustus Invictus and Paul Stanton next Tuesday.
In Louisiana, two Libertarians are on the November jungle primary ballot (Thomas Clements and Le Roy Gillam) in a race that is not likely to produce a candidate with a majority of the vote – triggering a December 3rd runoff between the top two finishers.
The other 19 states with Libertarian nominees are Alaska (Cean Stevens), Arkansas (Frank Gilbert), Colorado (Lily Williams), Georgia (Allen Buckley), Hawaii (Michael Kokoski ), Illinois (Kent McMillen), Indiana (Lucy Brenton), Iowa (Chuck Aldrich), Kansas (Robert Garrard), Maryland (Arvin Vohra), Missouri (Jonathan Dine), New Hampshire (Brian Chabot), New York (Alex Merced), North Carolina (Sean Haugh), North Dakota (Robert Marquette), Oklahoma (Robert Murphy), Pennsylvania (Edward Clifford), South Carolina (Bill Bledsoe), and Wisconsin (Phil Anderson).
Libertarians also ran candidates this cycle in California and Washington, but each state's nonpartisan blanket primary only moves the top two candidates to the general election – regardless of party – so no Libertarians will be on the November general election ballot.
Several of these aforementioned candidates have previously run for the U.S. Senate under the Libertarian banner.
Georgia: Allen Buckley won 2.1 percent in the 2004 race won by Republican Johnny Isakson
Hawaii: Michael Kokoski won 2.5 percent in 2014's special election won by Democrat Brian Schatz
Iowa: Chuck Aldrich won 0.5 percent as the Libertarian nominee in neighboring Minnesota in the infamous 2008 race won by DFLer Al Franken
Missouri: Jonathan Dine won 3.0 percent in 2010 when Republican Roy Blunt won his first term and a state party record 6.1 percent in 2012's race won by Democrat Claire McCaskill
North Carolina: Sean Haugh won a state party record 3.7 percent in the 2014 contest won by Republican Thom Tillis
Oklahoma: Robert Murphy won 0.9 percent in 1980 as the party's first U.S. Senate nominee in the Sooner State as Republican Don Nickles won his first term as well as 0.9 percent in 1984 when Democrat David Boren was reelected to his second term
Since 1976, Libertarians have fielded just over 300 nominees in more than 720 elections, or 42.0 percent of all contests.
That rate, however, has been flat over the last decade.
In the 1980s, 24 percent of U.S. Senate races had a Libertarian candidate. That number increased to 45 percent in the 1990s and 54 percent in the 2000s but has remained at 54 percent since 2010.
With an increase of 50 percent to 21 candidates, the party is faring much better than it did in the last presidential election cycle when just 14 of the 33 U.S. Senate races featured a Libertarian candidate.
There is also reason to believe many state party records for the office will be broken this cycle. For while the number of candidacies has not increased over the last decade, the party is setting high water marks in many states.
For example, many of these states with Libertarian candidates this cycle saw their nominee set the all-time best mark for a Libertarian U.S. Senate hopeful in their state's most recent election for that office:
Alaska in 2014: Mark Fish, 3.7 percent
Arkansas in 2014: Nathan LaFrance , 2.0 percent
Illinois in 2014: Sharon Hansen, 3.8 percent
Maryland in 2012: Dean Ahmad, 1.2 percent
Missouri in 2012: Jonathan Dine, 6.1 percent
North Carolina in 2014: Sean Haugh, 3.7 percent
South Carolina in 2014: Victor Kocher, 2.7 percent
Wisconsin in 2012: Joseph Kexel, 2.1 percent
With Gary Johnson consistently polling in the high single digits to low double digits in national polls, there is every reason to believe – even if there is an 11th hour drop-off in support – that more records will fall this November.
Follow Smart Politics on Twitter.