McCain Breaks Own Record for Slimmest Primary Win by Arizona GOP US Senator
No other Republican senator from the Grand Canyon State has even received a primary challenger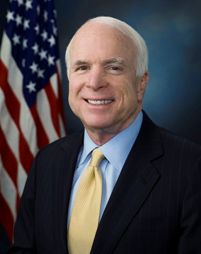 Like many of his GOP U.S. Senate brethren in recent cycles, John McCain was renominated to his seat on Tuesday, but did so in an underwhelming fashion.
The five-term incumbent won just over a majority of the vote (51.7 percent) in a four-candidate field and defeated former state senator Kelli Ward by 12.5 points.
Businessman Alex Meluskey, who dropped out of the race earlier in the month, came in third with 5.5 percent and radio host Clair Van Steenwyk was fourth with 3.6 percent.
A strong challenge from Ward resulted in McCain burning more time (and money) than he would have liked in his efforts to shore up conservative support heading into a highly competitive general election race against Congresswoman Ann Kirkpatrick, who ran unopposed for the Democratic nod.
McCain adds his name to a growing list of Republicans in the chamber who recently set new low-water marks in their primary victories including John Cornyn of Texas, Lamar Alexander of Tennessee, Mitch McConnell of Kentucky, Thad Cochran of Mississippi, and Lindsey Graham of South Carolina.
In the end, Senator McCain's 12.5-point victory was the weakest across the 12 cycles in which Arizona Republican U.S. Senators have sought renomination since statehood.
Prior to the Tea Party movement, Republican U.S. Senators in Arizona had always received a free pass to their party's nomination.
The first 10 times a GOP incumbent ran for reelection from Arizona saw no other challenger appear on the primary ballot: Ralph Cameron in 1926, Barry Goldwater in 1958, 1974, and 1980, Paul Fannin in 1970, McCain in 1992, 1998, and 2004, and Jon Kyl in 2000 and 2006.
In 2010, just two years after his second failed presidential campaign, McCain was opposed in the primary by former six-term Congressman J.D. Hayworth and businessman Jim Deakin.
More than 43 percent of Republican primary voters did not back McCain that cycle with the state's senior senator defeating Hayworth by 24.2 points with 56.3 percent of the vote.
In 2016, 48.3 percent of GOP voters cast their ballots against McCain with his victory margin cut nearly in half.
Overall, McCain's 12.5-point win was the fourth weakest showing across the 29 U.S. Senate primaries with a Democratic or Republican incumbent seeking renomination in Arizona.
All three other contests involved Democratic officeholders in bids launched more than 75 years ago.
1920: Two-term Senator Marcus Smith defeated Arizona Superior Court Justice (and future governor) Rawghlie Stanford by 8.6 points in a four-candidate field that included State Senator Albinus Worsley.
1932: One-term Senator Carl Hayden beat Phoenix attorney Harlow Akers by 10.2 points in a four-candidate field.
1940: Five-term Senator Henry Ashurst was defeated by Pinal County Superior Court Judge Ernest McFarland by 22.7 points in a five-candidate field. Ashurst remains the only Arizona U.S. Senator from either party to lose a renomination bid in state history.
While Republican incumbents have run uncontested in 10 of 12 cycles, Democratic U.S. Senators from Arizona have been challenged in their renomination bids 13 out of 17 times.
The only cycles in which Democratic incumbents received a free pass to the general election were 1916 (Ashurst), 1922 (Ashurst), 1952 (McFarland), and 1988 (Dennis DeConcini).
Follow Smart Politics on Twitter.