Paul Le Page and a Brief History of Early Gubernatorial Exits in Maine
No governor from the Pine Tree State has ever resigned due to controversy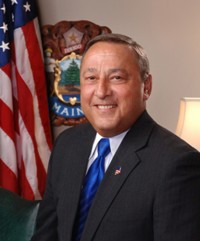 Paul Le Page knows how to keep Maine in the political headlines as the fallout continues this week from his latest controversy – leaving an R-rated, quasi-threatening voice-mail message for Drew Gattine, a Democratic state lawmaker who Le Page claims called him a racist.
A few days after the voice-mail became public, the two-term governor speculated earlier this week that he would consider resigning in an interview with the local radio station WVOM, but then stated on Wednesday that he will not quit. [Le Page also added that he would never again speak to the media].
Le Page, who earlier this cycle claimed "I was Donald Trump before Donald Trump was popular," has seen his brash, anti-politically correct rhetoric raise eyebrows off and on throughout his nearly six years of running the Pine Tree State.
To be sure, the idea of Le Page throwing in the towel and quitting the governorship in the midst of a political controversy does not seem to fit with the battle-ready political blueprint which has guided him in leading the state for more than half a decade. Particularly, because he knows his exit would give great pleasure to Maine Democrats.
Moreover, to quit his post outright due to personal or political unrest would have been a very unusual move in the annals of Maine politics.
Over the 196+ years since statehood, none of the 68 individuals to serve as governor in the state resigned due to controversy.
There have been a dozen instances when governors – or acting governors – did leave office early.
Four died in office, including three during their first year:
Three-term Democratic-Republican Enoch Lincoln (January 3, 1827-October 8, 1829)
One-term Republican Joseph Bodwell (January 5, 1887-December 15, 1887)
One-term Republican Frederic Parkhurst (January 5-1921-January 31, 1921)
One-term Democrat Clinton Clauson (January 7, 1959-December 30, 1959)
A fifth governor resigned due to ill health, and passed away less than three weeks after leaving office. Democratic State Senate President Edward Kavanagh became governor after the resignation of John Fairfield in March 1843. Kavanagh served as governor for more than 10 months before resigning on January 1, 1844. He died on January 20th.
Six other governors resigned after being elected or appointed to another political office:
One-term Democratic-Republican William King (March 15-1820-May 28, 1821) resigned to take a federal appointment to negotiate a treaty with Spain
One-term Democratic-Republican William Williamson (May 18, 1821-December 5, 1821) resigned after being elected to the state's 4th CD where he served one term
Serving in his fourth interrupted term, Democrat John Fairfield (January 5, 1842-March 7, 1843) resigned after being elected to the U.S. Senate where he served parts of two terms before dying in office
One-term Republican Hannibal Hamlin (January 8, 1857-February 25, 1857) had not even served two months as governor when he resigned after winning election back to the U.S. Senate where he had previously served since 1848. After serving four more years in the chamber, Hamlin was elected vice-president on Abraham Lincoln's ticket in 1860 and went back to the U.S. Senate again for two more terms from 1869-1881.
Republican Frederick Payne (January 5-1949-December 24, 1952) resigned a few weeks before the end of his second term after winning election to the U.S. Senate where he served for six years
Democrat Ed Muskie (January 5, 1955-January 2, 1959) resigned less than a week before the end of his term after easily defeating U.S. Senator Frederick Payne during the 1958 cycle. Muskie served 21+ years in the U.S. Senate before becoming Secretary of State under Jimmy Carter.
The aforementioned Governor Fairfield also resigned with one day left during his second term in 1841.
Fairfield had narrowly lost his bid for a third term in the September 1840 election, falling just 67 votes short to Whig Edward Kent. It was the third contest between the two candidates over the last three years. Fairfield came back to win yet another rematch one year later in the 1841 gubernatorial contest en route to his third of four terms.
Follow Smart Politics on Twitter.